The following article first appeared on my blog on October 10th 2010. In this version I have added a few extra verses by Muruganar.
A few days ago the following quotation was posted on the 'open thread' of my blog, along with a request for explanations of some of the ideas and incidents it contained:
Muruganar

But such moods were only momentary, and he [Bhagavan] could switch to his wonted geniality the next instant. Once Sri T. P. R. and I decided to ask Sri Bhagavan for an explanation of the sixth stanza of Arunachala Ashtakam, and went to the hall after Sri Bhagavan returned from his usual walk on the Hill. In the meanwhile something moved us. Sri Muruganar prostrated before Sri Bhagavan and went out on his usual round for begging food from the town. We had just then ground in the mortar jack fruit for a sweet dish for the midday meal, and Sri Muruganar had given some donation for bhiksha since it was his mother's death anniversary. He was not there to taste the dish and we were sorry. The fact that he was going out after giving something for bhiksha in honour of his mother was brought to the notice of Sri Bhagavan. Instantly there was a change in the face of Bhagavan. He knew that Sri Muruganar was not a favourite with the ashram management. 'Who is to invite him to stay for meals? Chinnaswami does not like him. He is the master here,' said Bhagavan. (Surpassing Love and Grace pp. 103-4)
What this story does not make fully clear is that Muruganar went out for bhiksha (went to beg food for himself) after supplying the ashram with enough money to give all the devotees lunch in the dining room. This practice of donating money to feed devotees was known as 'giving a bhiksha'. Reading this passage again made me think of the begging sadhu tradition and in particular of how Bhagavan honoured and even occasionally recommended it as a way of life.
In Padamalai, page 324, verse 46, Muruganar recorded the following remarks of Bhagavan:
Cure the disease of hunger with the medicine of food obtained through begging and live without any desire in your mind.
In Sri Ramana Jnana Bodham, an eight volume collection of Muruganar's Tamil poetry, there are several verses that indicate how much Muruganar appreciated this way of feeding himself:
Muruganar sitting with Bhagavan

The ultimate tapas is living on begged food and doing it without the false pride 'I [am doing this]'. Those who have accomplished this should not be disregarded as degraded and undignified people. Their majesty, thriving through a dispassion that is rooted in jnana, is unattainable even for Indra, the chief of the devas. (7.589)

 Through jnana, the authentic grace that terminates ignorance, I have been blessed with the great fortune of eating food obtained by begging in a way that elevates [rather than demeans]. And through the infinite Sivam nature that surges as inexhaustible wealth both likes and dislikes became totally false. (5.172)

My Lord who possesses the power of bestowing jnana, which shines abundantly in him, desired true knowledge to arise for me. As a result, what I attained inside was becoming the supreme ruler of the empire of the Self. The great life I attained outside was living on begged food. (6.595)

For a sadhu, the great life of accepting and eating food as alms is the fearless and majestic life of grace. It is a life free of reproach in which he exists as supreme bliss in the transcendental expanse, the state of peace devoid of the leaping of the insignificant mind. (7.454)
This particular piece of advice should not be taken as being applicable to everyone. Several of Bhagavan's devotees used to beg for their food in Tiruvannamalai. However, Bhagavan never insisted that everyone should adopt this particular lifestyle. In the following story Bhagavan is making it clear to Annamalai Swami that he did not want him to go begging for his food. The background to this story is that Annamalai Swami was receiving financial support from Major Chadwick, and was dependent on it to feed himself. Chinnaswami ordered him to stop, but Chadwick was reluctant to do so. This is how Annamalai Swami described what happened next:
Annamalai Swami and Major Chadwick

I [Annamalai Swami] thought, 'Instead of depending on anyone else, I will go for bhiksha in town'.

Since this would bring about a major change in my lifestyle, I knew that I had to first get Bhagavan's permission. He had previously told me not to beg for anything but I thought that he might now give me permission in order to save Chadwick from further embarrassment. One evening, while I was sitting in the hill, I explained the situation to Bhagavan and sought his permission to go for bhiksha.

Bhagavan remained silent for about fifteen minutes. At the end of that period I stood up to leave. I knew that Bhagavan's long silence indicated that he was not going to give me permission. Unexpectedly, Bhagavan told me to sit down again.

'You have sat for so long,' he said. 'Why are you standing now?'

I sat down again. A few minutes later Arumugam, the man who had helped me to build my room and to clear Bhagavan's path, came into the hall. I noticed that he had left a big bag of rice outside the door.

When I asked him, 'What is this rice for?' he replied, 'I brought it for you. I suddenly felt an urge to give you something.' (Living by the Words of Bhagavan, 2nd ed. p. 207)
In some cases, Bhagavan would encourage devotees to beg for food as an exercise in humility and self-sufficiency, while with others (Annamalai Swami, for example) he would ask them to live on whatever arrived unasked. What he would never do was give permission to householders with family and employment responsibilities to renounce the world and become sannyasis who lived on begged food or divine providence. In these cases he was unvaryingly insistent that they should remain with their families, earn money to feed themselves in the traditional way, and do sadhana in whatever free time was available.
I should like now to return to the first quotation I gave about Muruganar going out to beg his lunch after paying for everyone else to eat in the ashram.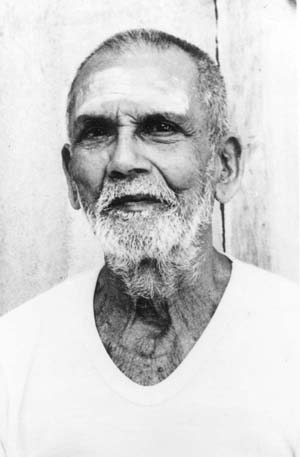 Muruganar himself, with Bhagavan's permission and blessing, used to beg his food on the streets of Tiruvannamalai. He never took formal sannyasa, since he knew that Bhagavan disapproved of his devotees taking that step, but he did live the life of a begging sannyasin for many decades. When he first came to Tiruvannamalai in 1923, he was a householder, a schoolmaster, and a member of a prestigious committee that was producing the definitive Tamil dictionary. Bhagavan made such a deep impression on him, he wanted immediately to renounce the world and become a sadhu. At this time his mother was still alive and in need of his support, so he delayed his decision until she passed away a few years later. Then, in a dramatic gesture, he sold off all his possessions, gave the money to Ramanasramam, and decided to live on begged food. He continued with this lifestyle right until the end of his life. When he moved into Ramanasramam for the last years of his life, he rarely ate with the other guests and devotees in the ashram dining room. Instead, he would go to the ashram's kitchen door and 'beg' food there. Food would be put in his container, or sometimes just in a cloth, and he would take it way to eat elsewhere.
I happened to be sitting with Sadhu Om in the early 1980s when he told a story about going begging with Muruganar in the early 1950s. At that time there were several court cases pending, the outcome of which would determine who managed or owned Sri Ramanasramam. Various competing parties were issuing subpoenas, asking devotees to testify on their behalf. Sadhu Om and Muruganar decided to stay out of the disputes by disappearing and by living as begging sadhus in the Tanjore area, the region that Sadhu Om originally came from. While he was narrating this story Sadhu Om laughed and said that while Muruganar could follow this lifestyle quite easily and without any worries, he, Sadhu Om, would always spend the morning wondering whether he was going to eat that day.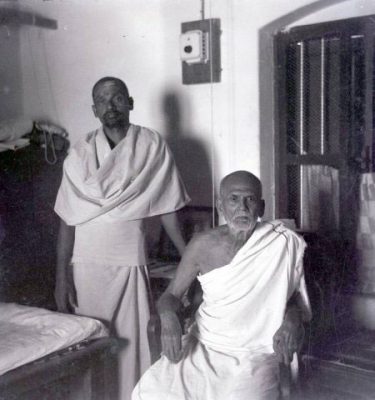 'Being dependent on begged food,' he said, 'is a good test of how detached and mentally quiet you really are. It's easy to be peaceful and happy while you are meditating if you know that there is a good meal to follow, but if that certainty is not there, then the thought of food and its availability is quite likely to keep recurring while you meditate. In my case my chief thought every morning was "Am I going to eat today?"'
It was mentioned that Muruganar offered funds to feed devotees on the death anniversary of his mother. He was very attached to his mother and her memory, so much so that two of his major works (Sri Ramana Sannidhi Murai and Guru Vachaka Kovai) are dedicated to her. When a visitor offered money to feed all the people in the ashram, that person would, of course, be invited to eat as well. The donor was also usually allowed to bring or invite some guests. This system is still in place today. It was therefore a major breach of protocol to offer money to feed the devotees in the ashram, and then not be invited to eat with them. Chinnaswami had had several run-ins with Muruganar and had tried to exclude him from the ashram at one point. I don't know the exact details of all these disputes, but I do know that Chinnaswami disapproved of Muruganar having his works on Bhagavan printed privately, and not by the ashram. During Bhagavan's lifetime all of Muruganar's books were published  by Ramanapadananda with funds that he raised privately. 
When Sri Ramana Sannidhi Murai was first published, Chinnaswami tried to ban it from the ashram because it had been privately printed. In response, all the devotees put brown paper covers on the book, wrote Tiruvachakam on the covers, and had communal readings in the hall. Even Bhagavan joined in by following the readings with his brown-paper-covered edition of the book. Chinnaswami thought all along that they were having readings from the Tiruvachakam.
The tradition of offering provisions or cash to the ashram to feed devotees on specific occasions was a long-established one. Here is Kunju Swami's account of how it worked in the early days of Sri Ramanasramam, just after Bhagavan had moved down the hill from Skandashram: