Today I want to narrate the story of a woman, Andavan Pichhai, who is probably unknown to most Bhagavan devotees. Her name, which she assumed in later life, means 'mad for God'. The events of her life are so extraordinary, the retelling of them is likely to cause most people to laugh or shake their head in disbelief. I will narrate the facts that I have been able to collect and let readers judge for themselves.
Almost all the information I will give in this post has come from a book entitled The Gift of God or Andavan Pichhai by Smt and Dr Krishna Rao. It was published by the Divine Life Society, Sivanandanagar, Uttar Pradesh, in 1983.
Bhagavan does have a major role in this drama, but he does not appear until quite late on in the narrative. Bear with me while I first set the background. For those who like a good story, it's well worth the wait.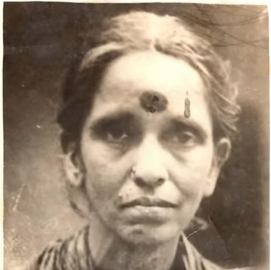 Andavan Picchai was born in Mylapore, Madras, on September 6th 1899. Her birth name was Maragathavalli, and she was the second child of T. Sankaranarayana Sastri and Sitalakshmi. About three years later her mother, Sitalakshmi died and her husband remarried shortly afterwards. However, it seems that he did not have much time either for his new wife or his children since he was perpetually engrossed in his studies and his spiritual practices. The children spent a lot of time with his brother, Venkatasubbiar, who developed a great love for his niece Maragathavalli. (At this point in the narrative her biographer starts calling her 'Maragathamma', so I will use this name when I refer to her in future.)
Maragathamma hardly ever opened her mouth. A private tutor was engaged to teach her since in those days girls did not go to school, but she frequently managed to escape from her tuition. Her father gave her the nickname 'Nirakshara Kukshi' – 'one who does not know a single syllable'.
In other families, where female education was not considered necessary or even desirable, this would not have mattered, but most of Maragathamma's family were highly educated, and they expected all their children, both male and female, to be literate and knowledgeable.
Maragathamma's grandfather, Tandalan Ramakrishna, was a distinguished Sanskrit scholar, and most of the family was well versed in English, Tamil and Sanskrit. Her father, Sankaranarayana, was also an accomplished Sanskrit scholar and both he and his brother, Venkatasubbiar, were well-regarded lawyers.
When Maragathamma was a small child, Guruswamy, a relative on her mother's side, gave a promise to her grandfather that he would marry her to his own son Narasimhan. Although Narasimhan was not happy about the proposed marriage, he agreed to it in order to honour his father's promise. The marriage took place in April 1908 when the girl was barely nine years old. Narasimhan was about twenty at the time. Although child brides sometimes lived in their parents' house until puberty, in this case Maragathamma was immediately dispatched to the husband's house with jewellery and a dowry of two bungalows.
During the Navaratri celebrations of 1908 Maragathamma was taken back to her father's house. Her grandmother had been a great devotee of Tiruttani Muruga and throughout her childhood Maragathamma had listened to tales of the greatness of Lord Muruga. During this visit she had a life-defining vision. This is how her biographer describes it:
Murugan on his peacock

One day [during this Navaratri visit to her father] when she was lying down near her grandmother, she beheld a vision. In that [vision] she saw Lord Muruga, [appearing] as a young boy of twelve, come to her slowly and reluctantly, gently playing with His peacock. He playfully took her hand in His own, lest she should get frightened of Him. He pressed it with love and told her, 'I love you very much… '

He asked her to talk to Him. Being very shy she kept quiet, waving her hand in the negative. He asked her to open her mouth. He pulled her tongue out and wrote 'Om' on it with His vel or spear. He then initiated her into the Shadakshari Mantra, viz., 'Saravanabhava'. He vanished that instant saying that He would meet her again some other time. From then on she felt Him in her heart, from where He started prompting her to sing. She narrated this incident to her grandmother and asked her to keep it a secret and be silent about it. Her grandmother was, however, very happy to hear Maragathavalli talk and sing so fluently. She then asked her to go and see her father. The girl rushed to the father in the library, where, as usual, he was busy reading. He was surprised to see his daughter there as she had never been to the library room before. He took Maragathamma on his lap and enquired of her the reason for coming there.

The girl told him that she wished to talk to him. This made the father very happy as she had never expressed anything like that to him before. As a matter of fact, until then, she used to talk like a small baby, with a little lisp. That day was the first occasion when she talked normally. Then she sang her first poem before him. It was so beautiful and so full of profound meaning that Sankaranarayana asked her who had taught her that. She told him it was that 'payyan' [boy] whom they all worshipped as Lord Muruga. The gist of the poem, which was in chaste Tamil, was: 'In the beginning there was only one; this one became three, which again multiplied into many.'

The father was so overjoyed to hear her describe this great truth, he called out to his brother to listen to her. His brother too was extremely happy. Sastri then asked her to compose a song on Muruga, then one on her husband, and later on her parents. She spontaneously sang all of them. She composed and sang songs on Avvaiyar and Lilavati of Bijaganit fame (daughter of Bhaskaracharya). They were all so immensely pleased that they dressed her up as Goddess Gayatri and took pictures of her in several poses. After this incident, Maragathamma became unattached to everything except the memory of the vision of Lord Muruga which remained in her heart; and she revelled in him.
Maragathamma gave her own version of this event in a foreword which she wrote for her own biography in 1983. This is how she described it:
A tirtham in the Tirurttani temple

During my tender age, full of innocence, Lord Muruga of Tiruttani took me completely under His charge. He graced me with the ability to sing. He asked me every day to offer a flower [song] as in the olden days [when] Andal gave 'Tiruppavai' to Lord Ranganatha when she was young. And songs began to come out of me. The purport of what I sang on that first occasion was:

He stood before me and asked me to adorn His twelve shoulders with garlands of songs. O dear friend, hear how, during my tender age, Muruga called me aside and told me, 'Although you may appear as a crazy one to the world, be united with Me with undiminished and unadulterated devotion while you are busy with your daily works. Your heart will always overflow with deep devotion unto me.'

I was not even ten years old then and could not even speak clearly, but once He took me into his fold with abundant love, He saw to it that songs came out every day to be offered to Him. On some occasions the garland would be colourful and long. He entered into my heart long before this body was given in marriage. The heart was ever with my Lord, secretly enjoying His blissful presence, while the body was mechanically serving my husband and family. Once the Lord had entered the secret chamber of my heart, there was no room there for anything else – such as father, mother, husband, family, relations, name and fame, joy and sorrow, love and hatred, anger and greed and jealousy. This experience of mine found expression in a song:

'I dived deep into the ocean of the Lord's love and took out the pearl called Muruga.'
In the years that followed Maragathamma became fully immersed in family life. Her husband Narasimhan became a lawyer, and she gave birth to many children. Her first pregnancy ended with a still-born child. She was less than thirteen years old at the time. A few years later she gave birth to Guruswamy (born 1917), Shankar (1919), Kalpagam (1921), Ganapathi (1923) and Seshadri (1924).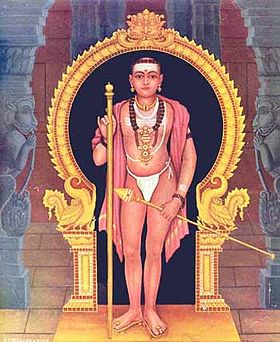 Two days after the birth of Seshadri she had another vision of Muruga. She went into a kind of trance and ended up singing over 600 verses extolling Muruga in the form of 'aandi', a beggar. Her flow was stopped only when she heard the cry of her baby, begging for food. Apparently, Seshadri had been crying for food for quite some time before Maragathamma became aware of his needs. The nurse who was attending her scolded her for neglecting her baby while she was absorbed in her devotional singing. This precipitated a minor crisis in the family because the nurse told Maragathamma's mother-in-law, Kaveriamma, about the event.
Apart from the issue of neglecting the baby, Kaveriamma complained that singing songs that praised God as a beggar would end up making the whole family beggars. She also said that since Maragathamma was in a state of ritual impurity, having just given birth to a baby, she should not be composing songs in praise of God. Kaveriamma collected all Maragathamma's songs, hid them, and made her take an oath that she would not sing songs on Muruga again, or even talk about him.
Being a dutiful daughter-in-law, Maragathamma took the oath because she knew that she always had Muruga in her heart. She did not have to promise that she would not think about him or be aware of him internally.
More children followed. Venkataraman was born in 1926, but a couple of days after delivering him she developed septicemia because part of the placenta had stayed inside her and become infected. The doctor said that she needed an operation to remove it, but Maragathamma declined an anaesthetic and remained perfectly still, quiet and conscious while the doctor removed the infected material. She had apparently developed an ability to suspend body consciousness and be unaware of pain, or at least be completely unaffected by it.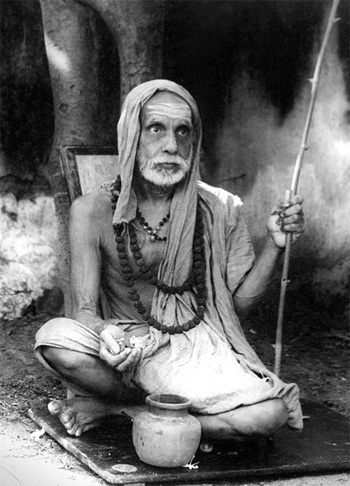 More children followed: Kamakshi was born in 1928, Padma in 1929 and in 1936 Vasudevan. Padma became something of a child prodigy. She began composing songs when she was only three years old and became a devotee, even at that age, of the Sankaracharya of Kamakoti Peeta. She went blind, regained her sight after the Sankaracharya intervened and sent her to a doctor who restored her sight, but in 1936 she passed away at the age of eight while she was presenting a home-made garland to a Devi statue.
One son, Vasudevan, died of a serious illness; Shankar had some sort of accident that made him mentally retarded, and he died in 1940. The others grew up and were successful in their chosen fields.
None of these family dramas dented Maragathamma's equanimity since the inner vision of Lord Muruga was always with her. Songs would come to her in the usual way, but she refused to sing them out loud even after her mother-in-law, Kaveriamma, passed away in 1930 after a long illness. Kaveriamma had made her take the oath of silence on Muruga, on her husband, and on her children. She feared that if she began to sing again, something bad might happen to her husband and children. She complained internally to Muruga about this situation, and soon after that she felt his presence within her disappear.
She implored him to return and give her darshan again. After a few days she heard a voice within her saying, 'Why are you searching for me outside? Am I not inside you? Look within and you will see me.'
She introverted her vision and immediately lost herself in an ecstatic vision in which she became aware that Muruga was everywhere, not just inside her. When she returned to her usual state, she said that it reminded her of the occasion when Krishna opened his mouth and his mother Yashoda saw the whole universe within him.
In March 1948 Maragathamma went on a trip to Srisailam for Sivaratri to please one of her relatives who had a desire to go there. On her return, she became slightly ill, a condition that persisted for several weeks. In May, as she was walking down the staircase in her house, carrying one of her grandchildren in her arms, she slipped, fell and fainted. She was put to bed and the doctor who was brought in to attend on her declared that she had had a heart attack. Two of Maragathamma's sons who had become doctors returned home to help with her treatment. She was unconscious, her pulse was beating very slowly, and her general condition was deteriorating to the point where her relatives began to fear for her life.
And now (and this is where the story starts to get very, very weird) we have to leave her unconscious in bed for the moment to give some background information on events that had happened elsewhere a few years before.
There was a yogi named Ramakrishna who lived in Pinnavasal, Tamil Nadu. He came from a Telugu brahmin family that had settled in Tamil Nadu. His Paramaguru was the famous Sadasiva Brahmendra. Ramakrishna had stayed in the Avudaiyar temple for twelve years doing Devi upasana with the Navakshari mantra. He did severe tapas and apparently acquired many siddhis. At one point he had married, but he had never lived with his wife. His wife was deeply devoted to him and wanted to serve him and be with him all the time. She accepted that they were never going to be man and wife, but she thought that she could at least be his devotee and serve him to the best of her ability. However, whenever she came anywhere near him, Ramakrishna would drive her away, saying that he didn't want her to be with him. Driven to a state of despair by these continuous rejections, the wife uttered a curse that her husband would have to be born as a woman and suffer as much as she had done herself.