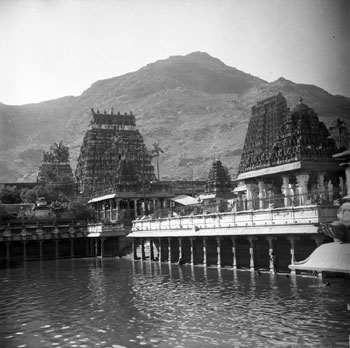 After his extensive pilgrimages, encompassing at least 200 towns, Arunagirinatha finally returned, settled down in Tiruvannamalai and spent the remainder of his life there. The traditional story of his life includes several incidents that took place during this period either in the Arunachaleswara Temple or nearby. In the first of these stories Pravuda Devaraya, the local king, invited him to appear in court because he had heard of Arunagirinatha's high reputation as both a poet and a saint. Arunagirinatha, who had no interest in the affairs of the world, ignored the invitation. Pravuda Devaraya, who had a high regard for scholars and sadhus, then came in person and requested that Arunagirinatha come for a visit to the royal palace. Arunagirinatha, noticing that the king was a devout man, accepted the invitation, went to the palace for a visit and had several honours bestowed on him by the king.
In the court of this king there was a famous scholar, Sambandandan, who had a tendency to boast both about his spiritual attainments and his religious knowledge. He had managed to establish himself as a favourite of the king, so when he heard about the reception accorded to Arunagirinatha he felt that his position in court might be threatened. His jealousy motivated him to hatch a plot against Arunagirinatha that he hoped would belittle his new rival in the eyes of the king. Sambandandan had done great tapas earlier in his life, so much so that he had obtained a boon from Kali, his ishta devata (chosen deity), that for a period of twelve years she would appear before him whenever he summoned her. Knowing that he could call on Kali to appear at any time, Sambandandan proposed to the king that he and Arunagirinatha should have competition in which each would try to make his chosen deity manifest in a form that would be visible to everyone. Sambandandan not only persuaded the king to agree to the competition, he also persuaded him to add a stipulation that the loser of the competition should leave the kingdom and never return. Although the king agreed to the rules of the competition, it seems that he did not pass on the full details to Arunagirinatha. He merely told him that he had organised a competition in which the two devotees would try to summon their favourite deities. Arunagirinatha agreed to take part, saying that if Lord Murugan could be persuaded to appear, he would give the king darshan and bless him.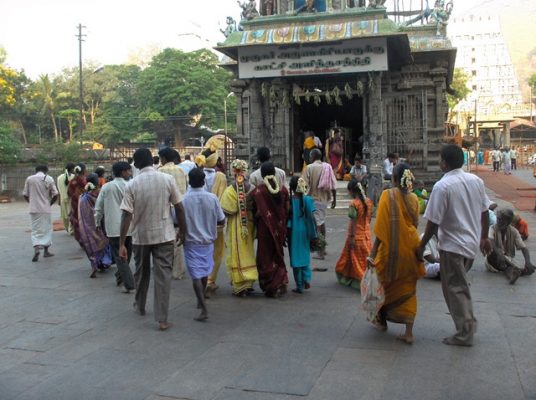 The competition was held in public in the Arunachaleswara Temple. Sambandandan, full of confidence, undertook to manifest his God first. To the accompaniment of great pomp and ceremony, he called on Kali to appear, but for some reason she refused to manifest herself. In some versions of the story it is said that the twelve-year period of the boon had expired the previous day, so she was no longer under any obligation to appear. Since Sambandandan was still able to communicate with her, even though he could not make her appear, he got a promise from her that she would hold Murugan tightly in her arms so that he would be unable to manifest when Arunagirinatha called on him.
Arunagirinatha began his attempt by singing a song. After praising Murugan at length in verse form, he summoned him to appear:
… O Lord Murugan who resides in the heart of Pravuda Devaraya in such a way as to make it dance with joy! O Lord of Lords! Come dancing, O Lord, come dancing in such a way that when you dance, everything dances …
In some versions of the story Murugan manifests immediately, but in other accounts he fails to appear because he is being held tightly by his mother, Kali. In the version in which Murugan is restrained, Arunagirinatha devised a strategy to counter Kali's influence. He first sang another song that was so entrancing, Kali unconsciously began to loosen her grip on her son. When Arunagirinatha sensed that this was happening, he sang a different song that summoned Murugan's vahana, his peacock, to appear and dance before Murugan and Kali. The peacock promptly appeared and danced in such an enticing way, Kali momentarily forgot to hold on tightly to Murugan. At this crucial moment Murugan leapt out of her arms, mounted his peacock and entered the physical world through one of the pillars of a mantapam in the Arunachaleswara Temple. A temple has since been built around this column to commemorate this great event. The manifestation of Lord Murugan was so dazzling, the light he emanated caused Pravuda Devaraya, the king, to lose his eyesight.
This traditional story is so full of improbable events, it would be tempting to dismiss the whole episode as quaint myth. However, the central event of the story, the manifestation of Lord Murugan in public in response to Arunagirinatha's pleas, finds some corroboration in two verses from the Tiruppugazh:
In the midst of the assembly of your devotees who deserved your compassion… You came once in Tiruvannamalai…
O Victor on the peacock! You came to my help in Tiruvannamalai in a way that people of the world can perceive and praise your great compassion.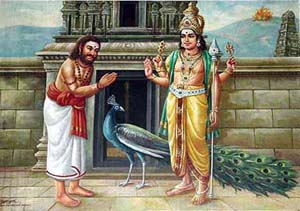 There is no mention of a competition in any of the verses, nor are the activities of Sambandandan and Kali alluded to, but there seems to be enough textual evidence to suggest that, prompted by Arunagirinatha, Murugan appeared, mounted on a peacock, before a large assembly of people, including the king, who had gathered there with the express purpose of determining whether or not Arunagirinatha could make his chosen deity appear.
The biographies of Arunagirinatha contain another story in which the central event is a competition. A contemporary of Arunagirinatha, an erudite scholar and staunch Vaishnava called Villiputhurar, was responsible for translating the Mahabharata into Tamil verse. This man was so confident that he was a better scholar than anyone else, he toured around the country, challenging all the pandits he met to engage in scholarly competition with him. It is doubtful whether many people accepted his challenge because Villiputhurar made it a condition of the competition that the loser should have his ears cut off. Hearing of Arunagirinatha's fame as an extempore poet, he came to Tiruvannamalai and challenged him to a poetry competition. Under the rules of this contest, Arunagirinatha had to compose extempore verses that Villiputhurar undertook to explain. If Arunagirinatha could compose a verse that Villiputhurar could not ascertain the meaning of, the latter would concede defeat and agree to have his ears cut off. Arunagirinatha in return agreed that he would have his own ears cut off if he failed to produce a verse that baffled Villiputhurar.
A scene from an old Tamil film in which Arunagirinatha battles Villiputhurar. 
The competition began with Arunagirinatha composing the verses of a poem that later became known as Kandar Antadi. Villiputhurar easily deciphered the meaning of the first fifty-three verses, but could make no sense of verse fifty-four. It was a cunningly designed verse, a masterpiece of alliterative prosody in which the meaning was deeply buried inside a succession of apparently meaningless syllables, all of which began with the sound of 't.' The genius of the Tamil language is such that it can juxtapose a long series of root-words and substantives to provide the equivalent of what in an Indo-European language would be a complex, compound sentence, with several sub-clauses. This it can do without resort to either case and verb endings, or prepositions and suffixes. Although such elements are available if required, they occur sparingly in classical Tamil usage, with the result that richness and allusiveness of meaning are combined with great economy of expression. A second result is, of course, that it is often difficult to deduce the grammatical relations between the component elements of such an utterance, especially since a single Tamil word may have as many as ten or fifteen secondary meanings. There is no separation of words in written Tamil. This, combined with the elision of a final 'u' before a following vowel, and the various transformations of consonants appearing in both final and initial positions, often causes extreme difficult in dividing any given utterance into its discrete component elements.
However, under normal circumstances, a Tamil poet of the standing of Villiputhurar might be expected to reel off the meaning of any verses Arunagirinatha could produce. Villiputhurar would be able to recognise individual words by the very diversity of their consonants. He would then resolve the sandhi of the final and initial letters, deduce the grammatical relations of the various words and give the correct meaning.
Arunagirinatha, therefore, resorted to the expedient of composing a whole four-line verse using only one consonant (Tamil has twenty-two native consonants). This he was able to do by utilising the vast fund of synonyms available to him, and by combining them without affixal or suffixal connections. The result was a seamless, apparently meaningless stream of 't' sounds (த் in Tamil script) with a following vowel. When Arunagirinatha explained the meaning of the verse, Villiputhurar admitted that he had been defeated. Arunagirinatha, who lacked the vindictive streak that characterised Villiputhurar, allowed the latter to keep his ears. This is the verse:
திதத்தத்தத் தித்தத் திதிதாதை தாததுத் தித்தத்திதா
திதத்தத்தத் தித்த திதித்தித்த தேதுத்து தித்திதத்தா
திதத்தத்தத் தித்தத்தை தாததி தேதுதை தாததத்து
திதத்தத்தத் தித்தித்தி தீதீ திதிதுதி தீதொத்ததே
There is one other well-known story about Arunagirinatha that is so incredible, almost nobody nowadays takes it seriously. After Sambandandan, the man who had failed to make Kali appear, had lost his competition with Arunagirinatha, he tried to get revenge by hatching another plot.
He went to the king, who had been blinded by the darshan of Murugan, and told him: 'If your highness can persuade Arunagirinatha to bring a parijata flower from svargaloka [one of the heavenly worlds], a few drops squeezed from the flower onto your eyes will restore your eyesight.'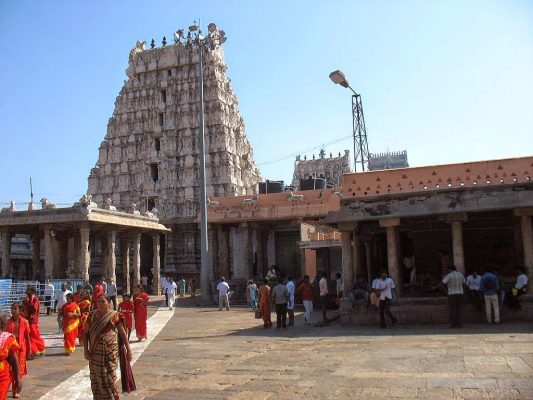 The king, eager to regain his vision, commissioned Arunagirinatha to do the job. In order to reach the heavenly world, Arunagirinatha entered the body of a parrot that had recently died and reanimated it. He left his own body in one of the niches of a gopuram in the Arunachaleswara Temple and flew off the collect the flower. After the parrot had departed on its mission, Sambandandan, who had been watching Arunagirinatha's movements, showed the lifeless body of the poet to Pravuda Devaraya, announced that it was dead, and asked for permission to cremate it. The king agreed and the body was quickly burned. Some time later Arunagirinatha returned with the flower only to discover that he no longer had a human body to return to. He went to the king in his parrot body, restored his eyesight with the parijata flower juice and explained what had happened. Realising that he had been tricked, the king was struck with grief because he knew that it would now be impossible for Arunagirinatha to resume a human form again. Arunagirinatha, on the other hand, was untroubled by this bizarre turn of events. He happily spent the remainder of his life in the parrot's body and even continued to compose poetry in praise of Lord Murugan. It is said that he composed and sang his famous work Kandar Anubhuti and several other poems while he was still occupying the parrot's body. If this story were true, there ought to be some reference to his startling physical transformation in his later works. The lack of any such reference has convinced most people that the whole story is an imaginative embroidery on the original, more documented, incident of Murugan manifesting out of a pillar in the Arunachaleswara Temple.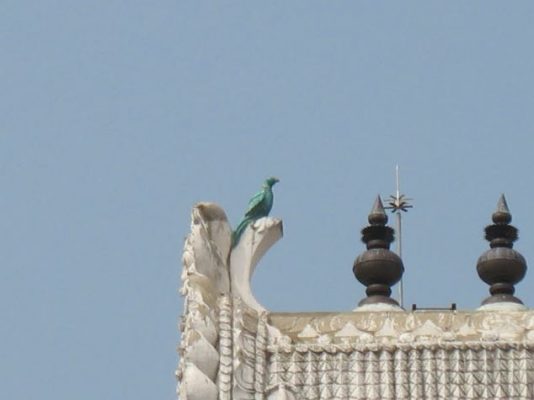 If his life did not end in this improbable way, what finally did happen to him? Sambandandan, Villiputhurar, Pravuda Devaraya and Arunagirinatha were all people who left imprints on the historical record. If one compares their dates and collates all the facts that are known about them, it is possible to come to the conclusion that Arunagirinatha lived about seventy-five years from around A.D. 1330 to A.D. 1405. There is evidence in his poetry that he lived to such an age, for in the following verse, which summarises the main events of his life, he is clearly looking back on a very long and distinguished career:
… By your precious gift to me of singing the songs so beautifully named as Tiruppugazh, I have been blessed with the eternal vision that knows no decay or diminution. [I have] also gained insight into the truth enunciated in great writings, Sunk as I was in ignorance, this heinous sinner, by the merit of singing Tiruppugazh, has crossed the ocean of desire and reached a place indescribable by speech. It has earned me great name and good fame, has made me traverse the seven worlds, and now mere wishes of mine, once uttered, carry the weight of a king's command, Leaving these aside, how can I forget you for the very precious gift which has taken me beyond the ocean of sorrow, beyond the three gunas, beyond all vasanas and freed me from rebirth forever…