45

In my identity with the body I had the sense of 'I' and 'mine' in the three states of waking, dream and sleep. By Your gracious love this sense has vanished like a dream. You made me turn to you, O Arunachala, You who burn like a flame. You burnt away my Self-forgetfulness.
The poem reveals a familiarity with some of the great works of the Tamil bhakti tradition, but the style is distinctively his own. Also, it is interesting to note that the language and philosophy of the verses are uncompromisingly advaitic. Many of the great Arunachala saints who have written about the mountain were Saiva in orientation, and this is clearly reflected in the language of their poetry. Isanya Desikar was brought up and educated in the Saiva tradition but his verses show that he felt more at home with the language and concepts of Vedanta:
81

Is there any truth apart from the Self? Great men live without the illusory mind-screen, rooted in the reality of blissful no-thought. Abiding in the Self, totally free, they are the wise ones, free from karma.
He was enough of a Saiva to revere the mountain as Siva Himself and its power of sakti, but none of the standard ideas of Siddhanta can be found in his verses. When he talks of Siva, he is not conceiving of Him in a mythic or even an anthropomorphic form. He instead seems to regard Siva as being simultaneously pure awareness, the energy that created the manifest world, and the substance out of which the world was created.
87

In the past, present and future, you, the form of grace, abide as the lofty Siva-bliss which is the one life in all life…

66

You are the Lord, the Guru, intelligence, the law, our goal. You are absorbed in the Self and you abide as the Self which is everything, with nothing separate from it. In a myriad ways you engage in sport in the world of forms: I as you, you as I. O Supreme Infinite Siva! You shine within the devout as the Self that is awareness.
Scattered throughout the verses there are occasional hints of the path that Isanya Desikar himself followed. Believing that the best and highest form of devotion to Arunachala could be practised by abiding in a thought-free state, he directed his efforts towards cultivating an inner silence.
58

If you think without thoughts of that eternally blissful One who shines everywhere as the divine, as Sakti, as Siva – that bhakti itself is mukti. Thus proclaim the scriptures…

72

Realising that all we have learned is but the work of God, and knowing that we cannot know anything by ourselves, to be in silence is the jnana that vouches freedom from rebirth. Speak not. See the unborn Self as chit, as Siva. That seeing is illumination.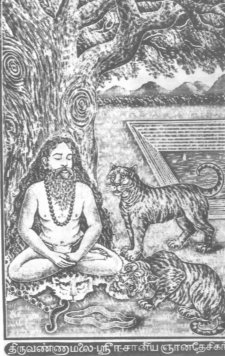 When we left Isanya Desikar, he was walking toward the north-eastern corner of the mountain to keep his appointment with the devotee who had kept him supplied with milk for so many years. They soon found each other and resumed their former relationship. Isanya Desikar then chose a spot under a banyan tree on the southern side of the Isanya tank and was soon spending most of his time immersed in samadhi. Muthuswami Udaiyar often visited him there, and each time he came he would bring food for Isanya Desikar and for any other devotees who happened to be with him.
When no devotees were near him, Isanya Desikar, who was then about sixty years of age, liked to sit naked, absorbed in samadhi. On such occasions Lord Arunachaleswara Himself sometimes used to manifest in the form of a tiger to guard him and prevent anyone form disturbing him. Isanya Desikar knew what was happening. Each time he came out of samadhi, he would fondly run his fingers through the fur of the tiger and address him lovingly as 'Arunachala, my Lord'. Occasionally other tigers from the forest would come along and help Arunachaleswara with His guard duties. Isanya Desikar knew that the presence of the tigers would intimidate other people, so whenever he saw that devotees were about to visit him, he would send the tigers away by saying, 'My devotees may get frightened if they see you. Please keep away.'
After some time Isanya Desikar moved to a nearby flower garden and took up residence there. Muthuswami Udaiyar, the man who had been feeding him for many years, persuaded the owners of the flower garden to donate a small portion of it so that Isanya Desikar could remain undisturbed there. The owners agreed and handed over about a third of the flower garden. Sri C. Subbiah, who wrote a biography of Isanya Desikar, states that from the day he took up residence in the north-eastern corner of the flower garden he became known to the world as 'Isanya Desikar', for isanya in Tamil means 'north-east'. This may well be true but it seems just as likely that he acquired his name either by sitting by the side of the Isanya tank or merely by living for so many years on the north-eastern side of the mountain.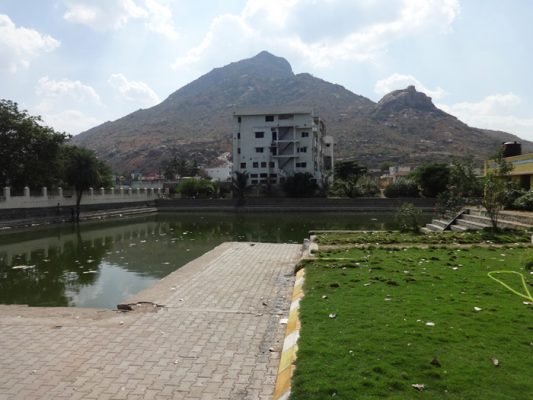 As Isanya Desikar's fame began to spread, he began to attract devotees and disciples. One of them was a man called Pondy Arunachala Swamy who is chiefly remembered for coming to a macabre end after going against his Guru's wishes. He was brought up in Pondicherry, but after he came under the influence of Isanya Desikar he took sannyasa and moved to Tiruvannamalai. Since he had no family, his property was lying unclaimed in Pondicherry. It should be remembered that as a sannyasin he had no rights to it. Under Hindu law, the taking of sannyasa has the same legal implication as physical death. The sannyasin's relatives take over his property, and if there are no relatives, his former possessions become the property of the state.
Pondy Arunachala Swamy knew all this, so one day he suggested to Isanya Desikar, 'Why don't I go back to Pondicherry dressed as a householder and claim all my former property from the French government. Then I could sell it all and give all the proceeds to you.'
Isanya Desikar strongly disapproved of his disciple's plan, 'We don't want any money,' he said, 'And furthermore, the sannyasin's robe, once donned, should never be removed. If you are still intent on going, I must warn you. You will not return!'
Pondy Arunachala Swamy, who was aggrieved that the government had ended up with all his property, ignored the warning and went to Pondicherry to carry out the plan. He convinced the French government that he was the rightful owner of his ancestral property, took possession of it and auctioned it off. He converted the proceeds into gold, which he loaded on the back of a bullock. His intention was to drive the bullock all the way to Tiruvannamalai with the valuable cargo strapped to its back. However, at the moment of his departure, when he struck the bullock with a stick to make it start, the bullock, normally a very placid animal, turned on him and gored him to death. The cargo then became the property of the Pondicherry government, but instead of hiding it in their treasury, they decided to use some of it to commemorate the strange and unfortunate accident. They made a statue of Pondy Arunachala Swamy being gored by the bullock and installed it on the western side of Karuvadaikuppam near Muthialpet. The statue can still be seen there today.
A suitable epitaph for Pondy Arunachala Swami can be found in one of Isanya Desikar's verses to Arunachala:
48

Those who ceaselessly seek to find their treasure in gold do not find anything in it. Not knowing themselves, they vainly talk about this and that. Spiritual seekers realise that you alone are the treasure. You are the world, the creation, the Lord, the Mother. They [the spiritual seekers] know no one else by you, O Lord of Arunachala.
Isanya Desikar must have been one of the first Gurus in India to have a western devotee. His name was Ayton and he was the District Collector for the region that extended from Tiruvannamalai to Vriddhachalam. He had heard about the greatness of Isanya Desikar and approached him in the hope of getting a cure for a chronic ailment. The name 'Ayton' has been selected as a plausible British rendering of the Tamil letters that were used to spell his name. The correct name may well have been something phonetically similar such as Eton or Heighton.
When Isanya Desikar saw him coming he issued his standard warning to the tiger who had been keeping guard over him: 'Lord Arunachala! A European is coming. He may get frightened on seeing you. You had better stay away.' The tiger promptly withdrew.
Ayton came near and prayed to Isanya Desikar to cure him of the tuberculosis from which he had been suffering for many years. Isanya Desikar smiled and after a brief pause spat on the ground. The moment he spat, Ayton was cured of the disease. Ayton then spoke to the holy man with both trepidation and devotion.
'Swami, I have recently acquired a large amount of land, I would like to offer Your Holiness as much as you need. It can be a permanent endowment in your name.'
Isanya Desikar smiled and asked tauntingly, 'Will your land yield crops even during a drought?'
Then, pointing his finger towards Arunachaleswara and Apeetakuchamba, he added, 'Here is a householder with two children and a large family. It is proper to give him any amount of land, but it is not proper to gift it to me, a sannyasin.'
Ayton took leave of him but returned on many occasions. He got into the habit of addressing him reverentially and affectionately as 'Tata', which means 'grandfather'. It is said that before he began any new project he would always mediate on Isanya Desikar and invoke his blessing by saying, 'Tata, please lead me in this work. It is your work.' At the annual Deepam festival Ayton would take the lead in dragging the huge temple chariot through the streets of Tiruvannamalai. However, before moving the chariot for the first time he would pick up one of the ropes and exclaim loudly: 'Tata, you hold the rope and lead us!' The local people were all astounded that such a prominent British official should have such devotion towards a naked sannyasin.