Virupaksha Vallalan was not even appointed Crown Prince until 1340, a clear indication of King Vallalan's lack of faith in him. In that year King Vallalan was seventy-eight, so he had probably given up hope of finding or fathering a better successor. King Vallalan's estimate of his son's character turned out to be correct. Within a few years of his coronation Virupaksha Vallalan IV's Hoysala empire disintegrated and was absorbed, without a fight, into the Viyayanagar empire that was developing and expanding to the north of it.
King Vallalan was an exceptionally dynamic and talented ruler. At the beginning of his reign he survived a near-civil war with his relatives, outmanoeuvred them and reunited his empire; he survived the debacles of having his capital sacked (1311) and later destroyed (1327) and then compensated for its loss by expanding his territory in other regions; he successfully maintained Hoysala independence at a time when all the neighbouring Hindu kingdoms were falling; he knew when to make alliances, and when to break them; when to submit, pay tribute and surrender, and when to attack; and on top of all this he was a successful general who knew how to fight and win battles.
For fifty years (1292-1342) he kept this up, mostly single-handedly, but at the back of his mind there must always have been the nagging question, 'Who is going to take charge when I die?' His Hoysala dynasty had endured for more than 300 years but he must have known that unless someone far more competent than Virupaksha Vallalan came along to succeed him, the empire would not endure.
One event above all symbolises for me his inability to find a worthy heir. At the age of eighty, when he should have been leading the life of a respected elder statesman in his palace, he was still riding out to battle at the head of his army because he hadn't found anyone better to do the job for him.
I shall return to the theme of the worthy successor later, but first two more verses from the Arunachala Puranam:
459

He asked the ministers, 'Is there anything wrong with the pujas I perform to Siva? Have there been any errors in my [administration of] justice in this country? Among the flowers plucked for puja, are there any defective ones? O ministers, tell me what is to be done?'

460

The ministers said, 'O king, if one gives charity with steadfast faith and devotion to each and every poor person who approaches us, then by the grace of the Lord with three eyes who protects and rules us, a son will be born.'
Epigraphs in the Arunachaleswara Temple indicate that the king supported alms houses in the town. In inscription 301 there is a mention of 800 pon (gold coins) being set aside for the provision of 200 persons in the alms house. Inscription 302, which is incomplete, damaged, and therefore hard to decipher, seems to speak in one place of an endowment of land to provide an income for an alms house. No. 309, which is very brief, also mentions the establishment of a new alms house.
The unit of currency mentioned in epigraphs pertaining to King Vallalan is always the pon. The Madras University Tamil Lexicon, which was compiled around the end of the First World War, estimated that its value was Rs. 1.25. If this seems absurdly low for a gold coin, it should be remembered that this amount was about a week's wages for unskilled workers in those days. Personally, I cannot imagine a gold coin having such a low value, but lacking any other evidence for its worth, I will defer to the august and scholarly compilers of what is still the most comprehensive and authoritative Tamil dictionary.
461

The King replied, 'In order that my good name should flourish [in the form of subsequent generations], hoist a beautiful banner on high and spread the following news by striking a murasu drum: "Whosoever enters this splendid city where the handsome Lord Arunai lives, whatsoever they ask, I shall give them".'

462

Then the ministers said, 'O our king, whose good name flourishes throughout the world, listen! Are we capable of giving away whatever the devotees who worship the feet of the Lord, praised by the sastras, and elders and hymn-singing bards take it into their heads to ask?'

463

The king said, 'Will anyone ask for something that is not [available] in the world? Even if anyone did, no one could give such a thing. So, quickly do what I have ordered.' The ministers then hoisted the flag on high and struck the murasu.

464

On hearing that the king of Arunai, where the Lord dwells, had hoisted a flag, people from all over the world drew near in great numbers to receive gifts that alleviated their poverty. There were old people, people carrying a kavadi [a pole with a weight on each end], tapasvins, brahmins chanting the Vedas, wandering minstrels, singers and beggars.

465

To those who came and wanted to perform a marriage ceremony, the king gave 1,000 pon. In addition he made those who said that they were unable to redeem their pledges of houses, lands and jewels happy by giving them 2,000 pon. Afterwards, he gave 300 pon to old brahmins who wanted to perform the upanayanam [sacred thread] ceremony.
 There is no inscription that authenticates this proclamation but there are several that show that he was a major patron of all the services that the temple provided. Inscription 301, dated 1317, gives elaborate details of the activities he was supporting:
It is February 15th, 1317 … This gift was given … in favour of the God Annamalai Natha Deva and Unnamulai Nacci to provide for their personal decorations and for use in their shrines thrice every day, for the lamp festival on five full-moon days and for the great twelve-day festival in the month of Jyeshtha. This gift was to last till the sun, the moon and the stars endure.

On the 22nd day of the month of Masi [1317] he [King Vallalan] donated 10,000 pon to Annamalai Nayanar of Arunagiri and Unnamulai Nacciyar to provide for their food offering, for their personal adornment, for the lamp festival on five full-moon days and for various other services.

Of this 10,000 pon to provide for the food offering and the adornment three times daily to Annamalai Nayanar and Unnamulai Nacciyar, to provide daily for the food offering and adornment during the services instituted in the name of Vira Vallaladeva and to provide for lamp wicks in the night… 366 days a year.
Here are some of the other activities which inscription 301 says the king supported:
     1) 400 pon for two annual processions of the deities through town.

     2) 474 pon for food for various temple servants.

     3) 647 pon for temple utensils.
Inscription 302 gives details of other activities that the king supported in the temple. They include: reciters of the Vedas; suppliers of water; servers of areca nut; those who made paste for the body; incense burners; umbrella makers; works on a mantapam; washermen and barbers; bringers of water; feeding rice to brahmins; providing milk; endowments for festivals, etc.
King Vallalan was determined that his endowments would last for ever. At the end of epigraph 301 he appended the following ominous curse:
…the worship and the construction work should continue to be performed without diminution as long as the moon and the sun endure. One who destroyed this gift or disturbed it would incur the sin of one who had killed a brahmin on the banks of the Ganga and would be considered to be the husband of his own mother.
All in all, the epigraph records donations of 33,000 pon made by the king to the temple. This is the largest amount donated by any single person up till that time. The money was all collected from villages in the surrounding region, a list of which is given in the epigraph. Since the amount was collected locally, it demonstrates indirectly that King Vallalan was based in a region that had a prosperous economy, and that he was running the country in a reasonably competent manner.
What, though, is one to make of this astonishing generosity when money was always needed for military campaigns? Two plausible explanations present themselves:
He was fulfilling his duties as a Hindu monarch by liberally supporting and endowing a famous temple in his capital city.

He wanted something very badly from God and was prepared to pay a small fortune to get it. It should be remembered that few pujas are done out of an unconditional love of God. Mostly, the performers or donors want grace, punya, blessings or material benefits.
Apart from his endowments there is not much evidence among the scanty biographical facts that are available that he was a pious or spiritually minded man. He was, of course, a militant upholder of Hindu nationalism and fought fiercely against all Muslim attempts to gain hegemony over the south. These activities, though, needed no pujas; he was quite able to achieve them through his own efforts. One tends to go to God for the things one cannot achieve by oneself, not the things one can. The one thing that King Vallalan wanted but couldn't produce himself was a worthy successor.
The Arunachala Puranam is undoubtedly a hagiographical account, written two centuries after the event, in which facts are happily mixed with exaggerations and fictitious events, but there may be a kernel of truth in its basic thesis: that the king wanted a competent successor and was willing to empty his treasury in the hope that God would provide him with one.
More evidence of his patronage of the temple can be found in the next verse and in the epigraphs that support it:
466

[Someone asked:] 'The jewelled mantapam and the compound wall in the temple are deteriorating. O Lord, give us funds to repair them.' The king gave 2,000 pon with great devotion and said, 'Renovate them properly'. In addition, 50,000 pon were given to endow maths throughout the land.
One surprising omission from the epigraphs is any detailed reference to the major building works that King Vallalan is believed to have undertaken in the temple. The gopuram on the east side of the fourth prakara is named after him, and it is generally accepted that he was responsible for its construction. This is a curious omission for a man who liked to boast about his achievements, right down to such minor expenditures as six pon to some officials who performed services in one of the mantapams.
Only relatively minor sums are allotted to building works in the nine epigraphs that date from his reign. Inscription 301, for example, has a grant of 400 pon for 'a variety of construction work', while later the same inscription notes a gift of 800 pon for 'the worship in the temple and for construction works including the wall'. This may be the wall, mentioned in verse 466, that needed to be repaired. It is certainly too small a sum to build the major wall that abuts the Vallalan Gopuram.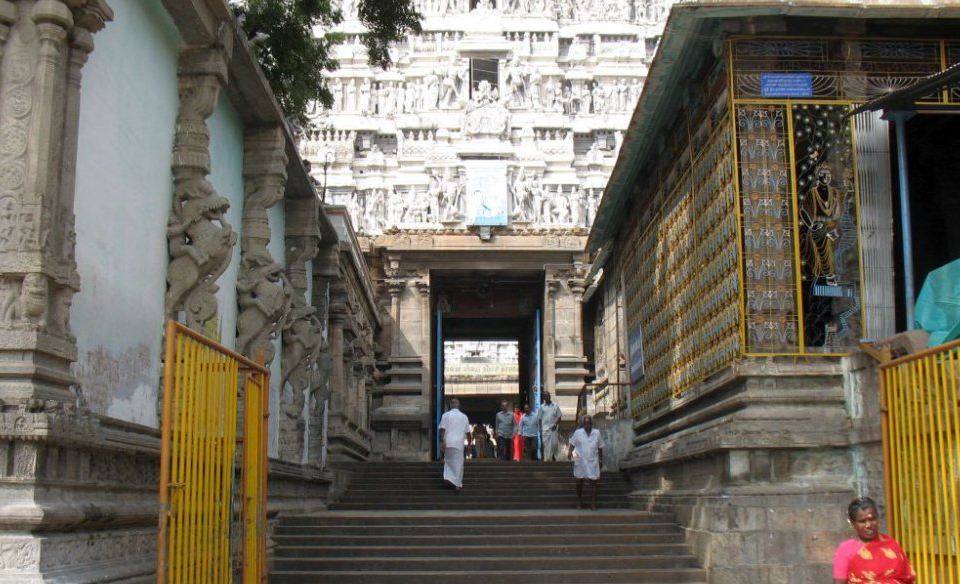 The only clear reference to work on a gopuram comes at the end of epigraph 302, dated 1341. There it is stated: 'for the temple works including the building of the gopuram and the enclosure wall built by Tiruppal.' This is a damaged inscription in which the text before and after this statement is missing. There is no mention of the sum involved – if it was a large amount it would indicate that a major work was in progress – nor is it mentioned which gopuram or which wall. As support for the contention that King Vallalan built the gopuram that now bears his name and the wall on either side of it, the epigraphic evidence cannot be regarded as conclusive.
Both the Arunachala Puranam account and the temple epigraphs from King Vallalan's reign regularly and repeatedly boast of his greatness and his accomplishments. The fact that neither of them specifically mentions his role in constructing what would then have been one of the biggest and most visible parts of the temple complex is strong circumstantial evidence that his contemporaries did not associate him with its construction.
Be that as it may, popular belief and custom now firmly identify the gopuram with King Vallalan. There is even a local tradition about the trials the king underwent after its construction.