This was originally posted on my blog 26 June 2008:
When I was compiling the three volumes of The Power of the Presence, I considered devoting a chapter to Narayana Iyer, a devotee who moved closely with Bhagavan for many years. In the end I decided against it because there wasn't quite enough material to make a substantial chapter. In today's post I have assembled all the material he contributed to The Mountain Path in the 1960s. The first piece is a 1960s article by the editor of The Mountain Path in which he was 'introduced' to readers. Except for one brief editorial interpolation, all the other contributions are Narayana Iyer's writings, either under his own name or his pen name 'Vishnu'.
Sri R. Narayana Iyer, an old devotee, a retired Sub-registrar, is one of the, senior-most devotees of Sri Bhagavan, and one who enjoyed some special privileges. Soon after he came to Sri Bhagavan, he began to move with him more like a resident of the ashram than a casual visitor. Initially, he was an out-and-out sceptic with ultra-modern views and ways, but very soon he became a staunch follower and devotee of Sri Bhagavan.

Narayana Iyer

The familiarity and freedom with which he moved with Sri Bhagavan can be understood from the fact that he was chiefly responsible for eliciting a good deal of information about the family in Tiruchuzhi, their financial difficulties which necessitated borrowings and alienation of family properties. He also assisted the ashram management to redeem these properties and to preserve them as sacred monuments at Bhagavan's birthplace and the place of his education under the names of Sundara Mandiram and Ramana Mandiram. He likewise played a prominent part in the execution of the will of Sri Bhagavan – a document about the propriety of which later on there was a good deal of controversy.

There were occasions on which Sri Bhagavan took special notice of him, for instance, when a cinema picture was about to be shown in the dining hall at 5 p.m., Bhagavan declined to go there till Sri Narayana Iyer, who was expected at 7 p.m. arrived, consequently a large number of people who had gathered in the hall had to wait for a long time. There were other instances also. Though deeply involved in the affairs of the ashram and having different views, he continues to visit the ashram regularly and is well known to one and all.

It was he who asked for a clarification of the state of a family man who follows the path of jnana, and to whom Sri Bhagavan said: 'Remaining as a family man you can certainly engage in spiritual practice. Even better than the man who thinks "I have renounced everything" is one who does his duty but does not think "I do this" or "I am the doer". A sannyasi who thinks "I am a sannyasi" cannot be a true sannyasi, whereas a householder who does not think "I am a householder" is truly a sannyasi.'

Sri Narayana Iyer was the first person to construct a house in Ramana Nagar colony. He still lives here and narrates, to those who seek, the grace, love and splendour of Sri Bhagavan.
It was in the year 1928 or may be 1929. I [Narayana Iyer] was employed at Chetpet, a township 30 miles from Tiruvannamalai. My only friend and constant companion there was Dr V. Ramakrishna Iyer, a versatile man of parts, rather religious but not of the orthodox type, very genial and entertaining, one whom I would now deem a purushottama [best of men], a friend, philosopher and guide as he subsequently proved to be. I was just the opposite in my make-up, an out-and-out sceptic with no religion in me, scoffing in my references to sadhus, sannyasis and swamis, whom I considered impostors and parasites on society, who exploited the credulous folk for personal ends, and accepted their homage and hero-worship as though they were superior to ordinary men.
Dr Ramakrishna Iyer is the son of the late Lakshmi Ammal, a friend and playmate of Sri Bhagavan in his boyhood days at Tiruchuzhi, to which place she also belonged. He was therefore well acquainted with Bhagavan and was an occasional visitor to Sri Ramanasramam. He once asked me to go to Tiruvannamalai with him during the festival of Karthigai Deepam. Although I disliked the crowds, and the unsanitary condition of the town and the pomp and pageantry of the temple festival had no attraction for me, I agreed, not wishing to hurt his feelings, but requested to be left with my parents who had gone for the festival and were staying in the town while he went to the ashram in search of his favourite pursuits.
He agreed and took me to the place where they were staying, but on seeing the number of families huddled in a small house, I told my friend: 'Doctor, I cannot stay here. There is not even breathing space. Your ashram will have plenty of open air and sunshine and shade of trees. I would rather go there and stay outside while you go in and have your way.'
He said 'yes' and took me to the ashram a mile or so from the town. On the way I repeated my opinion of the so-called holy men and said to him: 'I will not come in or join in any of your "'tomfoolery". If by chance I meet your swami, I will not prostrate before him. I mean no insult but cannot do what is against my conviction. I don't believe that any man, however great, has a right to accept the homage of others just because he has learned to memorise and quote scriptures or sacred lore.'
With this warning to my friend we came to the ashram. It then comprised just three thatched sheds, a little away from the road, which one could reach by a narrow foot-path amongst thorns and bushes.
We walked in. A man in a white loincloth, a towel suspended on his shoulder, a kamandalu [water pot] in one hand and a walking stick in another, stopped in his walk in the opposite direction on seeing us. The doctor hastened his steps and I slowly followed. The doctor was greeted very kindly and was asked about the welfare of his mother and brother. It must be the Maharshi, thought I, but I didn't look up as he was a complete stranger to me. Then I heard my friend saying: 'This is the Sub-registrar of Chetpet'. Out of courtesy I looked at him. What a wonderful face and what a welcoming smile! Bewitching, fascinating and a powerful look too!
In a moment I was at his feet on the gravel ground! I soon regained my self-possession and felt ashamed. 'I should not have been so hasty in expressing my views to the doctor,' thought I.
Two persons whom I had seen before had impressed me with their powerful personality – Mahatma Gandhi and Rabindranath Tagore. 'This person surpasses them,' said I to myself, 'not bogus, looks genuine. Yet I must find out from him about his greatness and how he is entitled to the homage of others, and how he accepts it. Has he solved the mystery of life, the universe that we see around? If not I withdraw my homage and go my way.'
With a pleasing smile he said: 'You have a couple of days' leave, is it not so? You can stay in the ashram. I will be there in a few minutes.'
I dared not say anything. I was dazed. Soon I recovered and wanted to find out if he had written any book. I got a copy of Reality in Forty Verses in Tamil, just published. I tried to read the first stanza. I could not follow it. The words ulladu seemed too closely packed and somehow jumbled together to form a stanza. I was flabbergasted.
'What,' thought I, 'can he not say what he has to say in some intelligible language?'
Someone nearby said that it had been arranged that the Maharshi himself would explain to us the Forty Verses that night. I prevailed upon my friend to prolong our visit. This time it was his turn to be flabbergasted.
In anxious and eager suspense I waited for the night. The Maharshi sat on a raised pial or dais inside a shed containing his mother's samadhi. Apparently he used to remain most of the time there. Night came. About half a dozen of us were seated on the ground before him. A solemn stillness pervaded the air. There was absolute silence, except for an occasional chirping of a bird or the hooting of an owl. The Maharshi read the first stanza. The mere reading of the stanza made the meaning as simple as simplicity itself! The word ulladu was just used in the sense of being or reality, as noun, verb and adjective. Stanza by stanza he read and explained in a voice that was so sweet and melodious and coming as though from 'somewhere'. The climax came. Explaining one verse he said 'God cannot be seen with our eyes or known by our sense perceptions. This is what is meant by saying: 'To see God is to become God.'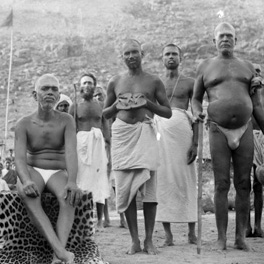 One man from the small audience, a stalwart person with a severe expression named Dandapani Swami, interposed: 'Is Bhagavan saying this out of personal experience?'
The question asked bluntly with such naiveté was answered with equal candour: 'Else would I dare to say so?'
Enough. It set me furiously thinking and putting two and two together; what takes so much time to think flashed upon me in a moment. 'To see God is to become God.' God cannot be known by our sense faculties. The only way was to become God. If He whom all religions acclaim to be God were to appear before one in flesh and blood, here He is. My body experienced a thrill from somewhere deep down in me. Yet another – again and again, thrill after thrill quivered and shook my frame. I went out to compose myself.
I came, he saw, he conquered.
* * *
At first it was not thirst for Self-realisation or spiritual development that impelled me and drew me to Sri Bhagavan. In fact there was a background of scepticism and incredulity. The first impression was more or less a mental conviction, something like that which we have towards a deity in a temple symbolised by an idol. It gave me no spiritual insight.
'Somehow or other he appears to have discovered some truth, perhaps like Buddha under the bodhi, tree,' I thought.
But I loved him and longed to be in his company as much as possible. I felt a rapturous delight in hearing him talk. I was in the prime of youth, recently married and placed in a respectable government job, and I was happy and satisfied with life as it was. I was in no need of the solace of religion or spirituality. Yet I could not leave him and the first impression of his beaming face, sweet smile and endearing talk always danced before my eyes drawing me from my usual routine and pursuits. I arranged with the doctor who first took me to Sri Bhagavan to pay monthly visits to the ashram of three days, namely the penultimate Saturday, Sunday and a day's casual leave out of the fifteen days available to me in a year.
This arrangement worked for a few years. Then this doctor friend, who was so free and familiar in the ashram as to move about and to conduct himself as a regular inmate, doing work in the kitchen and elsewhere, introduced me also to the same privilege and the opportunities it gave to be in close contact with Sri Bhagavan, who presided over and participated in all kinds of kitchen work with the proficiency and ease of an expert – a regular nala in the culinary art!
Well, I seemed caught in a net! The more I was with him, the more I wanted to be with him. But I was shortly transferred to Arni, another town within the same radius of thirty miles. Here I missed the company of the doctor friend. Losing delight in all other things, I turned the monthly visits to the ashram to weekly ones, coupling Sundays with other holidays. And I was always welcome to the ashram.
I used to translate from Tamil to English Sri Bhagavan's replies to letters received by him. On one occasion, when Bhagavan was talking very fast, I asked him to wait a little and took up a paper and pencil to write down what he was saying.
Upon this he said: 'Well, well, you write what you are able to. If I begin to dictate they would want to print it. There will be no end to it.'
Like an ass carrying a load of camphor, I had no idea of all that I wrote or listened to.
By this time I had made friends with the attendants, Sri Madhavaswami, Sri Satyanandaswami, Sri Krishnaswami, Sri Rangaswami and others, and they did not protest when I gradually introduced personal services to Sri Bhagavan, such as massaging his legs, fomentations, etc. There were occasions when his muscles became rigid or painful. His physical work, like cutting vegetables and directing the work of the kitchen, was generally confined to the early hours of the morning when only the residents were present. After , during the Vedaparayanam, or when visitors came from the outside, he would be on his couch in the hall, sitting there or just reclining like a statue cut in alabaster, or like one posing for a painter or sculptor. Sitting and sitting like this all day made his muscles hard and inflexible and required some massage. Thus, by slow degrees, a sort of familiarity and intimacy grew up between me and Bhagavan.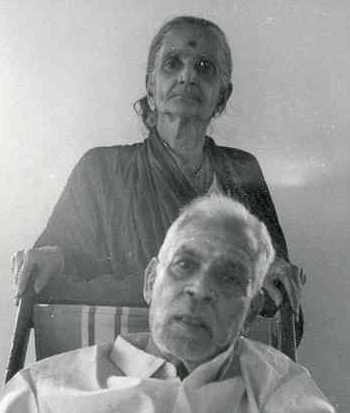 During one of my visits I stayed outside the hall for about half an hour and when I entered the hall, Sri Bhagavan remarked: 'What is this? You are not at all to be seen.' Although it was I who chose to render personal service, he seemed to have assumed the role of a master with complete control over my programme and to decide what I should do and how I should spend my time. Anything out of the way, like a stroll into the town, etc., was done only after seeking his permission. Although I had not bargained for this surrender of freedom, I yielded to him as there was such love, love unmistakable.
One morning at about I prostrated before Bhagavan and took leave of him. There had been some function like jayanti or mahapuja the previous day and all were tired and asleep.
Sri Bhagavan said 'Wait' and went into the kitchen. I followed. He searched and found nothing to give me. He then put his hand inside a pot and found some almonds. He immediately lit the fire, put a pan on it, fried the almonds in ghee and gave them to me. Though I protested, he gave me a big packet of them and asked me to eat them on my way and to give some to the children at home! Is this not divine love?
Sometimes when I came and prostrated before him an attendant would run up and fetch me a packet of some dish of groundnuts or something special served during the meal. I would be told by the attendant that Bhagavan wanted 'a little of it to be kept for Narayana Iyer who would be coming in the evening'. Oh! What have I done to deserve such kindness and attention? Tears trickle down my cheeks as I write this at such a distance of time.
Once I asked Bhagavan: 'Bhagavan, you left your home in Madurai where your relatives had been treating you with love and kindness and spending money upon your education. You misappropriated their money for your train fare to Tiruvannamalai. You sneaked your way to the railway station so as not to be noticed by anyone. You posed yourself as a pilgrim who had lost his kit. Then you saw at Tirukoilur the Holy Hill and burst into a wave of sobbing. Was all this straightforward and proper?'
Sri Bhagavan was silent for a while and then replied: 'This can be explained. It is said in the Kural: "'Even falsehood is akin to truth when it is unblemished good and harms none."' This shows the freedom I enjoyed with Bhagavan.