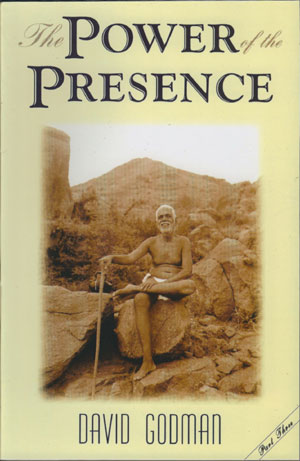 Ramanatha Brahmachari served Bhagavan and his devotees for several decades. This account of his relationship with Bhagavan has been taken from The Power of the Presence, part three.
 *     *     *
Ramanatha Brahmachari first encountered Bhagavan in 1912, when Bhagavan was staying in Virupaksha Cave. At that time Ramanatha Brahmachari was a student in the Veda Patasala in Tiruvannamalai. He had a strong yearning for God, so when he heard good reports about the swami who was living on the hill, he went to Virupaksha Cave to see him. It was a defining moment in the life of Ramanatha Brahmachari because one look from Bhagavan stopped his mind and captured his heart.
Ramanatha Brahmachari began to spend all his free time with Bhagavan. Though he was extremely poor, he refused the free meals that were available in the patasala. Instead, he would beg for his food in the streets of Tiruvannamalai because this gave him the freedom to leave the patasala as soon as the lessons were over. He took advantage of this arrangement by running up the hill to see Bhagavan whenever school finished.
Around 1920 he caught bubonic plague while he was staying with Bhagavan at Skandashram. Bhagavan insisted on staying with him and looking after him. Kunju Swami has described what happened:
Kunju Swami, 1930

Annamalai Swami [an attendant of Bhagavan who died just before Kunju Swami saw Bhagavan for the first time] was not the only devotee to get bubonic plague. On the day I arrived another devotee, Ramanatha Brahmachari, was in great pain because his plague boil had just burst. I learned later that about a week before my arrival [in 1920], when the disease had just begun to affect him, Sri Bhagavan had asked Ramanatha Brahmachari to stay at Skandashram while he went round the hill with Perumal Swami, Rangaswami Iyengar and a few others. On the way, while they were resting for a short while at Pachaiamman Temple, Perumal Swami and Rangaswami Iyengar informed Sri Bhagavan of a plan they had thought of earlier.

'As Ramanatha Brahmachari is afflicted with a contagious disease,' they said, 'we should all stay here at Pachaiamman Temple. We can take him food and look after him from here.'

Sri Bhagavan, who was compassion incarnate, was upset by their meanness.

'What a wonderful suggestion! He came to me while he was still a young boy. He is totally dependent on us. Is it proper for us to leave him alone in this condition and come to stay here? If you are afraid, you can all stay here. I will go and stay with him. When you bring food for him, you can bring me some as well.'

When the devotees heard this they remained silent, fearing to pursue the matter any more.
Ramanatha Brahmachari gave up his family and a potential career to be with Bhagavan, and Bhagavan responded by taking full responsibility for him. This is brought out in a story that is told by the descendents of T. S. Rajagopala Iyer:
Bhagavan noticed one morning that Ramanatha Brahmachari was not eating his morning iddlies.

He asked him, 'Why are you not eating today?'

He answered, 'Today I have to perform ceremonies for my ancestors. On days such as these one should fast.'

Bhagavan responded by saying, 'Now you have come to me you need not perform these ceremonies any longer. Eat your breakfast. In fact, eat two extra iddlies. You are not bound by these rituals any more.'

Rajagopala Iyer heard about this conversation and he too began to ignore such anniversaries. One of his relatives came to Bhagavan and complained that he was no longer willing to participate in these functions.

The next time Rajagopala Iyer came to the ashram, Bhagavan asked him why he was not participating in these family rituals.

'Because you told Ramanatha Brahmachari that they were no longer necessary,' he replied.

'His case is different,' responded Bhagavan. 'He has given up everything to be with me. What have you given up?'
Bhagavan generally did not approve of householders who decided to give up their family responsibilities. When Bhagavan said that Ramanatha Brahmachari had 'given up everything' he may have been indicating that he had also given up his mind. One who is in such a state is no longer obliged to perform traditional rites and rituals.
Ramanatha Brahmachari was a great believer in service, not merely to the Guru but also to the Guru's devotees. He helped with the kitchen work at Skandashram, and when Bhagavan moved to Ramanasramam, at the foot of the hill, he continued to make himself available to all devotees who required assistance.
Sri V. Ganesan has described some of his activities in the early years at the foot of the hill:
After Mother's samadhi Bhagavan moved to the present ashram. Ramanatha Brahmachari continued his services. He would surprise everyone with the tireless energy that lay in his tiny frame. Of his own accord he would clean the premises and do all sorts of odd jobs for the residents. His self-appointed task was to wait for the arrival of the 8.30 evening train and keep the food warm after he and others had taken dinner. If any visitors arrived, he would feed them lovingly, and then provide each with a small log to serve as a pillow and a leaf mat to sleep on. His dedication to service had to be seen to be believed. He would get up even in the midst of sound sleep if someone nearby murmured a requirement of hot water at night…

He was in the habit of liberally using the word 'Andavane' [meaning Lord] while talking. He would even call others 'Andavane'. Thus people started addressing him as 'Andavane'.

He spun the charka [spinning wheel] regularly. Yes, Ramanatha Brahmachari was a staunch Gandhian! Once he took a dhoti woven from his yarn, met Mahatma Gandhi and presented it to him. When he returned he related all this with a broad smile to those in the ashram. He also started a parallel twenty-one-day fast along with the Mahatma, but was dissuaded by Kunju Swami and others from continuing after three days.

It was a strange sight to see Andavane returning from town every day. In his right hand he would clutch a tattered umbrella, while his left hand would be holding a vessel containing food. Sometimes he would also carry a thermos flask (a luxury enjoyed only by the aristocracy in those days) containing hot coffee for Bhagavan. It was sent by an ardent devotee in town. That was not all. As he was not in the habit of using a bag, he would fold his dhoti at the knees and stuff into its rear and sides vegetables brought from the market. With the dhoti bulging and drooping at the knees, he would waddle forward, slowly raising each foot. And with each slender foot would rise a relic of a sandal, gargantuan in thickness, with several layers of patchwork. Andavane's reluctance to part with his archaic pair of sandals often provoked teasing but he would fondly cling to them.

When the calf Lakshmi was brought to Bhagavan in 1926, along with her mother, by Arunachalam Pillai, Sri Bhagavan tried to dissuade Pillai from leaving the pair in the ashram as there was no one to take care of them.

At the crucial moment it was Ramanatha Brahmachari who declared without hesitation, 'I will look after them!'

For three months he tended to their needs, after which someone in the town came forward to keep them on behalf of the ashram. Ramanatha therefore played an important part in cow Lakshmi attaching herself to Bhagavan.