During this period of his life Guhai Namasivaya supported himself by begging for his food. He seemed quite content with his spartan existence. The following verse (459) appears in his writings:
To worship continuously the One [Siva]
who wears the poisonous serpent as his ornament,
to live in harmony with His wishes,
to go for bhiksha, eat it,
and come to the temple entrance to sleep,
this is happiness indeed!
To go for bhiksha is to beg for one's food. This verse is not one of Guhai Namasivaya's; it was composed by the Tamil saint Pattinathar. It probably ended up in a collection of Guhai Namasivaya's verses because it resonated so well with his own outlook.
After he had lived like this for some time, Lord Siva appeared in one of his dreams and commanded him: 'Remain in a cave on the slopes of our mountain and carry on your yoga practice there.'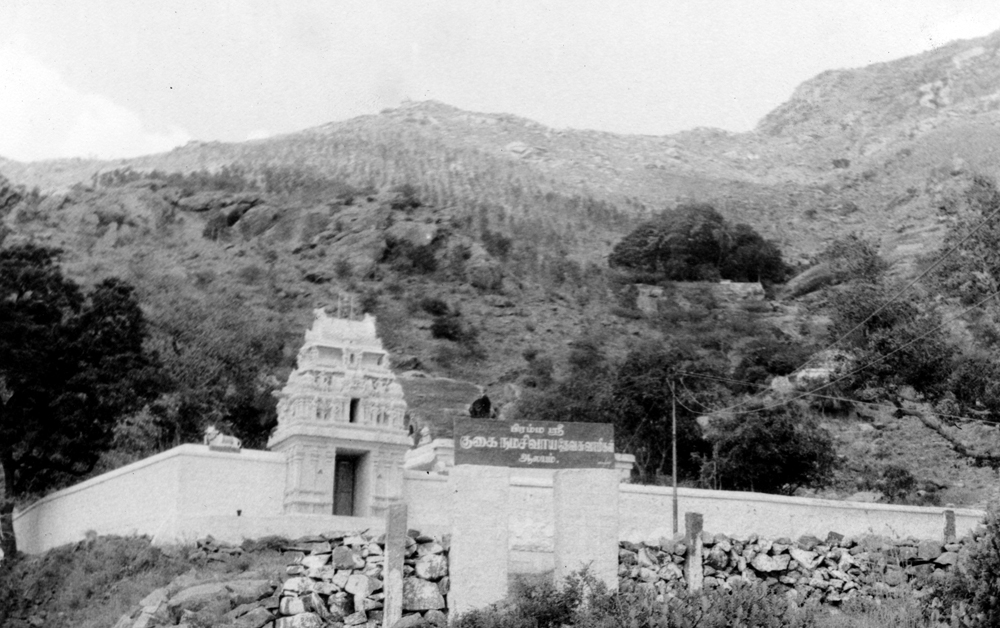 Guhai Namasivaya accepted the order and moved into a cave on the lower slopes of the eastern side of the hill. This cave was his base for the rest of his life.
The mountain soon became the main focus of his spiritual activities. To understand how this came about, it will be instructive to compare certain aspects of Virasaivism, particularly the teachings on the nature of lingam, with the spiritual traditions that are associated with Arunachala. The Virasaivas conceive of lingam, in its unmanifest form, as a blazing mass or column of light in the heart of each devotee. At the time of initiation, the Guru draws out this power, installs it in a physical form, the ishtalinga, and instructs the disciple to worship it as if it were Siva himself. In the case of Arunachala, Siva initially appeared as a dazzling, limitless column of light and then later transformed himself into the physical lingam of Aruanchala. As Ramana Maharishi remarked on several occasions, the hill is not the abode of Siva or a symbolic representation of him, it is, like the ishtalinga of Virasaivas, Siva manifesting in a lingam-shaped form. This is what he had to say to someone who enquired which portion of the hill was the holiest and most sacred:
The whole hill is sacred. It is Siva Himself. Just as we identify ourselves with a body, so Siva has chosen to identify Himself with the hill. Arunachala is pure wisdom in the form of a hill. It is out of compassion for those who seek Him that He has chosen to reveal Himself in the form of a hill visible to the eye. (Ramana Pictorial Souvenir, p. 7)
There is a tradition in Tiruvannamalai that the lingam in the Arunachaleswara Temple and the mountain lingam of Arunachala are one and the same. Thus, when Sivananda Desikar manifested and superimposed his image on the temple lingam, Guhai Namasivaya, who had been worshipping that image, received the message that his Guru and Arunachala were identical. This understanding is mentioned in the verse he immediately composed. Furthermore, realising that the vision had authorised him to regard Arunachala as his Guru, he began to worship the mountain as a Guru lingam. He described this new relationship and the effect it had on him in the following verse (546):
Taking into my heart as my Guru
Lord Arunagiri,
who now stands formless before me,
I have put to flight two-fold karma,
impossible to describe,
my soul's threefold impurity,
so difficult to destroy,
and my unparalleled suffering.
In Virasaivism it is the Guru's job to cleanse the devotee of the 'soul's threefold impurity' (the ego, karma and maya) and the 'two-fold karma', which are good and bad deeds and their consequences. This process would have been initiated by Guhai Namasivaya's human Guru, Sivananda Desikar, but as the above verse clearly states, it was Arunachala-Siva who completed the job.
By channelling his devotional fervour towards the mountain, he was able to generate a level of love that he had never experienced from worshipping his ishtalinga and practising Siva Yoga. In verse 548 he sang:
Except for the ineffable Lord Annamalai
and His consort Unnamulai, His left side,
I have known no other gods,
or even if I have known them,
I have never sought them in my heart of hearts,
believing them to be beneficial.
Unnamulai is the consort of Siva (Lord Annamalai) in Tiruvannamalai. They are deemed to be a joint entity with a shared body. Unnamulai is the left side of the body; Siva the right.
When Guhai Namasivaya was living in the temple gopuram in town, he had begun the practice of composing a verse to Arunachala each day. To show his love and gratitude to his Guru Arunachala for the grace he had bestowed on him, he continued this practice for the rest of his life. This devotional habit was mentioned by his disciple, Guru Namasivaya, in several of his verses:
Mountain to whom [Guhai] Namasivayan,
performer of great and severe tapas,
makes obeisance, daily adorning Him with a garland of one venba verse.
Mountain who ripens as a harvest of venba verse
in the affectionate thoughts of His devotee Guhai Namasivayan.

Mountain where dwells my Guru, Om Namasivayan,
he who is like garnered treasure,
daily praising [Annamalai] in chaste Tamil. (Extracts from verses 7, 14 and 16 of Annamalai Venba)
The venba was the format of the Tamil verses he composd: three lines, followed by a slightly shorter fourth. Guhai Namasivaya utilised this metrical form in all his verses that praised Arunachala. Annamalai, meaning 'unreachable or unapproachable mountain,' is a common Tamil name for the mountain. The town of Tiruvannamalai combines the word 'Annamalai' with an honorific prefix.
Guhai Namasivaya developed the siddhi of being able to witness events that were taking place in far-off places. His disciple Guru Namasivaya not only mastered the same skill, he was also able to change events that were occurring in the visions he was having. The one incident of this kind that is reported in the life of Guhai Namasivaya occurred when he witnessed in Tiruvannamalai the strange behaviour of a Vaishnava guru from Kanchipuram who was travelling to Tirupati on a pilgrimage. Both places are about a hundred miles from Tiruvannamalai.
The guru was being carried in a palanquin by his disciples. As they approached Kalatti (modern-day Kalahasti) the guru asked his disciples about the hill he could see through his window. When he was told that it was the famous Siva shrine of Kalatti, he immediately asked his disciples to hold a cloth across the window so that he could avoid seeing the hill.
Observing this irreverent conduct from afar, Guhai Namasivaya composed the following verse (289):
Is the Vishnu devotee the equal of Him
who destroyed the tripuras, Narasimha,
warring Kama and Yama? Answer me!
Why is he ruining himself by failing to praise and worship
the Guru at Sonagiri, where bees build their hives?
Sonagiri, meaning 'Red Mountain', is one of the many names of Arunachala. 'The Guru at Sonagiri' is Siva in the form of Arunachala. It was Siva who destroyed, in separate incidents, the tripuras (the flying cities of the asuras), Narasimha, Kama and Yama.  As a divine punishment for his narrow-mindeness the Vaishnava guru became completely blind. However, when he arrived at Tirupati and worshipped there, Lord Venkateswara asked him to go back to Kalatti and sing praises to Siva. After he had sung Siva's praises there, his sight was restored.
The rishis and yogis of the Puranas would often do tapas for years to accumulate great powers. Then, if they were roused to anger, they would often curse people who had offended them. This would inevitably result in dire consequences for the victims of the curses. At least one incident of this kind occurred in the life of Guhai Namasivaya.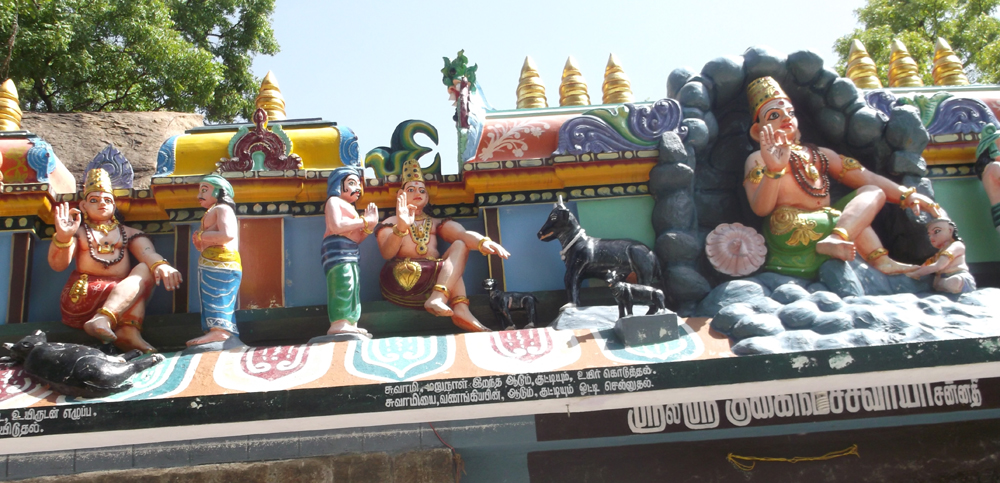 One day, while he was living on the hill, he took pity on a poor man whose only goat had been killed by a snake just before it was about to give birth. Guhai Namasivaya asked the man to leave the goat's body with him and to collect it the next day. When the goatherd returned to pick up the corpse, he found that not only had the goat been restored to life, it had also given birth to two kids. As news of this miracle spread around the town, some boys from the local weaving community decided to play a joke on Guhai Namasivaya. One boy, pretending to be dead, was carried into the presence of Guhai Namasivaya by his friends. The boys claimed that their friend had died of a snake bite and asked the saint to restore him to life. Guhai Namasivaya, who could see that they were merely making fun of him, cursed them with such vehemence, the boy who was pretending to be dead actually did die. Then, still angry, Guhai Namasivaya composed the following verse (455):
This is a town in which kolar live.
This is a town where no one asks questions when murders are committed.
This is a town in which young men stand alone and cry out in pain.
This is a town that daily bears a burden of opprobrium.
This is a town where people who have committed heinous crimes live.
This is Annamalai, which itself never suffers destruction.
'Kolar' is a contraction of the Tamil word 'kaikolar', a common term for weavers. Guhai Namasivaya lumped them together  with all the other unsavory characters listed in the next four lines, and then cursed the whole Tiruvannamalai weaving community, saying that it would never prosper or flourish in Tiruvannamalai again. The curse took effect: all the weavers were forced to leave town or take up other occupations because none of them could make a living by weaving in Tiruvannamalai. In the years that followed, all attempts to re-establish weaving businesses in the town failed.
There is a local tradition that Guhai Namasivaya was about to curse the mountain itself in the last line, but just before he uttered it, Siva appeared and said 'I am here'. Guhai Namasivaya then changed the ending of the verse to 'which itself never suffers destruction'.
The ancient rishis who had the power to curse, as a result of their tapas, often also had the ability to approach the gods and demand, successfully, that they intervene in worldly matters. Guhai Namasivaya was credited with this power as well.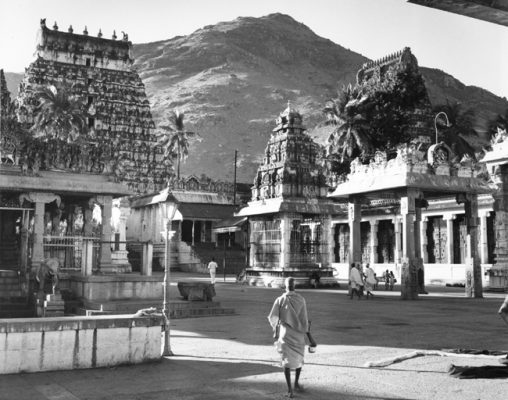 A barbarian chieftain, Agittu, once invaded and looted the town of Tiruvannamalai. He murdered many of the inhabitants, abducted a large number of the town's young women and, in an act of deliberate desecration, set up camp in one of the temple courtyards and roasted an ox there. When news of this reached Guhai Namasivaya, he became angry and rebuked Lord Arunachaleswara (the presiding deity of Arunachala) in the following manner (452):
Sonesa!
Have all the three eyes,
including the one on Your forehead, fallen asleep?
Have the battle axe and the trident
that You hold in Your hands been plundered?
Do You not have the least regard for Your devotees?
Should they all die an accursed death?
Arunachaleswara accepted the justness of the complaint and, for the sake of Guhai Namasivaya, decided to intervene in the matter. That night the Lord appeared to Agittu in a dream in the form of a sadhu and struck him on the back with his stick. Agittu woke up immediately and noticed that on the spot where he had been beaten there was a rash that soon grew and developed into a large, swollen abscess. He consulted some of the elders of the town, recounting his dream to them. They all advised him that he could only save his life by leaving the temple. Agittu, not wanting any further punishment, abandoned the temple to the pujaris and the town's devotees who cleared up his mess and reconsecrated the holy shrine. However, Agittu could not escape the wrath of Guhai Namasivaya and Lord Arunachaleswara. His abscess grew and worms appeared in it, which gnawed away at his healthy flesh. All remedies failed, including one horrific experiment in which he applied foetuses, taken from pregnant women he had slaughtered for the purpose, to the wound. When he eventually died in great agony, his death was celebrated throughout Tiruvannamalai.
There is another similar miraculous intervention attributed to Guhai Namasivaya. The story has many parallels with the one just narrated, but it purports to chronicle an entirely different incident.
A Muslim ruler invaded Tiruvannamalai. After he had overrun the town, he began to harass and injure many of its inhabitants. Some devotees went to Guhai Namasivaya and appealed to him to help. In response, Guhai Namasivaya sang a verse (450) to Arunachala, asking for His intervention:
Sonesar has in His hands
the trident and the shining battle axe.
He has the saving grace that was revealed
when He consumed the poison.
The eye that burned Kama is there on His forehead.
Why then, today, does He dally and remain still?
This story has a less gory ending than the previous one. That night Vinayaka (Ganesh) appeared in the Muslim king's dream in the form of an elephant and frightened him. When he woke up, he came to the conclusion that Vinayaka was criticising his behaviour in the town and decided to make amends. As a token of his repentance he organised a big puja at the Vinayaka shrine that is located just to the left of the entrance to Kili Gopuram in the Arunachaleswara Temple. During the ceremony the king offered a large number of elephants to Vinayaka. The shrine is now known as 'Yanai Tiraikonda Vinayaka Shrine,' 'The-elephants-accepted-as-tribute Vinayaka Shrine.' Guhai Namasivaya mentioned this miracle in the first verse of Arunagiri Malai:
Ganapati, you who are the child [Pillaiyar] who accepted
a herd of elephants as tribute!
You who possess all the extolled virtues!
You it is whose aid and blessing we invoke
for this garland in praise of Him who became
a column of fire, sought by the swan and the boar,
and who now abides in the world as Arunagiri.
While this incident has traditionally been accepted as being a part of Guhai Namasivaya's life story, its authenticity is problematic since it is referred to in one of the poems of Arunagirinatha, a saint who lived in Tiruvannamalai for about eighty years, probably between 1370 and 1450 AD.
Sivaprakasa Swamigal, a 17th century Tamil poet who composed verses on Arunachala, and who lived for a time in Tiruvannamalai, mentioned this incident in the invocatory verse of Sonasaila Malai, a hundred-verse poem in praise of Arunachala:
Holding in my heart the One
whose feet ringing anklets adorn,
who as tribute received an elephant herd,
and who is praised as He
who receives the tribute of steeds
that are the minds of devotees
whose words are sweet,
I shall praise Sonasailan [Arunachala], wise and fair!
The two commentaries on this work that I have come across both state that the 'elephant herd' incident is the Guhai Namasivaya version I have just outlined. It seems that the incident is widely believed to belong to the life story of Guhai Namasivaya.
The traditional account of Guhai Namasivaya's life states that he lived to be 200 years old. If one accepts this improbable age, one could possibly locate him in the span of 1420 to 1620 and have this Vinayaka story happen while Arunagirinatha was still alive. This would mean that Arunagiri Antadi, known to have been composed in 1548, would have been written when Guhai Namasivaya was about 130 years old. A possible death date of 1620 would just about make it possible to have a disciple (Arumuga Swami) who is known to have passed away in 1673. Alternatively, one could come to the conclusion that the whole narrative is merely a somewhat garbled variant of the story of the barbarian chief.
Guhai Namasivaya's immense age is referred to in the final incidents that are narrated in the traditional story of his life.