As I write this account more than twenty years after the events it describes, I am aware that, though I still live at the foot of Arunachala, nowadays I live in a large house with an acre of luxuriant garden. As I type these words on a $2,000 laptop, a Mozart opera is playing in the background, a gardener is watering my flowers, and when I look down, I note that I am now wearing trousers. Life has moved on but I cannot say that the objects that have slowly accumulated around me in recent years have made me any happier or more joyful than I was twenty years ago. I elected to live a life of voluntary simplicity back in the 1970s because I enjoyed living that way. I had a glorious, carefree happiness that wanted nothing and was dependent on nothing. It was not an ascetic, self-denying existence. There was a fullness and a joy in everything I did. I had no material desires that were unfulfilled.
Hindus have a concept they call 'tapas'. It is generally defined as arduous penance in which one burns off one's spiritual impurities by a physical discomfort that is occasionally extended to voluntary bodily mortification. Many of the Indians I spoke to in the 1970s thought that by living in my tiny, powerless, waterless shrine I was doing severe tapas in the hope that I would get enlightened. I wasn't. I was actually enjoying myself, having the time of my life. As I trawl through my memories of this period, every incident I come up with breaks the surface coated with a happy humorous glow. Could I really have been that contented, that unprovokable, or is my memory playing tricks on me? I don't know, but make up your own mind as I share a few memories.
In November the rain came down in sheets. I had a small banyan tree sprouting out of my roof whose roots had pried open several large cracks in the masonry. Rainwater came in through these holes, trickled down my wall and finally came to rest in a large puddle in the lowest corner of the stone floor I was sleeping on. I remember shipping about a bucketful every night during the worst rains. I couldn't catch drips because it was a down-the-wall trickle, not a plop-plop from the ceiling. It was impossible to sleep for more than an hour at a time because, irrespective of where I chose to curl up, that was how long it took for the puddle to spread and soak my bedding. I spent many sleepless nights mopping up the rainwater with a large cloth (doubtless one of my recycled dhotis) and squeezing it into a bucket. Every hour or so I would open the door and tip the water outside. Did this bother me or irritate me in any way? Not that I remember. It was just part of the lifestyle, and one dealt with it in the appropriate way whenever it happened. I remember laughing about it when I told my friends who lived in more sleep-friendly buildings, but I never felt it was spoiling my tenure of the temple or giving me any reason to find another place to live.
My shrine was located on the edge of some fields that were only cultivated when there was a good monsoon. Since none of these farmers had irrigation, they cultivated peanuts, a poor man's crop that can produce a small harvest with minimal fertilizers and a small amount of rain. There were great rains that winter and high expectations of a good crop. As the peanuts began to form under the ground, the farmers sent their children to guard the fields. The tribes of wild macaque monkeys that roamed freely in the area loved to pull out the plants and eat the nuts. It was the children's job to watch the fields and drive away any marauding monkey tribes that passed that way. The obvious lookout post was the roof of my shrine, since it commanded an excellent view of all their fields. However, it was not the ideal spot from which to launch a monkey chase since climbing down the walls of my temple and then down the steps that led up to it was a time-consuming chore that would give the monkeys about two minutes of free peanut-chomping time. So, the children split themselves up, one group in the fields and one group on my roof. It was the job of the group above me to make the maximum amount of noise whenever they sighted monkeys, primarily to attract the attention of the foot soldiers in the fields but partly also to add moral support to the stone-throwing chase that inevitably ensued. Several times a day I would be jolted out of a peaceful meditation by the sound of several children on the roof, all simultaneously screaming and banging metal dishes. We happily co-existed for about three weeks. When the harvest was gathered in, we sat around and gorged ourselves on freshly picked peanuts.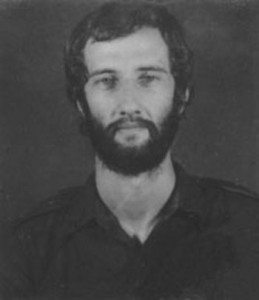 I was their sole entertainment in the slack periods when there were no monkeys to chase. Put a TV remote control in the hand of an average western ten year old and you will discover, if there are enough channels to surf, that he or she has an attention span of one or two seconds. These children, though, could watch me for hours with unwavering attention and unflagging interest, even when I was doing absolutely nothing. I would meditate for a couple of hours every morning, sitting cross-legged just inside my door. They would observe me intently from a distance and if, after twenty minutes or so, I scratched my nose or moved a foot a little to relieve numbness or joint pain, a shout would go up from outside, 'White man's just scratched his nose!' or 'White man's just moved his foot!' 'Vallikari' or 'White man' is the term Tamils use to describe light-skinned foreigners.
If I did something really spectacular, such as go for a pee in the nearby bushes, this would make their day. The shouts of 'White man's gone for a pee!' would be echoing around the area for up to five minutes. I suspect that a complete report of my nose-scratchings, foot-movings and urinations was passed on to the village adults when the children went home. Many years later I was given a fairly accurate summary of my daily routine in the temple by a man who lived in a nearby village. I am sure I had never seen him before in my life.
I found this constant scrutiny amusing rather than intrusive. When the peanuts were finally harvested and peace and quiet returned to the neighborhood, I found I missed the kids and their random eruptions of noise. I had entertained them well and they in turn had entertained me.
While all this was going on I was doing volunteer work in Ramana Maharshi's ashram, which was about two and a half miles away. Every afternoon I would walk there, look after their small library for two hours, and then walk home. As I review this particular memory, I can only marvel at the slow-paced leisureliness of my routine in those days. I could have bought a bicycle and commuted in a fraction of the time, but I chose not to because I enjoyed the  miles of walking so much.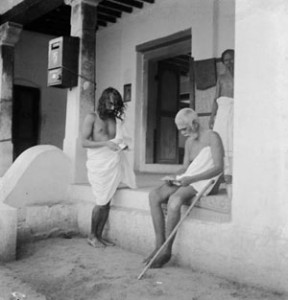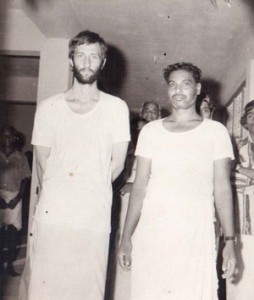 A friend of mine looked after the library in the morning. When she left for a few weeks, I volunteered to do her shift as well. I took a room in Ramana Maharshi's ashram, thinking I would stay there for a few weeks. It was summer and I didn't see much point in doing the walk from my temple twice a day in the 100-degree heat. My friend never came back, and I ended up staying in the ashram many years. From 1978 to 1985 I immersed myself in the library and worked long hours to revitalize and expand it. The meditating hermit rejoined the work force.
A couple of months later, when I realised that I wasn't going to be moving back to my temple, I walked out to collect the odds and ends I had left there: a mattress, kitchen utensils, some books, and a rucksack. My spirits sank as I approached the door. It was swinging on its hinges. Someone had forced the lock and removed all my belongings. Or so I thought. When I opened the door, all my possessions were still there. The only thing missing was the rather fancy lock that had been attached to the inside of the door. Whoever had broken in had come to the conclusion that the only thing worth stealing was this lock that had for months and months been guarding and protecting my utterly useless and worthless possessions. I laughed as I visualized how disappointed the thieves must have been as they surveyed their meager haul. A few weeks later more thieves descended and removed the door I had installed. The temple was now restored to its original abandoned state.
I had been told that the temple had originally contained an image of Kannappa, a Tamil saint who became famous more than a thousand years ago by levering out his eyes and offering them to Siva because he was under the impression that Siva's own eyes were damaged. It was a trick, an illusion, staged by Siva to demonstrate to a temple priest just how devoted Kannappa really was. I mention this because there was a strange postscript to my story.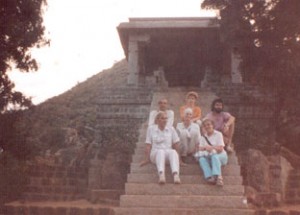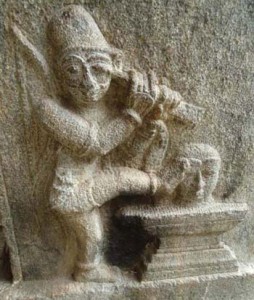 About a year after I moved out of the temple some members of a German charity, Shantimalai Trust, decided to renovate the shrine and reconsecrate it. They were probably planning to have a new image of Kannappa carved and installed, but in the event it was not needed. When news reached Adi-annamalai, a village about two miles away, that restoration work was under way, the thief who had taken the original idol came forward and volunteered to return it. In the years that had passed since he had stolen the statue, his eyesight had deteriorated to the point where he was almost blind. He knew the story of Kannappa and had attributed his near-blindness to the curse of the saint. I suspect that he wanted to keep what little eyesight he still had. Within weeks of returning the statue, his eyesight began to improve and apparently it eventually returned to normal. Was this merely a bizarre coincidence? Could it have been a psychosomatic disorder that sprang from his sense of guilt, or was it, as the villagers like to maintain, proof that the gods can still bless and curse? I take no sides in this except to add a final footnote to the story. An iconographer who had heard about this village 'miracle' came to inspect the statue and pronounced that it wasn't a Kannappa statue at all. It was another god entirely, one who had no blindness stories in his CV.