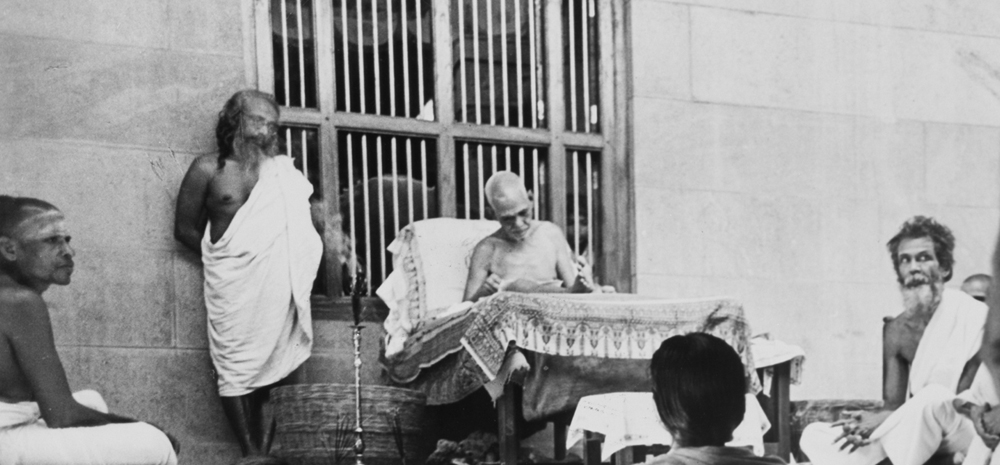 First he began to explain Arunachala Aksharamanamalai for which he had written a commentary, and then completed all the five hymns on Arunachala. Next he took up Bhagavan's translation of Dakshinamurti Stotram. He explained all the special nuances of the words. But sometimes memories of his old days when he had been soaked by the gracious looks of Bhagavan would come. He would stop, choked with emotion. We too would partake of the bliss that would overflow then. To have studied Bhagavan's teachings under this great saint must only be due to some fruition of past penance. Even now I am thrilled when I think of those days as Muruganar's student.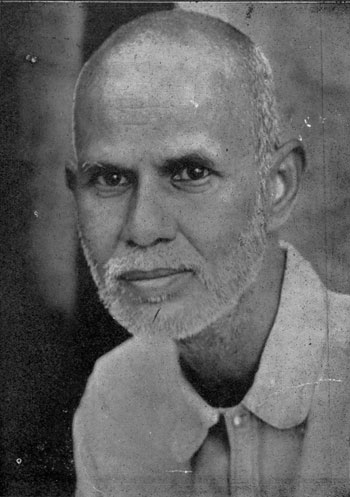 There were many visitors who used to come and see Muruganar. If the person was an old devotee of Bhagavan, he would call me and introduce him to me. I had mentioned to Muruganar that I had not seen Lakshmana Sarma who wrote under the pen name 'Who', though I had read his commentary on Ulladu Narpadu.
He told me, 'Lakshmana Sarma is a staunch devotee of Bhagavan. He has also a lot of affection for me. Whenever I go to Melaisivapuri, I spend at least one day in his house in Pudukottai. He is an expert on nature cure also.'
After many months Lakshmana Sarma, who had come for Bhagavan's darshan, called on Muruganar. They were talking to each other for a long time with a lot of affection and mutual respect.
Muruganar called me and said, 'This is the 'Who' whom you wanted to meet. I am Muruganar,' he joked.
He had remembered a request made by me months earlier. What can I say about his compassion?
Natanananda Swami, while returning from his morning walk, would meet Muruganar every day. He would spend some time with him and then go. He would not take coffee or milk even if offered.
Once I told him, 'Please join Muruganar for lunch on any day convenient to you'.
He said, 'You are looking after him with such loving care, cooking food regularly according to his wishes. This is as good as feeding me. I pray that it may continue.'
Next morning he brought a venba [verse] he had composed on my service to Muruganar. He had mentioned my name at the very beginning.
'Many have been fortunate to serve Muruganar. Why this high praise for me?' I asked.
'This is what occurred to him, so he wrote. Why do you object?' remarked Muruganar.
It may be because I was the first lady devotee who had been allowed the privilege of cooking and looking after Muruganar's bodily needs.
My younger sister Raji was in a poor state of physical and mental health when she came to stay with me for a few months. Muruganar would talk to her freely and would not hesitate to accept her services. He even allowed her to clean his dentures, to give him vibhuti and so on, which he would not let me do. When the hot water was ready for having a bath, he would not come but would go on writing poems on Bhagavan. He would oblige only Raji who would cajole him, pointing out how he would suffer from hiccups if his lunch got delayed. He would affectionately call her 'the little Padananda'.
Muruganar had no needs. However, he would use up a large quantity of water. In those days there was just one tap in front of the ashram. An attendant would bring water from there. Even for cleaning the teeth and washing the feet, he would need four large buckets of water. When the helper did not come, we would ourselves bring the required water without his knowledge.
If by chance he saw us, he would be moved and say, 'I am trying my best to restrict the use of water, but what to do? I don't seem to be able to control it.'
Once a visitor haltingly began, 'Bhagavan's Sanskrit….'
Muruganar did not let him even complete the sentence.
Turning red in the face he said, 'Have you read his translation of Vivekachudamani? Have you noticed how many Sanskrit words he has used in it?'
The visitor beat a hasty retreat.
My sister Raji who was weak in health remarked one day, 'I want to go round the hill. If swami's blessings are there, I can easily do it.'
Muruganar advised her, 'Just do three pradakshinas around Bhagavan's samadhi. It will give the same benefit.'
Hearing this I said, 'I think it will be enough if she goes round you three times'.
At this Muruganar lifted his hands up and said in an emotion-choked voice, 'Where is Bhagavan? Where am I? It is like the difference between a mountain and a mole-hill.'
What can one say about his devotion to his Guru.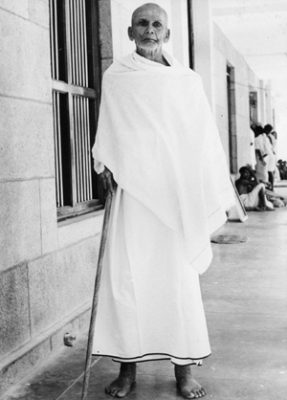 He looked after my sister with great affection. He would console her by joining her in the reading of Bhagavan's works and singing songs like 'Tiru Palliezichi'. She would sing in top octave and the swami in base tone. Thanks to this she forgot her ill health and mental worries. When it was time for her to return to Tanjore, Muruganar gave her a photo of Bhagavan's feet along with a handwritten copy of 'Ramana Mayavan' so that she would feel constantly befriended by Bhagavan.
I had arranged for someone to take her to the station to see her off. I did not want to miss the Ulladu Narpadu class which the swami was to take in the afternoon.
Sensing the reason, Muruganar told me, 'I know why you are hesitating to go to the station. You do not wish to miss the class. Do not worry. I shall give a special extra class for you. Do go with her to the station.'
Next day he gave me the same lesson that he had explained to the others the previous day. What can I say about his consideration?
Raji specially wove a khadi towel and dhoti for Muruganar and gave it to him when she came to Madras. She requested that he should wear it on the Guru Poornima day when she would be thinking of him deeply. On the Guru Poornima day several devotees presented dhotis to Muruganar. However, he called me and asked me to give the dhoti which Raji had given earlier.
'Write to her that I have worn the dhoti which she presented. She will be thinking of me today.'
Muruganar would eat sparsely. Asked if the preparations were good, he would say, 'They are excellent'. To hear his compliments would, of course, be sweet to my ears. But he would refuse to take even a little extra helping.
Sometimes he would ask, 'Is there enough to go around? He would not accept my 'yes' at face value but would check and satisfy himself. His favourite dish was vepam poo rasam made with neem flowers. One day I had prepared what seemed to me to be a specially aromatic rasam spiced with tomatoes. I requested the swami to drink it after adding buttermilk as usual. He asked me to get the rasam, a large tumbler, and buttermilk. He himself mixed the rasam with buttermilk and handed it over to me saying, 'Please drink it yourself and enjoy its taste'. The rasam-buttermilk mixed with his own hands was like nectar to me. Joy filled my being! I was sure that all my tendencies had been washed away by drinking it as it was sanctified by his touch.
The years in which I lived with Muruganar are still evergreen in my memory. I almost feel that I am still enjoying that beatitude.
One evening Swamini Ammani Ammal came in and sat near Muruganar after prostrating to him.
Then she said, 'If anyone wrote anything in Tamil, Bhagavan would say, "Let Muruganar come and check". As soon as Muruganar came in, Bhagavan would remark, "Look, Muruganar has come,' and then turning to him add, "We were talking about you and you have just come". Saying this he would laugh happily.'
Just after she made this statement, we heard a sound and her head drooped. She had passed away while sitting and merged in Bhagavan. Kanaka and I did not know what to do. We sent for her relatives who took her away. She was a person of intense renunciation. How fortunate indeed was she to have died when her last moments were filled with thoughts of Bhagavan and Muruganar. How can I forget this incident which happened in Muruganar's presence?
Devotees had special regard and affection for Muruganar. Nagu Manni (the wife of the president of the ashram) would come and pay her respects and enquire about his health if she did not see him in the ashram. She would be accompanied by her youngest daughter Sarasa who was very young at that time. Muruganar would give her something to eat and enjoy her childish chatter.
It was so easy to move with Muruganar. He would always take care to hide his true stature. One would even wonder if he is really capable of those poetic outpourings of matchless beauty on Bhagavan. He could not care less for how he looked or for his dress. One evening while he was going to the ashram I saw him wearing a dirty dhoti and suggested that he could change it.
He ignored my suggestion, remarking, 'Am I the local District Collector going to his office? This is good enough.'
If asked about the secret of the great attraction and grandeur of Ramana Sannidhi Murai he would say, 'Oh, it is a great work because Bhagavan's Upadesa Undiyar is included in it. Without his sacred message, what is special about Sannidhi Murai.'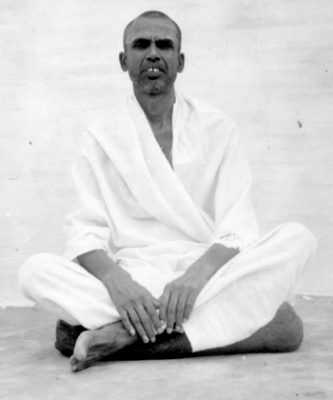 By his poetic excellence and copious flow of poetry, based on his experience of the supreme state, he would charm even Bhagavan. Yet he would not accept any praise or credit for it. What humility!
He would say, 'Even though it was composed by me, it was Bhagavan who arranged the verses in proper order and gave appropriate titles for each section. Hence its merit.'
While saying this his face would blush and tears would run down his cheeks in profusion.
Muruganar was troubled by periodic attacks of hiccups. The devotees and visitors would bring some medicine or other for its cure while calling on him.
'It looks as if we can open a medical shop,' he would say.
Yet out of regard for the givers he would unhesitatingly take what had been given for he valued the affection behind it.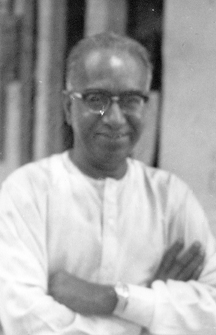 Some devotees took Muruganar to Cuddalore. Then I left for Madras. I heard that he had completed the second part of Ramana Anubhuti and that he was planning to visit Madras in connection with its publication. I wrote to him to come and stay with us at Upanishad Vihar, belonging to Dr T. M. P. Mahadevan. He accepted my request and wrote to say that he was happy to do so. However, he wanted the help of a Tamil scholar to sort out and arrange the papers. By Bhagavan's grace Sri H. Vaidyanathan did yeomen service in this regard. Upanishad Vihar was literally transformed into Sri Ramanasramam when Muruganar was there. In the evenings a large number of devotees would come and listen to the clear exposition of Bhagavan's teachings by Muruganar.
What claim can I have to write about Muruganar? His state was beyond speech and mind. If I have written this account, can there be any doubt that it is entirely due to Bhagavan's grace?
This film, in which Padma Venkataraman speaks in Tamil about her time with Bhagavan, was recorded in Madras at the Upanishad Vihar, the centre founded by T. M. P. Mahadevan that was mentioned in the last paragraph of Padma's account. Padma Venkataraman passed away a couple of years ago.
Though there are as yet no subtitles for the film. Robert Butler has made a translation. He is planning to print it in a small book which will use her talk to explain various aspects of spoken Tamil.