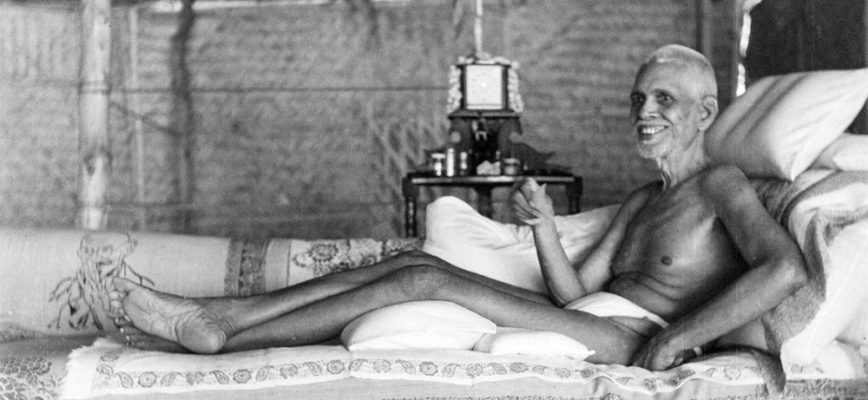 This was originally published on my blog in 2008.
When we speak of the Guru, mention of 'the feet' is never far away. We surrender to the feet, we sit at the feet, we give offerings to the feet, we touch the feet, and if we are lucky enough to be graced by them, we ultimately merge with the feet. The feet exist physically, of course, and all devotees consider it an honour and a privilege to touch them, but they are also a potent symbol of the transcendent state of the true enlightened Guru. In Padamalai, for example, Muruganar portrays Bhagavan as 'the foot' (padam) in every verse. In this long poem he used the term padam to denote the physical form of Bhagavan, the state in which he constantly abided, and the power that emanated from that state through that particular form.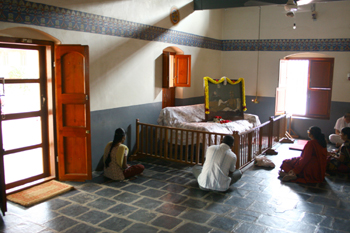 Though Bhagavan did admit on a few occasions that the physical feet of the Guru had a special power, he went out of his way to minimise the importance of his own. In the last few decades of his life devotees were actively discouraged from attempting to touch them. A low railing was erected around his sofa to keep would-be foot-touchers out of range, and whenever Bhagavan went for a walk, one of the principal jobs of the attendants who accompanied him was to ensure that no one would impede his progress by attempting to prostrate and touch his feet. In Living by the Words of Bhagavan Annamalai Swami recorded the following incident, which is a typical Bhagavan response:
A devotee once approached Bhagavan and asked him if he could prostrate to him and touch his feet.

Bhagavan replied: 'The real feet of Bhagavan exist only in the heart of the devotee. To hold onto these feet incessantly is true happiness. You will be disappointed if you hold onto my physical feet because one day this physical body will disappear. The greatest worship is worshipping the Guru's feet that are within oneself.'
Sadhu Natanananda, in Sri Ramana Darsanam, also recorded two key replies from Bhagavan on this subject. The first comes from a section entitled 'The real meaning of touching the Guru's feet'; the second is entitled 'True namaskaram is only surrender of the ego':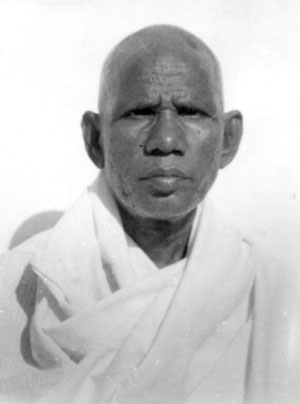 A certain lady, who had a lot of devotion, performed a traditional ritual for worshipping sages whenever she came into Bhagavan's presence to have darshan. She would prostrate to Bhagavan, touch his feet and then put the hands that had touched Bhagavan's feet on her eyes.

After noticing that she did this daily, Bhagavan made the following remarks:

'Only the Supreme Self, which is ever shining in your Heart as the reality, is the Sadguru. The pure awareness, which is shining as the inward illumination 'I', is his gracious feet. The contact with these [inner holy feet] alone can give you true redemption. Joining the eye of reflected consciousness [chitabhasa], which is your sense of individuality [jiva bodha], to those holy feet, which are the real consciousness, is the union of the feet and the head that is the real significance of the word 'asi'. As these inner holy feet can be held naturally and unceasingly, hereafter, with an inward-turned mind, cling to that inner awareness that is your own real nature. This alone is the proper way for the removal of bondage and the attainment of the supreme truth.'

Invoking that lady devotee's natural experience, Bhagavan revealed the true meaning of the gracious feet that unite the jiva with Brahman. Mature ones should attach themselves to these feet.

…. Some of those who came for Maharshi's darshan used to perform ashtanga namaskaram [a full prostration in which eight different parts of the body have to touch the ground] in the traditional way. It was their belief that this practice, done devoutly, was indispensable for those who wanted the grace of the Sadguru. In order to drive home the point that in spiritual life mere mechanical observance of any sadhana, without knowing its inner meaning and without experiencing its fruit, will not make one blessed, Bhagavan, addressing one such devotee, said:

'The benefit of performing namaskaram to the Guru is only the removal of the ego. This is not attained except by total surrender. Within the Heart of each devotee the gracious Guru is giving darshan in the form of consciousness. To surrender is to offer fully, in silence, the subsided ego, which is a name-and-form thought, to the aham-sphurana [the effulgence of 'I'], the real holy feet of the gracious Guru. Since [this is so], Self-realisation cannot be attained by a bowing of the body, but only by a bowing of the ego.'
Some devotees were lucky enough or privileged enough to touch Bhagavan's physical feet, but Bhagavan made it clear that no special transmission was involved when this happened. This subject was brought up by Devaraja Mudaliar in Day by Day with Bhagavan: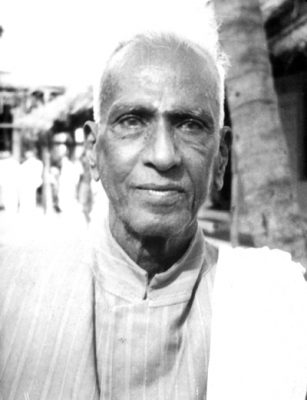 A second edition of Sri Ramana, the Sage of Arunagiri by Aksharajna has recently come out. Sampling it here and there, I came across the passage that Bhagavan blesses his disciples in various ways, the 'mild' by sight, the middling by thought and the advanced by touch.

Once when I was reading Kaivalyam in Tamil, I asked Bhagavan, 'Many books speak of Gurus blessing disciples or giving diksha by touching the head of the disciple with their hands or feet. How is it then Bhagavan never does any such thing?'

Bhagavan then told me, 'It is true the books mention the three ways of diksha, viz., by sight, touch and thought. But diksha by thought is really the best.'

So I asked Bhagavan today about the above passage in Aksharajna's book, saying, 'He also knew Bhagavan well. He must have had some reason for saying so.'

Bhagavan said, 'I don't know,' and added, 'I might have touched some by accident or for other reasons, not with the intention of giving diksha'.
While Bhagavan made it clear here that he never initiated people in this way, he did on a few rare occasions transmit power through touching devotees. Palaniswami, his mother and Lakshmi the cow all benefited from Bhagavan's holy touch in their final moments. In these cases, and in the few others that appear to be similar transmissions, Bhagavan used his hand, rather than his foot to transmit the necessary grace. I do believe that Bhagavan did have power in his feet; he just never publicly acknowledged it or voluntarily used it to transmit grace to devotees. Consider the following story, narrated by Kunju Swami in Reminiscences, which dates from Bhagavan's early days at Arunachala: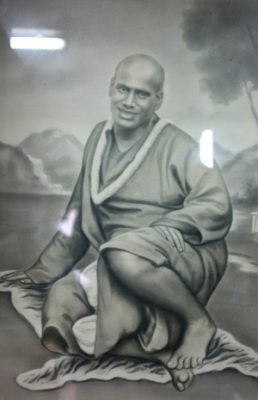 One of the earliest people to recognise Sri Bhagavan's greatness, and to inform others of it, was Achyutadasa, a famous poet and scholar. When Sri Bhagavan was staying in Gurumurtham in the 1890s, a holy man with a bright face came with his disciples for Sri Bhagavan's darshan. After performing bhajans for some time, he sat near Sri Bhagavan, caught hold of his feet and hands and immediately went into a state of ecstasy. When his disciples also approached Sri Bhagavan to catch hold of his feet, Achyutadasa stopped them saying, 'This is a huge fire. None of you can get close to it.'

He then sang some excellent vedantic songs. As Sri Bhagavan was still remaining in silence at that time he merely witnessed that scene without commenting on it. Finally, the visitor bowed to Sri Bhagavan and left most unwillingly. Only after a few days was it learned that the visitor was Achyutadasa, a famous person who had composed many vedantic songs in Tamil. He later sent a book of his vedantic songs for Sri Bhagavan's perusal.
This seems to be the case of a mature devotee recognising, by direct experience, the power in Bhagavan's feet, and then warning others who were not so mature not to touch them in case the power turned out to be too much for them. In the next incident, narrated by Krishnamurti Iyer in The Power of the Presence, part one, something strange happened when Bhagavan's foot accidentally came into contact with a nearby devotee: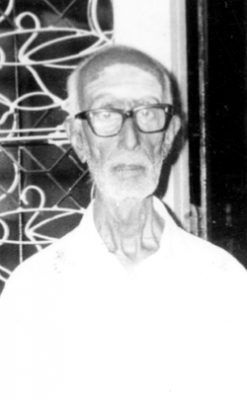 Ranga Aiyer, another member of our Madurai group, was a frequent visitor to Sri Ramanasramam. In one of our talks in Madurai he told me about a very remarkable incident that took place in the mother's samadhi at the time when it was still a mud-walled building with a thatched roof. Sri Bhagavan had been sitting on a bench close to the wall. Ranga Aiyer, Ramaswami Pillai and a number of other sadhus were sitting on the floor in front of Sri Bhagavan. The group began to chant the Tamil verses in praise of Sri Bhagavan that are known as Sri Ramana Stuti Panchakam. As they began the chanting Sri Bhagavan was seated in the sukhasana [cross-legged] pose on the bench, while Ranga Aiyer was sitting on the floor just in front of him. Ranga Aiyer was sitting so near Bhagavan, his head was only a couple of inches away from the edge of the bench.

The fourth stanza in the third decad begins, 'Let me place your soft, holy feet on my head…'.

As this line was being chanted one of Sri Bhagavan's feet descended, came into contact with the top of Ranga Aiyer's head and stayed there for quite some time. The whole group, including Ranga Aiyer, was more or less hypnotised by this act and went on repeating the same stanza over and over again. It seems that they were quite incapable of proceeding any further. Only when Sri Bhagavan withdrew his foot and resumed his former sukhasana posture was the group able to continue and complete the chanting. The devotees all viewed this as a rare example of pada diksha [initiation by being touched by the Guru's foot]. I have spoken to Ramaswami Pillai about this incident, since he was present when it happened, and his own account agrees in every detail with Ranga Aiyer's.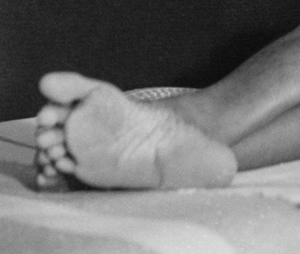 Given that Bhagavan has already said in the citation I gave from Day by Day with Bhagavan that he never gave initiation by touch, I think it would be safe to assume that he would deny that he had given initiation in this particular case. However, the power of Bhagavan's foot in this instance cannot be denied. Though Bhagavan never consciously used his own feet to bring about experiences in devotees, he did seem to accept that the power in a Guru's foot was enough to bring about liberation in advanced devotees. Here is a story, which he frequently told, of a saint who attained liberation in this way. The story is from Letters from Sri Ramanasramam and the narrator is Suri Nagamma: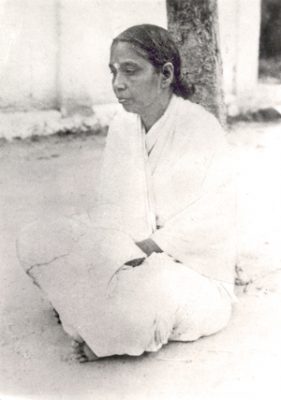 That devotee then said, 'There is a similar incident in the story of Namadeva, is it not?'

'Yes, that is so,' said Bhagavan and began relating that story thus:

'Namadeva used to pride himself on the fact that Vittal [Krishna] was always more fond of him than others and so once Jnanadeva and others took him to the house of Gorakumbhar for a feast.

'After food, all of them sat in a row and, during conversation, one of them said in an allegorical manner to Gorakumbhar, "You are used to making good pots, aren't you? Now tell us which amongst these pots are good and which are bad?"

'Gorakumbhar thereupon took a potter's testing rod and began hitting them on the head one by one. They all kept quiet out of regard for him and just kept their heads bent. When it came to the turn of Namadeva, he expressed his resentment at the procedure and refused to undergo the test. Kumbhar forthwith declared that that was an immature pot. All the others burst into laughter at that. Poor Namadeva could not contain his anger. He began saying that they all had conspired together to humiliate him thus and went to Vittal with tears in his eyes to complain.

'"Well, what is the matter?" asked Swami, and Namadeva related the whole story. "That is all right; but tell me what did the others say when they were tested?" asked Swami.

'Namadeva: They all shut their mouths and bowed when tested with the rod.

'Vittal: And you?

'Namadeva: Am I like them? How intimate I am with you! Am I to be beaten like that for a test?

'Vittal: That is called ahankara [ego]. All of them knew my real Self and had a contented mind. You are not so.

'Namadeva: But you are kind to me; and what more is there for me to know?

'Vittal: That is not it. You must serve elders if you want to know the truth. What am I? If you dance, I dance. If you laugh, I laugh. If you jump, I jump. If you find out the truth, you will not have these jumpings and bumpings.

'Namadeva: You say, "elders". Who is there older than you?

'Vittal: Who? There is a temple in the nearby forest. In that temple there is a sadhu. Go to him and you will realise the truth.

'When Namadeva went to that temple in the forest, he saw an unkempt man lying there. "How could this man be a sadhu?" he thought and, when he went closer to that person, he found the legs of the man on a linga. Shuddering at the sight, he said with trepidation, "Sir, what is this? You are putting your legs on the head of God!"

'That man said, "Oho! Nama, is that you? Vittal sent you, didn't he?"

'Taken aback at this and wondering how the sadhu could know about him, he asked again, "Sir, you are a sadhu, aren't you? How could you put your legs on a linga?"

'"Is that so, my dear son? I don't know all that. I am unable to lift my legs. Will you please lift them for me and move them away from the linga?" he said.

'Namadeva, agreeing to do so, lifted them and tried to put them elsewhere but found that there was another linga there also. Thus wherever he tried to put the legs, he found a linga there and so finally, he placed them on himself, when he himself became a linga. That is to say, by the touch of those holy feet, he had jnanodaya [dawn of knowledge of the Self].

'Namadeva stood up dazed. The sadhu asked, "Yes, do you now realise [the truth]?"

'Saying "Yes I have realised," he bowed before Visobakesar, disciple of Jnaneswar, went home, sat in his room and got immersed in dhyana and stopped going to Vittal.

'After some days, Vittal came there running and asked him, "Nama, how is it you haven't been coming to me of late?"

'Namadeva said, "Oh, Prabhu [Lord]! Where is the place in which you are not present? I see you here at all times. I am you and you are me. That is why I do not go to you."

'"Oh, I see, that is good." So saying, Vittal vanished.'