This article appeared on my blog in 2008.
In one of the recent [blog] comments it was stated that Bhagavan was an avatar of Subrahmanya, the second son of Siva. This was a widely-held view in Bhagavan's time, primarily because Ganapati Muni had confidently made this assertion in the eighteenth chapter of Sri Ramana Gita. Krishna Bhikshu, Bhagavan's Telugu biographer, accepted this claim and devoted several pages of his book (Sri Ramana Leela, chapter 49) to a series of examples and arguments which he said demonstrated that the claim was a genuine one.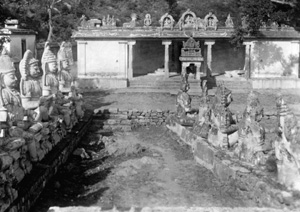 Ganapati Muni's conviction that Bhagavan was an avatar of Subrahmanya arose from an incident that occurred in March 1908 when he was with Bhagavan at Pachiamman Koil, a temple of the outskirts of Tiruvannamalai. Early one morning he saw a bright light appear and touch Bhagavan's forehead. The light enveloped Bhagavan, and within that glowing effulgence Ganapati Muni discerned six stars of different colours which eventually merged into a single light
In the traditional story of his life Subrahmanya was created from light that came out of Siva's third eye. Siva gathered this light in his hands and passed it on to Vayu, the god of wind. The power of the light was too much for Vayu, so he gave it to Agni, the god of fire, who deposited it in the Ganges. Ganga, the goddess of the Ganges, was also unable to bear the power, so she carried it to a small pond and left it there. In this pond the light transformed itself into six babies. Parvati subsequently joined the babies together in a form that had one trunk, twelve arms and six faces. This is Lord Shanmukha, 'The Lord with Six Faces'. His name Skanda means 'the joined one', a reference to the way Parvati amalgamated his bodies. The six visible stars of the Pleiades are known as 'Karthika' in India; Karthikeyan is another of Subrahmanya's names. When Ganapati Muni saw six stars merge into one in Ramana Maharshi's form, he naturally came to the conclusion that Bhagavan was a manifestation or avatar of the god.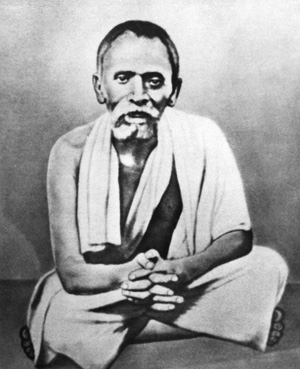 A few years before, Seshadri Swami had also come to the conclusion that Bhagavan was Subrahmanya, although there appears to be no record of how he came to that conclusion. Seshadri Swami identified himself with Parvati, Siva's consort and decided that Bhagavan was 'her' son, Subrahmanya.
Proponents of the avatar theory have drawn up long lists of facts and coincidences to demonstrate the validity of their belief. For example, Bhagavan's occasional references to Arunachala as his 'father' are taken to be proof that he must be one of Siva's sons. For those who are interested, there is a list in chapter 49 of Sri Ramana Leela, and an even more exhaustive compilation in an article by Ra Ganapati that appeared in a 1984 edition of The Mountain Path.
Since the original claim can be traced back to Ganapati Muni's vision, I should like to make a few comments about the nature of jnanis and visions. Bhagavan appeared on several occasions to devotees in forms that they desired. He had the power both to grant visions (see, for example, 'Bhagavan gives Rama darshan' by T. K. Sundaresa Iyer) and to manifest in a different form. The following story is narrated by K. Vithoba Kamath:
I used to sit in the hall in the last row. One day an idea flashed that I should see Lord Krishna. I intently looked at Bhagavan and saw a dark cloud engulfing him and within that emerged the Lord. I was at my wit's end. I thought it was a hallucination and a projection of my own mind. I wanted to try again. This time I thought of Gandhiji. Ramana was nowhere, but in his place there was Gandhiji. Being bewildered, I looked at Bhagavan. There! He was looking straight at me with a benign smile on his face. I felt highly blessed. (Arunachala's Ramana, Vol. V, pp. 114-123)
The desire for a vision does not need to be expressed. If there is a hidden desire for one, then that may be enough for Bhagavan to appear in a different form. I think the following comments by Papaji explain this quite well:
Papaji

The enlightened man, the jnani, does not do anything. He just sits quietly, like a mountain. He does not respond to your requests by doing anything, but if you go near him with a desire in your mind, there will be an automatic response. If you throw a rubber ball at a wall, it will bounce back. The angle and speed of the ball off the wall will depend on the angle and speed at which you throw it. The wall does not have to decide how to respond to the incoming ball. When you go into the presence of a jnani with desires in your mind, the appropriate response comes back automatically. You don't even have to talk about them. If your mind is in the presence of a jnani, it will be flinging its desires at the wall of his enlightenment, and that wall will give you back what you desire or need. But if you go into the presence of a jnani without any thoughts or desires, what will be reflected back will be the state of thoughtlessness and desirelessness. In his presence you will be established in that state. This is the sannidhi, the presence of the jnani, at work. You don't need to ask for anything. Just go near him. (Nothing Ever Happened, volume three, pp. 335-6)
My feeling is that the vision which appeared to Ganapati Muni in 1908 was triggered by his latent desire to see Bhagavan in the form of a god. It was not in itself an indication that Bhagavan was an avatar of Subrahmanya.
What did Bhagavan himself make of these claims? To some extent he encouraged their persistence by neither denying nor confirming them. He seemed happy to have some of his devotees believe that he was Subrahmanya, if that was good for their level of devotion, but he never actually endorsed their belief. When he was living at Virupaksha Cave, he even composed a verse saying that he was Subrahmanya for the benefit of a devotee, Perumal Swami, who wanted to have a poem that expressed these sentiments. This incident resurfaced in the mid-1930s when Perumal Swami was suing the Ramanasramam management over the ownership of its properties. The following exchange was recorded:
Perumal Swami

Lawyer: People say that you are the incarnation of Lord Subramania.

Bhagavan: That and all gods are only me. [laughter]

Lawyer: Perumal Swami has written in his diary that you are an avatara of Lord Subramania. [The lawyer then showed Bhagavan a verse in Perumal Swami's diary.] This verse says that you are Subramania. Is the handwriting yours?

Bhagavan: The handwriting is mine but the idea was Perumal Swami's. (Living by the Words of Bhagavan, p. 138)
In the verse Bhagavan composed he clearly identifies himself with Subrahmanya, but one should remember that he wrote this poem to please Perumal Swami, not to confirm this particular identity. The verse says:
The six-faced Lord who came on earth borne by Mother Azhagu and Sundaram in Tiruchuzhi in order to remove the defects of his devotees by saying 'Fear not!', who bears the twelve hands in order to bestow his own state by destroying the karmas of those seeking refuge at his feet, who, having subdued the five senses rides upon the peacock of the elevated mind-lotus, and who plays the game of throwing the spear which is the glance of jnana, he is indeed the Lord who blissfully abides as Arunamalai-Ramana.
The translation is taken from The Mountain Path, 1984, page 94. The six-faced Lord is Subrahmanya; Azhagu and Sundaram are Bhagavan's parents; Tiruchuzhi is Bhagavan's birth place; the twelve hands, the spear and the peacock are iconographical features of Subrahmanya.
With Bhagavan showing a willingness to help devotees in this way, it is not surprising that the 'Subrahmanya avatar' theory persists to this day.
Ganapati Muni did not stop at claiming that Bhagavan was Subrahmanya. He also maintained that Bhagavan was an incarnation of Jnanasambandhar, the Tamil poet saint who lived around the sixth century AD. In Sri Ramana Gita, chapter eighteen, verse nineteen, he wrote:
Again, this boundless genius [Bhagavan] is another advent of the Master-poet, the twice born Tamil child [Jnanasambandhar] who, drinking in the breast-milk of the Mother of the Universe, sang in dancing tunes the praises of Siva.
Bhagavan narrated the story of Jnanasambandhar 'drinking in the breast-milk of the Mother of the Universe' in Letters from Sri Ramanasramam, Letter 85, 30th January, 1947. The translation of the interpolated verse is by T. V. Venkatasubramanian, Robert Butler and myself:
Sambandha was born in an orthodox Brahmin family in the town of Sirkali, to Sivapada Hridayar and his wife Bhagawatiyar The parents named him Aludaya Pillayar. One day, when the boy was three years old, the father took him to Thiruttoni Appar Koil. While immersed in the tank for a bath, he began repeating the aghamarshana mantram. When the child could not see the father in the tank, it looked around with fear and grief. There was no trace of the father. It could not contain its grief and so wept aloud looking at the temple chariot saying, 'Father! Mother!' Parvati and Lord Siva appeared in the sky, seated on the sacred Bull and gave darshan to that little child. Siva directed Parvati to give the boy a golden cupful of her breast milk, the milk containing Siva Jnana [knowledge of Siva]. She did accordingly. The boy drank the milk and became free from sorrow, and the divine couple disappeared.

Having drunk the milk of jnana, and feeling quite satisfied and happy, Sambandha sat on the tank bund with milk dribbling from the corners of his mouth. When the father came out from his bath, he saw the boy's condition and angrily asked, flourishing a cane, 'Who gave you milk? Can you drink milk given by strangers? Tell me who that person is or I will beat you.' Sambandha immediately replied by singing ten Tamil verses beginning with:

He has an ear-jewel in one ear.
He rides upon the bull.
The crescent moon, pure and white,
upon His crown He wears,
and His body with ashes
from the burning ground He smears.
He is the thief who stole my heart!
He dwells in Biramapuram,
whose glory is that He did here
once deign to grant His grace,
when lotus-dwelling Brahma
bowed down to Him in praise.
Verily, He it is that is our Lord!
(Tevaram 1.1.1)

It was clear from the verses, that the people who gave milk to the child were no other than Parvathi and Lord Siva. People gathered round. From that day onwards, the boy's poetic flow began to run unimpeded.
There are interesting parallels between Bhagavan's life and the life of Jnanasambandhar. They were both born on Ardha Darsanam; both attained jnana early in their lives; both came to Arunachala and saw it for the first time at the Arayanainallur Temple; more remarkable still, both had a vision of light there.
Jnanasambandhar passed away at the age of sixteen, the age at which Bhagavan realised the Self. This led some devotees to conclude that 'The sceptre of jnana that Jnanasambandhar wielded till his sixteenth year was taken over by Bhagavan, also in his sixteenth year'. (The Power of the Presence, part one, pp. 89-90)
Bhagavan had a very high regard for Jnanasambandhar, as the following remarks by Devaraja Mudaliar indicate:
Devaraja Mudaliar

Bhagavan used sometimes to refer to Tevarams also as occasion arose in the course of conversation. He had reverence for all the three Tevaram saints and admiration for their songs. And yet I have observed that Bhagavan considered Tirujnanasambandhar the most powerful manifestation of God's grace amongst these three famous saints. He pointed out that Sambandhar frequently referred to Tiruvannamalai. He has also remarked more than once about Sambandhar, 'See with what confidence and authority he says that those who sing his songs will be saved. Is he not God's son?' (My Recollections of Bhagavan Sri Ramana, pp. 53-4)
However, despite having a deep appreciation of his life and poetry, Bhagavan never gave the slightest hint that he had had a past life connection with him. Jnanasambandhar himself never claimed that he was an avatar of Subrahmanya. That particular connection was made centuries later when Arunagirinathar, a Tamil Murugan bhakta who lived in Tiruvannamalai, mentioned in one of his poems that Jnanasambandhar was an incarnation of Subrahmanya. The idea has persisted among Subrahmanya devotees, but one should remember that it was not made by Jnanasambandhar or any of his contemporaries: the first mention of it is in a poem written about 800 years after he died.
There is one other life that Ganapati Muni attributes to Bhagavan: that of Kumarila Bhatta, a scholar who was a contemporary of Adi-Sankaracharya. The claim is recorded in Sri Ramana Gita, chapter eighteen, verse sixteen. Here is the verse followed by Kapali Sastri's commentary on it:
He [Bhagavan] is a reincarnation of [Kumarila] Bhatta, praised by assemblies of scholars, the author of Tantra Vartika, elixir of the Vedas, brilliant with various ingenious ideas; in this birth, however, he elucidates the teachings of Vedanta alone.

Kapali Sastri

Bhatta was the one who wrote the work famous as Tantra Vartika which served as the life breath of the Veda, making it resplendent with a variety of wonderful rational cogent arguments. By composing such a mature work serving as a crown to the science of Dharma Mimamsa, he disarmed and vanquished the Buddhists who were practising a religion founded outside the pale of the Veda. That is why the attribute 'the life-breath of the Veda' is employed to describe the work…

His [Kumarila Bhatta's] work became virtually the life breath, the sustenance of the vedic religion. And so he has been applauded by the world of learned men. Ramana is He in another guise. Kumarila, a staunch believer in karma, was a Mimamsaka who broke to pieces other religions. On the other hand, the Maharshi is a jnanin, a person of knowledge getting the same relish in all religions. That is why it is said that his guise is one enquiring into the words of Vedanta. The purport is that Bhagavan Ramana is another form of Kumarila, now enquiring into the meaning of Vedanta. (Sri Ramana Gita, tr. Sankaranarayanan, Sri Ramanasramam 1998 ed. p. 225)
Kumarila Bhatta was a scholar from Allahabad. Being a contemporary of Adi-sankaracharya, he lived somewhere around the eighth century. He composed Mimamsaslokavarttika, a major text of the Purva Mimamsa school; he was also an expert on sacrificial rites and laid great stress on the theory of karma. During his lifetime the vedic teachings on sacrifices and rituals were coming under increasing attack from Buddhist scholars. With a desire to refute their arguments, he pretended to be a Buddhist and enrolled at Nalanda University in order to equip himself to debate Buddhist scholars on the subject of rituals and ritual sacrifices. At the conclusion of his studies he challenged his Buddhist teacher to a debate on the vedic teachings. When his teacher ridiculed certain Hindu beliefs and expressed his opinion that the Vedas were not authoritative scriptures, Kumarila Bhatta burst into tears because he was unable to maintain his equanimity and his disguise while his beloved Vedas were being attacked. The teacher suspended the debate and demanded to know who he really was. When Kumarila Bhatta confessed, he was sentenced to death and an order was given to have him thrown off a cliff.
As he was about to be hurled to his death he called out, 'If the Vedas are true, let me be saved!'