Though Sri Ramana said that this was the most effective tool for realising the Self, it must be said that very few people actually achieved this goal. For most of us the mind is just too stubborn to be overcome by this or any other technique. However, the effort put into self-enquiry is never wasted. In fact, it's a win-win situation for most people; either you get enlightened, or you just get peaceful and happy.
Maalok: Listening to your answer above – that very few people achieved the goal of Self-realisation even when practicing self-enquiry – people could be discouraged to even try. Perhaps in this context it would be helpful for you to elaborate on what is meant by complete Self-realisation? Is Self-realisation difficult or rare? Is it rare because people don't practise self-enquiry properly?
David: Self-realisation is the definitive ending of the experience of the individual 'I'. It is a permanent state of knowing awareness, that contains, inherent within it, the understanding that one's true identity is the substratum out of which the world and all its names and forms appear. Many people have brief glimpses of this reality, but lose them when the mind, the individual 'I', reasserts itself. I believe that the permanent eradication of this sense of being an individual person is a rare event, although I know many people who would disagree with me on this subject.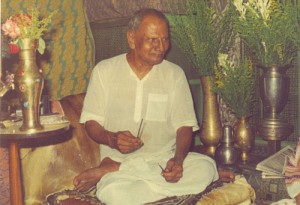 I once asked Nisargadatta Maharaj why some people, such as Ramana Maharshi, realised the Self very quickly through a single act of self-enquiry, whereas others spent fifty years meditating and failed to reach the same state. I was curious to hear his answer because I knew that at this stage of his teaching career he was persistently maintaining that reincarnation did not happen. This meant that he couldn't say that people such as Sri Ramana arrived in this world with an advantage over other people who might not have done as much meditation in their previous lives.
In his reply he said that some people were born with a pure 'chemical' and some were not. I think he got the 'chemical' analogy from the layer of chemicals that coats a film. From what I gathered talking to him, we are all issued with a film for our life, that is to say, a more-or-less pre-determined script that plays itself out as our lives. The quality of the chemical is determined by a coming together of all sorts of factors that are mostly prevalent at the time of conception: our parents' genes, astrological configurations, the environment we are due to be brought up in were a few that he named. Those who have the good luck to be issued with a good chemical realise the Self, and those who have a bad or dirty chemical never do, irrespective of how much they try.
When I commented that this all sounded very deterministic, and that there didn't seem to be much point in spiritual effort if the quality of our issued chemical determined whether or not we got enlightened or not, he said that some people came into the world with a chemical that was only very slightly impure. These people, he said, could realise the Self by associating with a realised teacher and by having a strong and earnest desire to know and be the truth. In this particular model, the people who meditate or do self-enquiry for years without success are not necessarily doing it wrongly or badly, they are simply in the unfortunate majority whose chemical is so impure, no amount of effort will clarify it. And since there is no reincarnation, the effort these people make is not carried forward into future lives.
I found this unique model – I have never heard or read about this theory anywhere else – to be quite perplexing. In the years that I was going to see Nisargadatta Maharaj, the front cover of I Am That, his own book of teachings, contained a detailed statement by him on how reincarnation took place. Yet, during the last years of his life, I never once heard him admit that reincarnation was true, or say that effort or maturity in one life could be carried forward into another.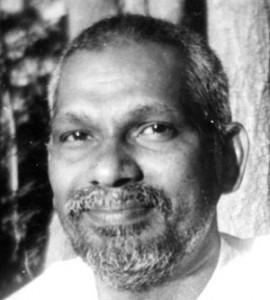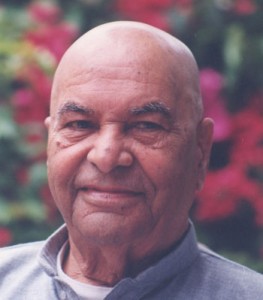 The disciples of Sri Ramana I have been with, such as Lakshmana Swamy and Papaji, have all said that spiritual effort in past lives is carried forward, making it possible for enlightenment to happen relatively quickly in the final birth. When I asked Lakshmana Swamy why he had realised the Self so quickly in this life, he said that he had finished his work in previous lives, and Papaji said he had memories of being a yogi in South India in his previous life.
Sri Ramana never talked about his previous lives, although he did concede once that he must have had a Guru in some other life. I personally feel that he completed all his spiritual work in some other body and arrived in his final birth in a state of such utter purity and readiness that enlightenment came to him virtually unasked while he was still in his teens.
I think people need to take a long-term view when they take to self-enquiry or any other practice. It's not bad to think of enlightenment as something that might occur at any moment, in fact I think it's a laudable attitude to have, but at the same time one should not be disappointed if it doesn't happen. For many people, asking oneself 'Who am I?' is chipping away at a mountain of ignorance and mental conditioning. It may bear fruit in this life, but if it doesn't, the benefits will be carried forward to some other incarnation. Meanwhile, the practice, if it is carried out regularly, will give you enough peace and quiet to justify the investment of time and energy you put into it, here and now.
Maalok: In my experience there is a tendency among many people to convert the 'Who Am I?' technique into a mantra and repeat it. Is this a good method?
David: In the Second World War American troops took over an isolated Pacific island that had never been exposed to western civilization before. They built a runway and flew in a vast amount of supplies for their military personnel. The locals, some of whom were still hunter-gatherers, ended up with many of the leftovers.
When the war was over, the Americans departed, leaving behind a runway and some abandoned buildings. The local tribals wanted the American bounty to continue, but they didn't know how to bring it about. They were clueless about geopolitics and technology. They had seen large birds descend from the sky and deposit an unimaginable amount of goodies on the runway. They had never really bothered to find out why these strangers were on their island, or how these exotic goods were manufactured and brought to the island.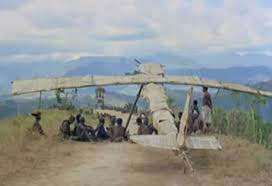 They set up altars on the runway and started to perform their own religious rites there in an attempt to entice the big metal birds back to their island. These practices became a kind of religion that anthropologists labeled 'cargo-cult'.
I mention all this because many people try to do self-enquiry without really understanding how it works and why it works, and this lack of understanding leads them to do many practices that are not real self-enquiry, and which consequently will not produce the desired results. If I may pursue this analogy a little further, there is self-enquiry and there is cargo-cult enquiry, and to understand the difference between the two, you have to know how and why self-enquiry works.
In self-enquiry one is isolating the individual 'I', and by doing so one is making the mind, the individual self, sink back into its source and vanish. Any technique that encourages the mind to associate with objects or thoughts is not self-enquiry, nor it will not make the mind disappear. On the contrary, it will make the mind stronger. When you repeat 'Who am I? Who am I?' the subject 'I' is concentrating on an object of thought, the phrase 'Who am I?' This does not lead to the disassociation of the 'I' from its thoughts; it keeps it enmeshed in them.
The same comment can be made about practices that associate self-enquiry with concentration on a particular place in the body. A lot of people have this misconception. If you are focussing on a place in the body, you are associating the subject 'I' with an object of perception – whatever spot you are concentrating on. This is not self-enquiry, and you will never cause the 'I' to vanish in this way. Any technique that puts attention on a thought or a perception or a feeling that is not 'I' is not self-enquiry. If you think it is, you are practicing cargo-cult enquiry. You are following a ritual or a practice that derives from an incorrect understanding of how the mind comes into existence, and how it can be made to disappear. Your likelihood of success will be the same as the islanders who tried to entice planes out of the sky with religious ceremonies.
Maalok: But doesn't faith and devotion have a role? What about the people who are doing things with deepest devotion and faith but perhaps don't have a good idea of what needs to be done (or undone in this case)?
David: I'm not criticising faith or devotion here. I'm simply saying that there's an effective way of doing self-enquiry and an ineffective way, and that one understands the difference by understanding Sri Ramana's teachings on the nature of the 'I': how it rises, and on how it can be made to subside.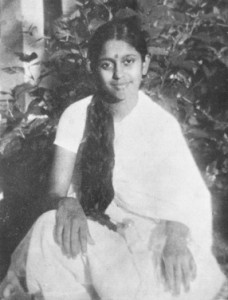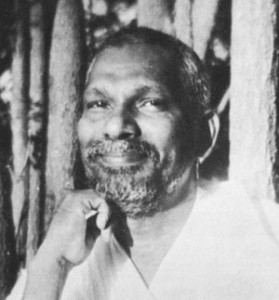 If you have complete faith in a realised teacher, and complete devotion to him or her, that in itself will take you to the goal. You won't need to bother with anything else, and you won't even care about anything else. The best example of this I have ever come across is Mathru Sri Sarada, a devotee of Lakshmana Swamy who realised the Self solely on account of her intense love and devotion towards him. In the 1970s she was doing japa of his name and concentrating on a photo of him for up to twenty hours a day, and in the remaining four hours, while she was asleep, she would often be dreaming about him. This wasn't merely intense concentration; it was accompanied by an intense, uninterrupted flow of love towards him. Lakshmana Swamy has said that at times, the flow was so strong, it kept him awake at night. He once asked her to moderate the flow a little so that he could get some sleep, but she couldn't do it. That love was flowing continuously, twenty-four hours a day to the object of her devotion, and in the end, the power of her love brought about her realisation.
You need that much love to realise the Self through this method, and if you are hoping to realize the Self through self-enquiry, you need the same kind of commitment and intensity on your spiritual path.
Maalok: It is said that Ramana Maharshi was clear that mere mantra japa and mental imagery can be obstacles to Self-realisation. Is this correct? Is it also true that he allowed and even encouraged many people to continue their spiritual practices even if they were not quite consistent with his strong preference for the method of self-enquiry? If he thought that self-enquiry was so beneficial, why did he not encourage everyone who came to him for advice to do it?
David: There are several different questions here. I will answer them one by one.
When people came to Sri Ramana for the first time, they would often ask for spiritual advice. Sri Ramana would generally reply, 'What practice are you following right now?' If they said they were worshipping some particular deity, or repeating a mantra, he would usually say, 'Good, you can carry on with that'.
He recognised that different people were attracted to different paths, and he knew that many people found self-enquiry difficult or uninspiring. He was not a dictator. Everyone in his ashram was quite free to follow any spiritual path. No one was compelled to study Sri Ramana's teachings, and no one was compelled to follow a particular practice.
Quite often devotees would find, after a few months, that they were no longer interested in their old practices. They would again come to see Sri Ramana and ask him what they should do. When this happened Sri Ramana might suggest self-enquiry, but he would never force a change.
However, some people went up to him and said, 'I am not following any particular practice at the moment, but I want to get enlightened. What is the quickest and most direct way of accomplishing this?'
I think that such a questioner would invariably be told to do self-enquiry.
There is a nice story about a group of villagers who came to see Sri Ramana in the 1920s. One of them asked for the best technique to realise the Self, and Sri Ramana advised him to do self-enquiry. A senior devotee later expressed a doubt that this advice was appropriate. He thought that such people ought to be told to do some form of japa.
When Sri Ramana heard about this comment, he said, 'Why should I cheat people who come to me and ask for the best technique? He asked this question, so I gave him the right answer.'
If people wanted to do self-enquiry, Sri Ramana always encouraged them to do it, but if they felt drawn to other paths, he never tried to push them into doing something that they didn't feel comfortable with. If you go through the published dialogues that visitors had with Sri Ramana you can find several instances of Sri Ramana recommending self-enquiry to people who didn't seem enthusiastic about doing it. When he sensed their hesitation, he would ask them to follow some other practice instead.
This leads on to one of your other questions. What role did devotional practices, such as japa or meditation on a visual image or symbol of God, have in Sri Ramana's teachings? He always said that there were only two ways to get enlightened: either do self-enquiry or completely surrender to God or the Guru. He never belittled devotion to names and forms of the divinity.
Many of the people who were following the path of surrender would do japa of some holy name. Sri Ramana approved of this whole-heartedly, but he did on occasion say that such practices would only bring results if one had love towards the name that one was repeating, or the form that one was concentrating on. This is an important distinction to note. You can repeat a particular name of God all day, but this will only be an exercise in concentration if there is no love, no devotion towards the name that is being repeated. Such repetitions will make the mental muscles stronger in the same way that repeated exercise makes the body's muscles stronger. They will not make the mind disappear. However, if one can chant the name of God with love, not just with concentration, this will ultimately make the mind dissolve into God and become God.
Maalok: A curious thing happened the other day during my visit to Delhi. I accompanied my niece to a famous bookstore in Delhi. They had a big section on spirituality. I scanned the section carefully only to find not a single book on Ramana Maharshi. On inquiring, the bookstore manager told me that books on Ramana Maharshi are simply not popular and don't sell easily. Being the editor and author of significant books on Ramana Maharshi and his disciples, I was wondering if this has been your experience as well? If so, in your opinion, why?
David: They are not as popular as books by modern teachers such as Osho, nor do they have the appeal of the kind of self-help or new-age titles that seem to fill the 'spirituality' shelves in most bookstores. However, they do have steady, enduring sales. The standard texts that record Sri Ramana's dialogues tend to sell almost a thousand copies a year, every year, year after year. That means that a book such as Talks with Ramana Maharshi, which was first published in the mid-1950s, has probably sold well over 40,000 copies by now, and it continues to sell. I should mention that this is a 650-page hardback, and it's not an easy read unless you have a good knowledge of Sanskrit spiritual terms. New people discover Sri Ramana and his teachings every year, and every year the basic titles keep on selling.
Sri Ramanasramam, the publisher of most of the books on Sri Ramana, takes a rather passive approach to distribution. Its publishing and sales department fulfils orders that come in, but they don't advertise, and they don't lobby bookstores or distributors to take their books. That may be one reason why books on Sri Ramana don't often appear on bookstore shelves. I wouldn't be surprised to learn that most bookstore managers, even in India, don't know that good books on Ramana Maharshi exist.
Having said that, I will also concede that books that attempt to codify or explain his teachings will never be very popular. I think they will always be restricted to a small market of discriminating people who have a hunger for spiritual liberation. In any generation that group will not be very large. Sri Ramana's teachings are not a 'feel-good' philosophy, nor do they offer quick fixes or instant experiences. They, instead, offer a tried and tested roadmap to those who want to pursue spiritual practice seriously. That kind of traditional approach is not so popular nowadays. People want instant results, not a prescription for hard work.
About twenty years ago I attended a talk in which an enthusiastic speaker said that he wanted to bring Sri Ramana's teachings to millions of people all over the world. The next man who stood up commented on this proposal by saying: 'I think this idea is misguided. The more accurately you explain Ramana Maharshi's teachings, the fewer people you will find are interested in them. If you succeed in finding millions of new devotees for Sri Ramana, that will only be a measure of the extent to which you have diluted his teachings.'
I think that I agree with this. Ramana Maharshi was an exemplary saint who transformed the lives of countless people. Books about the transforming effect he had on people who came to see him will probably always find a good market, but if you publish a book about his teachings, few people will be interested in buying it, and even fewer in putting into practice the teachings that it contains.
Maalok: On a related note, I noticed that, recently, you are publishing books independently with no affiliation to an ashram or organisation. What led to this change? In my opinion your recent trilogy entitled The Power of The Presence is very inspiring. Despite their obvious intrinsic merit, has it been difficult to distribute and sell these books by yourself?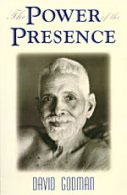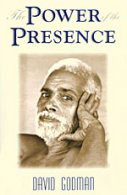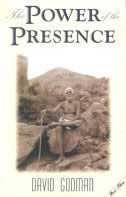 David: Most of the books I wrote or edited in the 1980s and early 90s were sponsored by various ashrams or spiritual organisations. I did these books as seva, as service to the teacher, and I gave all the royalties and rights away. In the middle of the 1990s Papaji, a direct disciple of Sri Ramana, encouraged me to start taking royalties from books as a means of supporting myself. Up until then the organisations I had been working for had generally supported me while I worked for them. Papaji had been a householder all his life, and he had supported his family through his earnings until he retired in his mid-50s. He liked people to be self-sufficient, and he encouraged people to support themselves. For the last few years I have been supporting myself by writing and publishing, and I am no longer sponsored or supported by any organisation.