He then looked at me and said, 'There is no such thing as right method, there is only right effort. Whatever technique you choose will work if you follow it intensely enough. You asked for my teachings and here they are: "Part-time sadhus don't get enlightened."'
On one level this was a statement that one had to work hard at one's sadhana, but at the same time the experience I was having there clearly indicated to me that it is the powerful presence of the teacher that effortlessly quietens the mind. So much is going on in a teacher-student encounter that is not picked up by other people who are watching it take place. Just about everyone I know who has been with a real teacher has had experiences like this, experiences that have little or nothing to do with the words that were going backwards and forwards.
Maalok: It is interesting that you bring up the idea of peace in the presence of a realised person. Sometimes, people talk about feeling very happy or bubbly in the presence of such people and not as much about peace. In your understanding, are happiness and peace equivalent?
David: Sri Ramana sometimes described the state of the Self as being peace, and sometimes he would say that it is happiness. I have used these terms frequently in talking to you because these are terms that most people can relate to. Most people claim that they have experienced peace or happiness at some point, but this is not what Sri Ramana is really alluding to when he says that the Self is peace or happiness. He is attempting to describe a state in which there is no experiencer at all. That state is impossible to convey in words, but the terms 'peace', 'stillness', 'silence' and 'happiness' were words that he often used to indicate the nature of the final state.
What you describe as 'bubbly' experiences, feelings of ecstasy or joy, are pleasant mental states. They are not the true awareness of what remains when mind itself has completely gone.
Maalok: Above all other traits, Maharshi used to emphasise humility the most. But humility is one of the hardest things to get. In fact, if you try to be humble, often it has the opposite effect. From your research and meetings with jnanis can you share with us some of their teachings that would help a seeker in this regard?
David: I agree with you that Maharshi prized humility. He himself had a natural, effortless humility, and he frequently stressed that humility was necessary for spiritual development. But how to practise it? This is a big problem because attempting to be humble is just the ego adopting a new behavior pattern. If it's done deliberately, it's not true humility.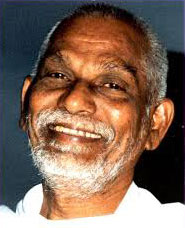 Lakshmana Swamy, a direct disciple of Sri Ramana, also stresses humility, even occasionally saying that humility alone will be enough to attain realisation of the Self. However, he defines humility as 'the mind humbling itself before the Self'. This, for me, is the true humility. To whatever extent your mind has surrendered to the Self within, to that extent you are humble. It is nothing to do with how you behave with other people. If the inner humility that comes from an attenuated mind is there, then true humility will manifest in outer behavior. Humility is egolessness, and egolessness is attained by making the mind subside into its source, the Self.
Let me give you an extract from a book, Sri Ramana Darsanam, that I recently edited. This is Sri Ramana speaking about the necessity of humility:
The power of humility, which bestows immortality, is the foremost among powers that are hard to attain. Since the only benefit of learning and other similar virtues is the attainment of humility, humility alone is the real ornament of the sages. It is the storehouse of all other virtues and is therefore extolled as the wealth of divine grace. Although it is a characteristic befitting wise people in general, it is especially indispensable for sadhus.

Since attaining greatness is impossible for anyone except by humility, all the disciplines of conduct such as yama and niyama, which are prescribed specifically for aspirants on the spiritual path, have as their aim only the attainment of humility. Humility is indeed the hallmark of the destruction of the ego. Because of this, humility is especially extolled by sadhus themselves as the code of conduct befitting them.

Moreover, for those who are residing at Arunachala, it is indispensable in every way. Arunachala is the sacred place where even the embodiments of God, Brahma, Vishnu and Sakti, humbly subsided. Since it has the power to humble even those who would not be humbled, those who do not humbly subside at Arunachala will surely not attain that redeeming virtue anywhere else.

The Supreme Lord, who is the highest of the high, shines unrivalled and unsurpassed only because he remains the humblest of the humble. When the divine virtue of humility is necessary even for the Supreme Lord, who is totally independent, is it necessary to emphasise that it is absolutely indispensable for sadhus who do not have such independence? Therefore, just as in their inner life, in their outer life also sadhus should possess complete and perfect humility. It is not that humility is necessary only for devotees of the Lord; even for the Lord it is the characteristic virtue.
In the final paragraph of this extract Sri Ramana mentions that God Himself derives His greatness from His humility. This is a point of view I have never found expressed by other teachers. We all imagine God as a being who has infinite power. Sri Ramana is on record as saying, perhaps somewhat whimsically, that God got His job because He was the most humble being in the universe, not because He was the most powerful. Here are two of his statements on this topic:
One's greatness increases to the extent that one becomes humble. The reason why God is supreme to such an extent that the whole universe bows to Him is His sublime state of humility in which the deluded ego never rises unknowingly.

Is it not on account of His behaving so humbly, as one ever in the service of every creature, that God stands worthy of all the glorious worships ever performed by all the worlds? By seeing Himself in all, by being humble even to devotees who bow to everyone, and by naturally remaining at such a pinnacle of humility that nothing can be humbler than Himself, the state of being supreme has come to the Lord.
All this may sound very eccentric unless one understands that humility equates with egolessness, rather than with a kind of 'nice' or socially acceptable behaviour. God is God because he is utterly egoless, utterly humble, and not because He is omnipotent or omniscient.
Maalok: Ramana Maharshi himself never had a physical Guru – I mean no living person. Is it correct to say that he often encouraged people to be connected to the Guru within, the Self, instead of the physical Guru? On the other hand, his direct disciple, Sri Lakshmana Swamy (who realised the Self in presence of Ramana Maharshi) says that a living physical Guru is necessary for Self-Realisation. Can you help clarify these apparently contradictory viewpoints? What is your best understanding on this issue?
David: Sri Ramana himself never had a human Guru, but he is on record as saying that the mountain of Arunachala was his Guru. In his devotional poetry he says that Arunachala was his Guru, his Self and his God. So, his Guru did have a physical form, even though it wasn't a human one.
Sri Ramana always taught that a Guru is necessary for everyone who wants to realise the Self. When he spoke on this topic, he would usually say that the Self takes the form of a physical Guru who instructs the devotee and supervises his progress. At the same time, the Guru is also the Self within. That inner Self, that inner Guru, pulls the mind into itself, and if the mind is mature enough, the inner Guru dissolves the mind completely. Both the inner and the outer Guru are required to complete the work.
You have cited Lakshmana Swamy as someone who says that a living human Guru is essential for devotees who want to realise the Self. He is on record as saying that in a few very rare cases the Self within can alone serve as the Guru and bring about enlightenment. He puts Ramana Maharshi in this category. The vast majority of people, he says, need a physical Guru. I don't think that this is too different from what Sri Ramana said on many occasions.
The Saiva religion of South India speaks of three categories of seekers. Those in the first and biggest category need a human Guru because they have a large amount of impurities or spiritual impediments. The second category comprises devotees who are much more pure. These people can realise the Self by having God appear to them in the form of a Guru to instruct and enlighten them. Many of the old Saiva saints, whose writings and stories now form part of the Saiva canon, fall into this category.
In the highest category there are those very rare souls who can realise the Self through the power of the Self within.
In my opinion, the number of people who can realise the Self without the aid of a living human Guru is very, very small.
Maalok: Surrender to God or the Guru is rare in today's times. But you have mentioned that in your life quite often you simply had to surrender. Could you give some incidents from your life that illustrate the feeling of surrender to destiny?
David: We all think that we are in charge of our lives, that we are responsible for our well-being and the well-being of our dependents. We might acknowledge at a theoretical level that God is in charge of the world, that God does everything, but that doesn't stop us planning and scheming and doing. Sometimes, we find something we can't control – a child may be dying of leukemia despite the best medical treatment – so we turn to God and ask for divine intervention. This is not surrender, it's just more doing. It's seeking an extra resource when all the traditional ones have failed.
Surrender is different. It's acknowledging that God runs the world every minute of every day, that He is not just an extra resource, a deus ex machina that one turns to in times of need. Surrender is not asking that things be different; it is acceptance and gratitude for things being the way they are. It's not a grit-your-teeth stoicism either; it's the experience of joy in God's dispensation, whatever it might be.