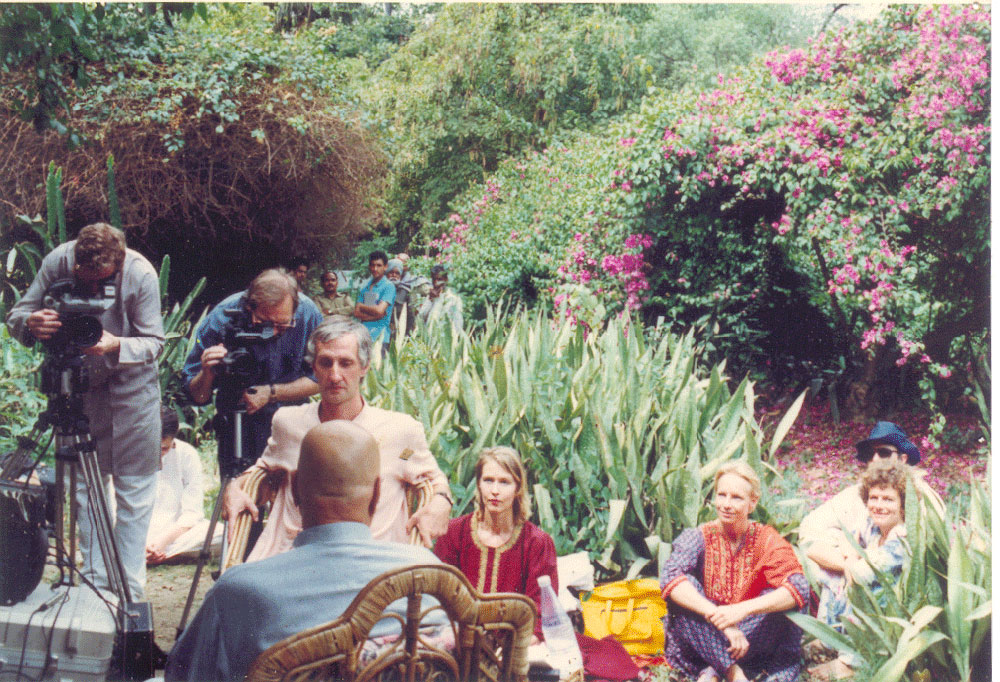 This is an interview I conducted with Papaji in the Botanic Gardens, Lucknow in 1993. It was included as the final chapter of Papaji Interviews and entiled 'Summa Iru,' which means 'Keep quiet'. The interview is available as a DVD from the Avadhuta Foundation in Boulder, Colorado.
 *     *     *
David: Papaji, we are trying to make a film about your teachings. How can we make a film when you say you have no teachings?
Papaji: To have any teaching is preaching. A real teacher has no teaching, no method, no way. To know your own Self, you don't need any teaching. What you really are, always you are That itself. No one is going to teach you. You have to realise who you are, here and now, in this moment.
David: Do you regard telling people in which direction they should look as teaching?
Papaji: People should not look in any direction. [Laughter] Looking in a particular direction means abiding in an object, the object you are directing your attention towards. People get lost this way. But if they do away with all directions, if they have no concept of any direction in their mind, then they will know what they really are. They will know that they are That itself: That which they always are and That which they always will be.
David: Do you regard yourself as a Guru, Papaji?
Papaji: No, not at all! [Laughter] I never declare, 'I am a Guru'.
David: What about all these people who think they're your devotees and disciples? Are they your devotees?
Papaji: When there is no Guru there is no question of any devotees. When they come to see me, I welcome them. Whosoever comes, I welcome them. If they don't come, I still wish them good luck. And when they leave me I say, 'Farewell. Be happy wherever you are.'
David: You are encouraging everyone who comes to you to look for their own Self. Why are you doing this? What motivates you to do this?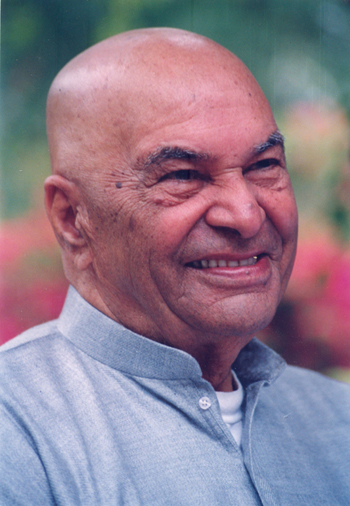 Papaji: My own happiness. These people are sleeping. They are all suffering when the treasure is within them. Everybody, all the human beings of this world, are suffering because they are trying to find peace and happiness in objects. They are examining and experiencing objects one by one, but this is only resulting in pain and suffering. There is no object in the mind, no person, no thing, no concept that can return you to happiness and peace of mind. So I just tell them, I just give them this information: 'Don't look here, there, anywhere. Peace is within you and within the Heart of all beings. So keep quiet, don't look anywhere, don't allow your mind to abide anywhere, and you will see that it is peace, happiness itself. That is the fundamental truth. Every being in the world is happiness itself.'
David: I think that most people who come to you think that you are giving out something more than just information. I think they feel that in your presence there is some power, some grace which enables them to discover what you are pointing at. Do you have any comment on this?
Papaji: Definitely. I am pointing at their own Self which is the fountain of grace, of beauty. In that place love and peace also arise. I just point this out by saying, 'Look within yourself for one second. You don't need to search, you don't need to find. Just look within yourself and you will see that you are peace itself.' I just point this out. People are asleep. It's better to wake them up because they are dreaming. These dreams are only mental projections, but because people take them to be real, they cause a lot of suffering. If you see a tiger in your dream, you get afraid. If you get attacked by a dream robber you get afraid.
Stop all the mental projections. See that the dream is only a dream. See that it is not real. Whatever you see, it's just a dream. Wherever there is an object, wherever there is a seer and the seen, there is a dream. If there are objects and a subject who sees them, there is a dream. But if you somehow get rid of subjects and objects and of the relationship between them, what's left?
David: When you look at people who come to you and tell you, 'Papaji, I suffer,' do you feel compassion for them, and when they wake up, do you rejoice?
Papaji: I do feel compassion. What else is there for me? I have compassion for all beings who are suffering and who are dreaming. I just tell them, 'Wake up, my dear friends. My dear children, wake up. There is no suffering at all. It's only a projection of your mind. It's not real. You are dreaming. Wake up from the dream, and all the suffering will end.'
David: I would like you to tell the story of the Japanese professor with one lung who couldn't stop laughing. I think that it is a very good story about your teaching. Call you tell the whole story?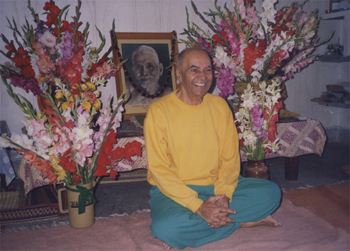 Papaji: [Papaji laughs] When he arrived I was upstairs in my house, giving satsang to some people there. He asked the people downstairs if I would come down and see him because he had been told by his doctor that he should not climb stairs.
He was told, 'Papaji is very busy right now. He is giving satsang upstairs. If you cannot wait, you must go up and see him.'
This man had a great desire to see me, so he decided to climb the stairs, rather than wait for me to finish. The people downstairs helped him, but even so, he climbed very slowly, and with great difficulty.
When he arrived everyone in the room, including me, was laughing. For the whole time he was there, there were no verbal teachings given out. There was just continuous laughter. He also joined in, even though he didn't know why we were laughing. Then, as it was lunchtime, we all went downstairs to eat.
During lunch he remarked, 'I only have one lung. The other has been surgically removed. My doctor has told me not to climb stairs and not to laugh because these activities put too much strain on the lung. If I laugh or climb stairs, I am supposed to take some medicine to help my lung recover from the exertion. But here I don't feel any need to take the medicine. In fact, I feel as if my other lung has been replaced.'
And then he started laughing again. During all the time he was with me, he never asked any questions. He only laughed and laughed and laughed. It put no strain on him and he never needed to take his medicine.
Later, after he had returned to Japan, he sent one of his students to see me. This student told me that after his professor had arrived back in Japan he was asked, 'What have you brought from Lucknow? What is the teaching of Poonjaji?'
His only response was to start laughing. He laughed and laughed and laughed. When the laughter finally subsided, he was asked again, 'What is the teaching of Poonjaji?' and he replied, 'Laughing. Laughing and dancing.'
When a person laughs he has no mind, no thought, no problem, no suffering.
David: So long as the laughter persists, there is no mind.
Papaji: No mind. You try! [Laughter] Those who don't laugh, they have got minds. They look very serious and have many problems. They have minds because for any problem, for any suffering, you need to have a mind. It's the mind that suffers, you see. So laugh away your problems. If any problem comes, laugh it away! If you laugh, it will go away; it will run away, it will fly away.
David: So, laughter is a response to the absence of pain and suffering. Would you say that?
Papaji: What do you say?
David: When all the mental problems go, then spontaneously laughter arises?
Papaji: Of course, of course, yes, yes. Only the man who has got rid of all his problems, he alone laughs, he alone dances. As a solution to all his problems, he only has to dance, he only has to laugh.
There was once a saint who lived on the top of a mountain. At midnight, on a full moon night, he started laughing and laughing. All the people of the village woke up wondering, 'What has happened to this monk?'
They went to the top of the hill and asked him, 'Sir, what happened?'
The saint answered, laughing, 'Look! Look! Look! Look! There's a cloud! There's a cloud!'
Many people see clouds but who laughs at them? Only the one who has no mind. Anything he sees will give him occasion to laugh. Because, as he looks at it, he becomes that thing itself. The cloud is there, the moon is behind it. If you have no mind, this sight alone can make you laugh.
David: So, when you see the world, Papaji, you mostly laugh at it. You think it's all a big joke?
Papaji: [Laughter] I only joke, what else is there to do? I don't study any sutras, I've never studied any sutras, nor do I refer to any sutras. I only make jokes. [More laughter]
David: Papaji, we are making this film for a foreign television audience which probably does not know much about either you or your teachings. Will you please tell them exactly what enlightenment is, in terms they can understand?
Papaji: Enlightenment is for those people who have not found any satisfaction in sensory indulgence. It is for those people who are fed up with things, with objects, and the enjoyment of them. The desire for freedom, for enlightenment, arises when one begins to understand that permanent happiness cannot be found in sensory pleasures.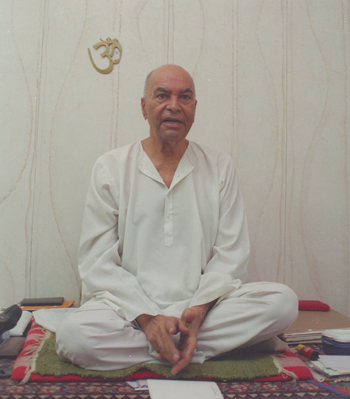 The objects which the five senses record cannot give you permanent happiness. If you have a desire for something, some object which the senses are recording, happiness will briefly arise at the moment when your desire is fulfilled. But it is not the object itself which gives you the happiness, it is the fulfilment of the desire for it. When the desire is there, while there is still a wanting to achieve or get something, there is no happiness. The desire drops only at the moment when it is fulfilled. At that moment there are no thoughts, no desires. If you look closely at your own experience you will discover that happiness arises spontaneously only when there are no thoughts and no desires, and that it disappears when thoughts and desires come back.
What can one deduce from this? The simple conclusion is that when you are empty of thoughts and desires, happiness arises, and when thoughts and desires are there, happiness is no longer experienced. Happiness therefore lies in the emptiness of no thought, not in the quest for more and more things.
Objects and the desire for them are transitory – they come and they go. Whatever comes and goes is not permanent. If you want permanent happiness you must understand that you can never get it through the pursuit of things that come and go.
The emptiness of no-thought, of no desires, is permanent. It is the source of true, permanent happiness. In fact it is happiness itself. When you understand and fully accept this, the mind no longer reaches out for external gratification because it understands that the very act of reaching out causes desire and suffering to arise. When you can abide in that emptiness, that permanent happiness, without feeling a need to search for happiness anywhere else, you are free from desires and suffering. That freedom is enlightenment.
Once you have established yourself in that state, you no longer need to worry about or pursue anything in this world. The people and things of this world will still be there, but they will not cause you any trouble or suffering because the desire to get pleasure and happiness through them will never arise. The emptiness, the happiness, will never be diminished even if you lead an active, worldly life because the thoughts and desires which formerly resulted in misery, suffering and frustration will simply not arise.
When you have a desire for freedom, when you begin to understand that permanent happiness cannot be gained through the pursuit of worldly pleasures, you should look for a perfect being, someone who has permanently established himself in the state of true and permanent happiness. Such a being, whose Heart is perfection itself, can make you aware of the happiness and the emptiness that lie within you. He may do it by the power of his thought, by looking at you, by touching you or simply by being quiet. Anyone who comes into contact with such a being will be benefited by his presence. Such a perfect being has no sense of self, no sense of being an individual person. Though everyone who comes to him is benefited by being in his presence, that perfect being never thinks that he is helping anyone because he knows that there is no one who is separate or apart from him.
You all make the mistake of believing that you are separate people, with separate minds and bodies. This idea is just a thought. In the presence of a fully-enlightened being, this thought can disappear, leaving behind it an awareness of who you really are. The emptiness of no-self, of pure happiness that you experience in the presence of an enlightened being, is the direct knowledge of Reality itself.
I never advise anyone to renounce the world. This is not the way to get enlightenment. It has been tried both in the West and the East for thousands of years, but it has not given any good results. My advice is different. I simply say, 'Keep quiet. Stay wherever you are. Don't reject your worldly activities. Simply keep quiet for a single second and see what happens.'
This is a very new idea. I don't think that it has been given out by anyone before. Formerly, people used to do tapas for years and years in remote places in an attempt to win enlightenment. Even kings would give up their kingdoms, go to the forest and devote all their energies to gaining enlightenment. But it didn't work. Why? Because freedom, enlightenment, is not something that can be 'won' or 'gained'. It is already here and now, within you as your own Self. You don't have to go looking for it anywhere else. It is concealed by the wrong ideas you have about yourself. You think, 'This is my body, this is my mind'. These ideas are the hindrances which stop you being aware of your real nature. If you can remove them, you are free. You can give up these ideas anywhere. You don't need to go to a forest to discard them.
David: People in the West are always being given advice from spiritual teachers. Everybody is telling them, 'Join our group and you will be happy. Follow our advice and you will be happy.' What is different about your message, and why should people believe it?
Papaji: They advise the people in order to destroy them. I tell them to reject those teachers and preachers and come to me. I will give you good advice. Don't listen to anybody's advice, not even mine. Peep within yourself and listen to your own voice. What do you hear? Don't listen to any advice, because all advice belongs to the past. If someone gives you some advice, that advice has come from something the adviser has heard, read or experienced. So, all this advice comes from the past. You don't need any advice to know your own Self. Don't listen to anybody's advice. Just keep quiet. This is the best advice. I tell people, 'Keep quiet. Don't think and don't make any effort just for a single second.' This is my advice. And if you follow it, you have done very well, not only for yourself, but for everybody, for all the beings of the world.
David: So following any advice except the advice 'Be quiet' takes one away from the Self, not towards it?
Papaji: Of course, of course, it has to because it takes you to the past. I repeat: any advice that you can mention has come from someone who has heard it or read it. It is all from the past. It cannot show you what you are right now, this moment. Don't believe any of the messages that come to you. Don't even believe the information that your senses are sending to you. Ignore all advice, transcend the senses and all the information they are giving you. Then and only then will you know what you are. You have tasted sensual pleasures for millions of years. Now, for the first time you are wearing a human form. Make the best of it.
Don't listen to any advice. Advisers have not shown good results. Advisers only teach you to fight, to quarrel with your neighbours and all the other people who don't belong to your church. And if you follow their advice, some other teachers will then tell you, 'No, don't follow their advice, follow my advice'. Once this happens, quarrels are inevitable.