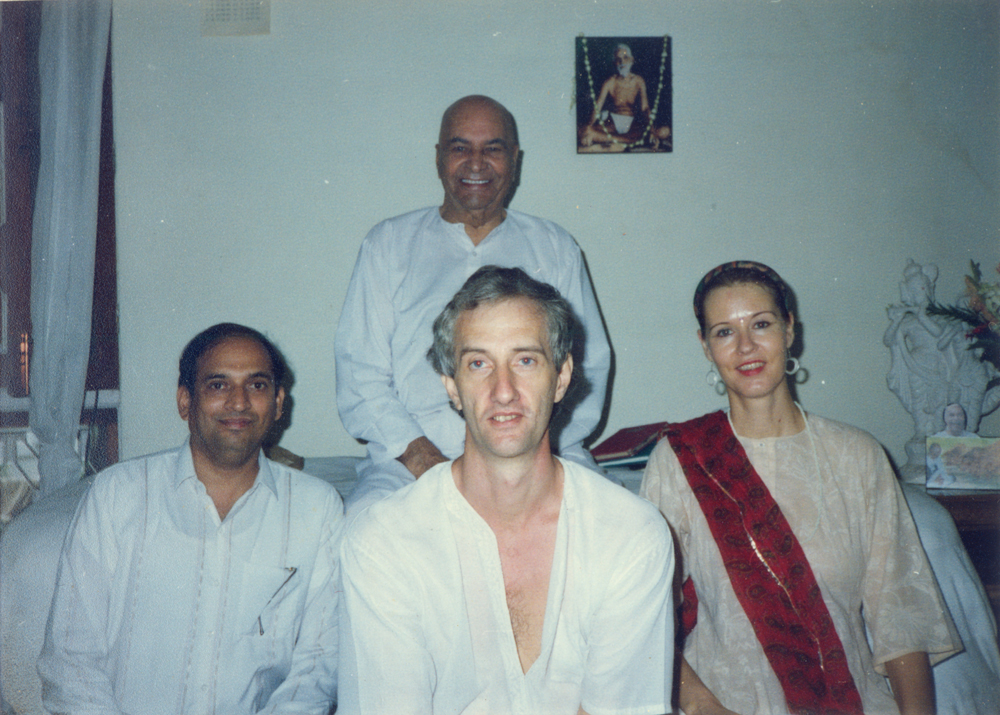 David: You say, Papaji, that a strong desire for freedom is required. Are any other qualifications needed?
Papaji: I don't think that this can be called a qualification. It rises spontaneously from within. In a few rare ones it rises from within and dances on the bosom.
When a desire arises for a sense object, you are happy to go out and meet that object. But freedom is neither an object nor a subject. The desire for freedom rises from the source, plays on the source and settles down in the same source. When it is there, it plays with itself, enjoys for some time, and then settles down. The rising and falling is never a problem, because it is always the same, whether it rises or not.
When people say, 'The desire for freedom rises and subsides,' what they are saying is that for the rest of the time other desires rise and fall. Also, when you say, 'The desire for freedom has arisen in me,' you are implying that there was a time when the desire was not there. I myself never felt the desire for freedom rise because it was always there. Right from childhood it was there.
David: Do we need to have faith in anything, Papaji? Do we need to believe in the teacher's words? Do we need to believe we can get freedom? Do we have to have faith in something?
Papaji: Yes, of course you need faith. Faith in your own Self. Faith that 'I am free'. If you want to have faith in something, this is the best faith you can have. 'I am already free.' You are now believing, 'I am suffering, I am bound'. Why not instead change it to the best faith, that 'I am free'? What difference does it make?
David: If one has the absolute conviction 'I am free,' then the conviction becomes experience. Is that what you are saying?
Papaji: No, not 'experience'. Freedom is not an experience. Experiences are always with something else. The desire for freedom will finally vanish, leaving freedom itself. When freedom knows itself, it alone will remain. Right now, you are busy with other desires. When they have all left you, it, freedom, will remain and reveal itself to you.
David: Papaji, you say that enlightenment is a very easy thing to discover and yet I have heard you say many times that the number of people who have fully woken up to their own Self can be counted on one's fingers. If it is so easy, why do so few succeed?
Papaji: It is so easy because you don't have to work for it. It is so easy because you don't have to go anywhere to get it. All you have to do is keep quiet. Attaining freedom is therefore a very easy thing. People say that it is difficult only because their minds are always engaged with something else. Freedom itself is not difficult. It is giving up the attachment to other things that is difficult. Disengaging yourself from attachments may be difficult. You have to make a decision to do it. You can decide now or put it off till your next life.
David: Is it necessary to have a Master who is himself realised to succeed?
Papaji: Absolutely! Absolutely! Otherwise how can you know whether you are on the right track?
David: Many people in the West, Papaji, have spent a lot of time looking for a realised Master. How can they find one? What advice would you give them on how to find one?
Papaji: They cannot find. They cannot find. A true Master cannot be seen with the eyes. If people try to find out through their senses, they will not make a correct judgement because the Master is beyond the senses and beyond any judgement.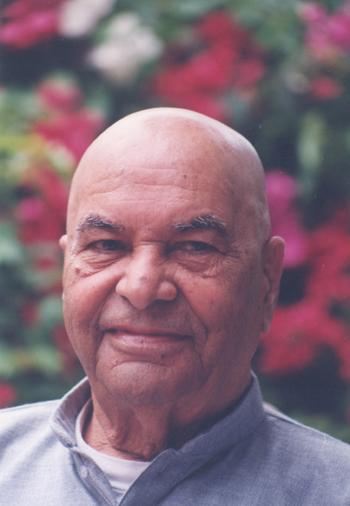 When you want to be free, freedom itself is already there. But you have not acquired the habit of depending on freedom; you don't know the language of freedom, the language of emptiness, the language of love. You don't understand these things because you have sold yourself to others' objects.
So, you don't understand what this freedom really is, but still you have an intense desire for it. When this happens, freedom, out of compassion, takes a physical form to speak to you in your own tongue so that you can understand what freedom really is.
Then it teaches you, 'I am your own Self'. It enters your own Self and becomes one with it. This is the role of the teacher, to point out to you, 'I am your own Self. I am That itself.' This is the role of the teacher. For sometime it becomes a teacher just to apprise you of the fact that you are That. You don't listen to the impersonal That which is always within you. Therefore He becomes a teacher. That becomes a teacher in order to tell you, 'You are That itself'. When you understand this, you see that you and the teacher are one.
David: Papaji, Ramana Maharshi also said that one cannot see who is and who is not a true Master, but he did say that there were two signs that one should look for. One should check whether or not one feels peace in his presence, and one should look to see whether he deals equally with all the beings around him. Do you agree that these are useful indications?
Papaji: Of course I agree. You can easily be misled by the talks that a teacher gives, by the statements that he makes. But if you feel your mind is quiet near him, and if you feel some kind of happiness and peace around him – these can be the outer symptoms of a teacher. Not everyone can feel this peace. Only those people who are intensely devoted to freedom, they alone can sense it, not others.
So, when you go to a teacher, just keep quiet. You need not give any question. Don't expect any answers from him.
Sit quietly, and feel if your mind is quiet or not. If it is quiet, then you can conclude that this is the man who can teach you, that this is the man who is worth staying near.
David: Papaji, you are advising people to sit in satsang with a realised Master and to keep quiet. When the Master dies and physical satsang is no longer possible, what should the disciple do next?
Papaji: If he's a true disciple, he will not agree that the Master ever dies. The body dies, but the Master is not the body. All bodies will die, but the Master was never a body. So the death of the body doesn't matter for the disciple because he knows that the Master is something else. The Master is always seated within the Heart of a disciple. The disciple who knows this doesn't need anything else. He knows perfectly well, 'I don't miss my Master. My Master is here and now, always within me.' This is the relationship between the Master and the disciple.
David: If the disciple has that attitude, then realisation is possible after the Master's death?
Papaji: If the disciple … ?
David: If the disciple has this attitude, 'My Guru was not the body which died, he is my own Self,' then with that attitude he call still realise the Self. He need not look for any other physical teacher.
Papaji: The teacher is the one who takes away the body and mind of the disciple. If he has not done or cannot do this, he cannot be accepted as a real teacher. In order to look for another teacher, you need a mind and a body, don't you? If you haven't got a mind or a body any more, where will you look? How will you look?
David: Papaji, can you please describe your own enlightenment and in particular the role which your own Master, Ramana Maharshi, played in it?
Papaji: It's a long story.
David: Will you tell a short version?
Papaji: It's a long story. To tell it all I would have to begin from childhood. However, I can start at the point where I went to see Ramana Maharshi. I entered his ashram and all was quiet, all was quiet. This man was quietness itself, an incarnation of silence. He was not speaking to anyone. There was a tremendous silence there. I never saw anybody so silent. The people who went to see him, their minds didn't enter the hall where he lived. He just sat quietly and silence was there.

He would tell people, 'Keep quiet, keep quiet,' but most people didn't understand the import of what he was trying to say. Even today people still don't understand what he was trying to say.
He would talk about many things: how to be free, how to get enlightened, and sometimes he would say things like, 'You need grace'. But most of the time he said in Tamil, 'Summa iru,' which means, 'Keep quiet'. Most people did not understand the true meaning of this, but I grasped it immediately. Nowadays I use this phrase a lot because I agree with my Master that the best teaching is, 'Keep quiet'.
If a man who is quietness itself tells you to keep quiet, then that phrase comes from authority and has authority. It works immediately. If an ordinary man tells you to keep quiet, it will not work, but if a man who is silence itself tells you, then, automatically, you become quiet.
David: Can you describe what happened on the day you finally got it? How did it happen?
Papaji: I had been a devotee of Krishna from childhood. So much so that Krishna even would manifest in front of me in a physical form. I could register him with all my senses in the same way that I could see ordinary things.
I had been spending about four days in Adi-annamalai on the other side of the mountain.
On my return the Maharshi asked me, 'Where have you been?'
I replied, 'On the other side of the mountain, staying by myself and playing with Krishna'.
'Oh, very good, you have been playing with Krishna!' he exclaimed.
'Yes sir, I have been playing with Krishna. He is my friend.'
'Do you see him now?'
'No sir, I don't.'
Then he said, 'What appears and disappears is not real. The seer remained. You saw him, he disappeared. He remained, the same seer. Now you are here also, the seer remained. Now, find out who the seer is.'
This 'seer' was just a word, but it struck me with such an impact that I became the seer. I became the seer.

Nowadays, when I give satsangs, I tell people, 'Don't hold on to the word. Go to the root of the word. Go to that which the word is describing or indicating. If you do this, instantly you will get true understanding.'
When you say the word 'freedom', for example, go immediately to freedom and stay there. When someone says, 'Let us go to lunch,' food is being spoken about, and you suddenly become one with the food. Why can't you do this when I say the word 'freedom'?
When we speak of freedom, we must be one with the freedom, we must smell freedom, enjoy freedom. But this doesn't happen. With other things the word takes you to the right place, but when I say the word 'freedom', you don't go to the right place to understand it. For the word 'freedom' we need so many satsangs, so many teachers, but still we don't catch the real meaning. What's wrong? We are tied to somewhere else.
David: Papaji, many people in the West have experimented with different meditation techniques. Some of them have meditated very intensively for many years. I have heard you say several times that practising like this will not bring about enlightenment. Could you please explain why you think this is so?
Papaji: First of all, meditation is just to fatigue your body and your mind so that you will get fed up with it. Then the idea can occur to you: 'Maybe there is something else.' With this thought you may go off in search of a real teacher. If you find one, he will not tell you to meditate, he will not give you some method. He will simply say, 'Keep quiet'. He will not tell you to do anything or to stop doing anything. Lectures on what you should do or not do come from preachers, not from teachers. The true teacher has no teaching, no do's and no don'ts. He simply tells you, 'Keep quiet'. There can be nothing else that a teacher can say.
This is going to work. This is the best teaching that a teacher can give. As I was telling you before, if he says, 'Keep quiet', you not merely hear the words, you actually become quietness. What is the trouble? Why does everyone find this so difficult?
It is the same in satsang. I tell people, 'Enquire, investigate, ask yourself "Who am I?"', and they reply, 'We can't do it, we can't do it. We have tried, but it gives us trouble. We get a lot of tension and headaches when we do it.' Only some rare ones get it. The others fail because their minds are otherwise engaged. I do not know why this is so. I cannot give you any explanation as to why it suddenly works with some people and not with others.
If you keep quiet, you will fall in love with it, that silence and peace. Everybody needs happiness and peace, whatever they are doing. And there can be no happiness, no peace, no love, no beauty in anything except this silence, which is always here and now within you. Therefore I always say that you don't need any meditation. You need a mind to meditate, and whenever you use your mind, the result has to be mental. You also need your body. You are told to sit in a particular position, with hands and feet positioned in a particular way. Physical activities give you physical results, mental activities, mental results. But what I speak of is beyond the body, beyond the mind. It cannot be approached through mental and physical means.
If some spiritual idea sounds good to you, and you follow it, the result has to be intellectual. So, shun all ideas. Don't try to approach this silence through physical, mental or intellectual routes. Just give up all notions, all ideas, everything you have heard and read, and you will discover that you are emptiness itself.
David: Many people have tried to be quiet, to be still, but they haven't succeeded. What are they doing wrong?
Papaji: They should give up the intention to keep quiet. If they can't keep quiet, I would tell them, 'Give up the intention to keep quiet'. If they do, what will happen?
David: You frequently tell people, Papaji, to ask themselves 'Who am I?' Why does this work when every other method fails?
Papaji: Because this is not a method. Other methods are just clipping the branches, but enquiry strikes at the root, the root of the mind. If you cut a branch, after some time it will grow again. But if you go to the root of the mind and pull out the root, it can never come back. Enquiry uproots the mind. When you inquire 'Who am I?', you strike at the root of the mind and destroy it permanently. In fact, it would be more accurate to say that through enquiry you discover that there is no mind at all.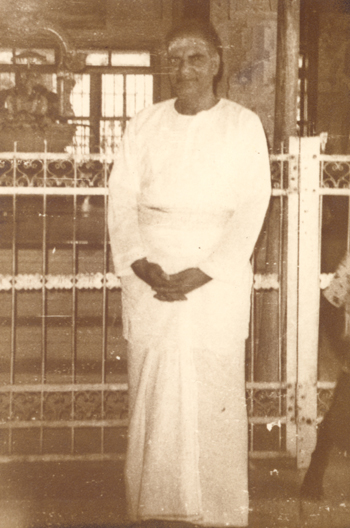 'I' is the mind. When you ask yourself 'Who am I?', 'I' is interrogating itself to find out what is the real nature of mind. No one has ever asked 'Who am I?' No one. People are always asking, 'Who are you? Who is he? Who is she?' But no one ever asks 'Who am I?' When you question yourself like this for the first time, you are not merely striking at the root of the mind, you are striking at the root of all creation because the 'I', the mind, is the source of all creation. When you make the enquiry, it is not just the 'I' that disappears, creation itself also vanishes. You discover that there is no creator, no creation and no beings created. This 'Who am I?' is such a powerful tool. It takes you to the depths of the Self, that place where you discover that neither you nor creation ever existed.
David: Many people have asked themselves 'Who am I?' without getting the right answer. Mind still remained. Should they keep on asking till they get the right answer?
Papaji: No, only once. If you do it properly, you only need to ask once. If you do it properly, it will strike at the right place. When you ask 'Who am I?' don't expect any answer. You must get rid of the expectation that you will get an answer. You must not do the enquiry with the intention of getting somewhere, of getting an answer. The purpose of this question is not to get an answer. Rather it is to merge, in the same way that a river merges into the ocean. It doesn't go to the ocean to remain a river, it goes there to lose itself. In the enquiry 'Who am I?', there is a merging into the divinity, into the Self, emptiness itself. Just keep quiet and see what happens.
While doing this enquiry, one must not wait for an answer. When the question is finished, the 'I' is also finished. 'Who am I?' What can come after this 'I'? You become That into which the 'I' has discharged. That place has to be emptiness.
David: Papaji, you frequently say, 'Truth exalts a holy person'. You also say that a holy person is one whose mind is spotless, pure, immaculate. And yet at the same time you never ask anyone to make their minds spotless, pure or immaculate. How can truth exalt us if we don't do anything to make our minds pure, spotless, immaculate?