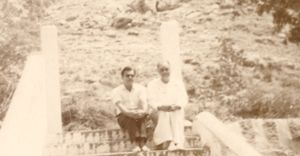 Question: Yes, it's obvious. A fish swims in water all its life, but it doesn't know anything about water. If you want to teach it about water, you take it out of the water, and immediately it understands what water is and how important it is. What you are saying is that if there is nothing to interfere with the presence, there's nothing to contrast the presence to. And that means there is no means to know the presence.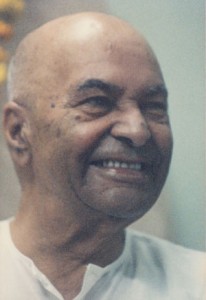 Papaji: Here we speak of the fish that is still in the river and which cries, 'I am thirsty!' It is ignorance of the underlying substratum that creates the idea of suffering. That space, that emptiness, is your inherent nature. It is always there.
Question: [begins to laugh uncontrollably]
Papaji: He's a doctor of… [Papaji also starts to laugh]
Question: What a relief! [Everyone in the room laughs] I can't believe it's so simple. Hmm. Thank you. Thank you very much. I seem to remember now.
Question: [new questioner, addressing the laughing man] Did you forget? I watch myself and I ask myself questions such as 'Who is getting upset?' but I forget all the time.
Papaji: When you say, 'I have forgotten,' you are not forgetting, you are suddenly remembering. Every time the thought 'I have forgotten' arises, that is remembrance.
Question: But there is also a point when you are not even aware that you have forgotten. You just get angry, for example, with no thought of forgetfulness or remembrance.
Papaji: You have a relationship with this entity that is forgetting or remembering. There must be a person who is forgetting. There is a person who is the same whether she has forgotten or remembered. So, the person remains the same throughout the process of remembering and forgetting. Find out the 'I' who has the forgetfulness and you will discover the 'I' that never forgets. That real 'I' is consciousness itself. It will not forget anything. It is presence itself. In that presence you don't forget anything. If light is everywhere, nothing can be hidden because there is no area of darkness where things are not clear. When you return to consciousness, everything will be very clear. Nothing will be forgotten or hidden.
There is the sleep state in which you have dreams, and there is the waking state. These are known to you. But there is something beyond them, and that is consciousness. This is your true nature. You don't have to acquire it, gain it, attain it, achieve it, or aspire for it. Since you have never lost it, you don't have to run after it to get it back. It is here now, and it will always be here. It can't be lost. If it is not here now, what is the use of trying to get it? Whatever you newly acquire you will one day lose.
So look for that which is never lost, which is permanent, abiding, natural and always there, here and now. Look into 'now'. Look into presence. Look into space. Look into your own emptiness. Everything is there in this one particle of emptiness. The whole cosmos is there, the whole cosmos. It emerges from there. Return there and see the source of all this phenomenon. Then, enjoy life.