Let's get back to his parsimonious habits. I stayed at the Poornima on a visit I made in 1979. I was spending two weeks with Maharaj before flying back to England to visit my family for the first time since I had come to India in 1976. My mother had sent me a ticket, feeling, possibly with some reason, that if she didn't pay for my trip, I might never come home again. I had accumulated orders for copies of I am That from friends in England. The British price was about ten times the price of the Bombay price, so all the Maharaj devotees I knew in England had put in orders for cheap copies. I appeared in Maharaj's room with this huge pile of books and asked him to sign them all for the people who were waiting for them in England.
He looked at me very suspiciously and said, 'I thought you had no money. How could you afford to buy all these books?'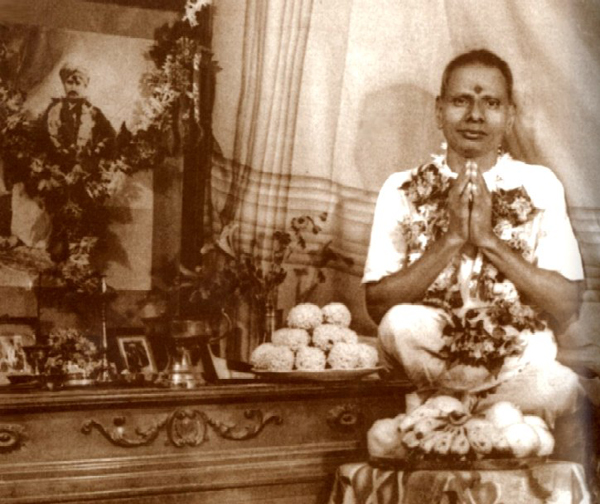 I explained: 'They are not for me. They are for people in England who don't want to pay the British price. They have sent me money to bring them Indian copies.'
When I told him the retail price in London he was truly horrified.
'Take as many as you can! No one should pay that price for a book!'
He pulled out his pen and happily autographed all the books.
Harriet: Did you carry on going to see him until he passed away? Were you there in the final days?
David: No, and I didn't want to be. I didn't want sit there watching him slowly die. I wanted to keep my memory of a man who was a perpetual dynamo, an amazingly vital centre of force and energy. I knew that he didn't regard himself as the body, but I didn't want to be there, watching the cancer slowly reduce him to an invalid. I can't remember the date of my last visit, but I do remember that he was still talking without much trouble.
I haven't explained how Maharaj kept the traffic flowing through his room. You need to know about this to understand what comes after. Because of the restricted space available, Maharaj would generally only allow people to spend about two weeks with him. New people were coming every day and there simply wasn't enough room for everyone to sit on the floor.
When Maharaj saw that it was getting congested, he would pick out a few of the people who had been there the longest and ask them to leave, saying, 'You can leave now. New people have come and there is no room.'
The selected people would then have to leave, but if they were still interested, they could come back after another couple of months and put in another two weeks there. That was the system that many of us followed: two weeks there followed by two or more months somewhere else. Usually, when I arrived, I would tell him that I had a return ticket to Madras in two weeks' time. He trusted me to leave on the appointed day.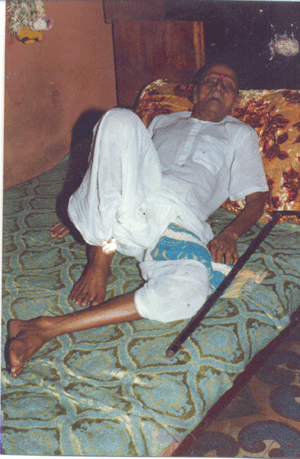 On my final visit, though, I have a memory that I was trying to stay few days longer than I had originally intended. I do remember that for a couple of days I would sit in a back corner, hoping he wouldn't notice me, because he knew that my time was up. One morning I couldn't get to my corner seat in time because something delayed me. I found myself sitting quite close to him, effectively blocking his view of some of the people who were immediately behind me. I should mention that I am 6'2" and that my back is disproportionately long for my size. I have short legs and a long back, which means that when I sit on the floor with a straight back the top of my head is the same distance from the floor as someone who is about 6'4". Of course, on that particular morning Maharaj wanted to have a conversation with the person who was sitting immediately behind me, someone who was a lot shorter than I was. I tried unsuccessfully to squirm out of the way, and Maharaj tried to peer round me but it was no use because there wasn't any extra floor space for me to manoeuvre in. We were packed in like sardines in a can.
Eventually Maharaj looked at me and said, with some irritation, 'Why are you still sitting here taking up floor space? I can't see the people behind you. You are full of the knowledge. You are so full of the knowledge it is coming out of your ears and making a mess on my carpet. You can go now and make space for other people.'
That was the last time he spoke to me. I took his irascible remarks to be a blessing and a benediction, a sort of graduation certificate. I left that day and never went back.
Over the next few months I kept receiving reports about his failing health but I never felt tempted to go back one more time. That is, until he suddenly appeared in one of my dreams telling me to come and see him. It was such a forceful dream, it woke me up. I lay there in my bed, wondering if it really was him telling me to come, or whether it was just my subconscious manifesting a secret wish to go and see him one more time. I fell asleep without resolving the issue one way or the other.
A few minutes later he reappeared in my next dream, glaring at me: 'I just told you to come. Why didn't you believe me?'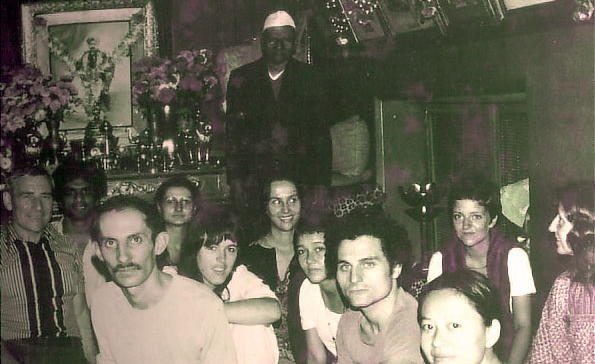 I woke up and knew that he wanted me to come. Maybe he wanted one last chance to assault my stubborn ego. I didn't go and I can't give any satisfactory excuses for my refusal to respond to this dream. This was just before he passed away in 1981. I could give any number of reasons, but none of them rings true to me or satisfies me. When I study my memory of this event, I can't find any excuses that will pass muster in my conscience. I didn't go, and to this day I can't remember what stopped me.
Harriet: Did the dreams continue? Did he ask you to come again?
David: No, it was only on that one night. However, after he did die I started to have vivid and regular dreams in which I was visiting him in his room. I would go up the steps and find him there, sitting in his usual seat, and giving out teachings in his usual way. My dream logic would try to work out why he was still there, still teaching. In the dream one part of me knew that he had died, but another part was witnessing him still alive, still teaching in his usual corner. In these dreams I would sometimes come to the conclusion that he hadn't really died at all, that he had faked his death, waited until all the crowds had left, and then gone back to teaching with a small group of people who were somehow in on the game. My dream brain invented all kinds of stories such as these, but even in the dreams they never really convinced me. I knew something was wrong, but I couldn't quite figure out what it was.
These dreams went on all through the 1980s and well into the 1990s. The last dream in this sequence was different. I found Maharaj teaching a small group of people inside the main room of the Ramanasramam dispensary. This was unusual because I had never before dreamed of him anywhere outside his room. Also, the people were different. They were not the Indian faces who populated his room in the earlier dreams. They were all foreigners, all people I knew well. This time there was no doubt, no confusion about why or whether he was still alive.
I looked at Maharaj, turned to my friends who were sitting on the floor with him and said, with a great feeling of exaltation, 'See! I told you! He's alive! He didn't die at all! He's still alive!'
The dream ended and I have never dreamt of him again.
Harriet: What did you make of all this? What did it all mean for you?
David: I don't need Freud on this one. He didn't die because he was never born. He is alive as the Self within me. He can't die. He is inside, biding his time, waiting for the words he planted there to destroy me and my little, circumscribed world. I know that he hasn't given up on me, and I also know that one day he will prevail.
Postscript
In the years that have passed since I first posted this interview I have been asked many times who the mysterious Rudi was. Several people thought it might be the Rudi who was associated with Swami Muktananda, and who was also Da Free John's teacher at one time. It definitely wasn't this man.
I had no idea who he was or what became of him until a few months ago when I received the following email:
Dear David,
Despite the ubiquity of cyber communications, unless one is pointed in the direction of internet articles, much that is valuable remains unread to those it has meaning to. Thank goodness we still rely on interpersonal relationships to help direct us to these wonderful missives and interviews. Owing to the youthful and agile mind of our friend in common, Mullarpattam, I have come to read your article on Nisargadatta Maharaj. I thought you might be interested in learning about the Canadian named Rudy (Rudi). He did leave for Canada, answering a call to help his father recover from spinal surgery. He eventually moved to Northern California, engaged in business, attempting to provide his family with security. During those long years all attention to serious metaphysical studies were outwardly put on hold and this sacrifice was only understood by those who had known him previously. But his deep awareness would surface in his interactions with those around him and his disinterest in the advantageous status his success brought him distinguished him from others in the rat race. He has continued to live simply and truthfully and is a beacon of integrity to those of us that have been privileged to be with him.