Over time, I came to the conclusion that a living human Guru really is necessary for the vast majority of people, but at the same time I have a great respect for the power that resides in the recorded words of such people.
Harriet: Was this particular dialogue recorded? I think it would be quite an important one for the many people such as myself who have only discovered Maharaj in the years since he passed away.
David: I doubt it. It was a very quiet afternoon session, and only a few of us were there. There were never any organised recordings. People who had a tape recorder would bring it along and make a recording from wherever they were sitting in the room. In the last couple of years several people were doing this, but when I first went, hardly anyone was doing it.
Harriet: You spoke about 'readiness' and 'willingness to listen' as being key factors. Did Maharaj ever speak about how or why some people got the direct experience, while most people didn't?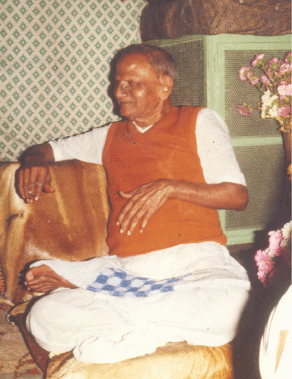 David: I did talk to him once about this. It was on one of my later visits. I had gone there with a friend of mine, Cary McGraw, and I discovered that it was Cary's birthday that day. When he told me, we were sitting in a café on Grant Road in the interval between the end of the bhajans and the start of the morning question-and-answer session. While Maharaj's room was being swept and cleaned, we all had to disappear for half an hour or so. Most of us would go for a tea or coffee break on Grant Road.
I asked Cary what he would like for a birthday present and he replied, 'Go back in there and have a good argument with Maharaj. I used to love to listen to you when you used to harass him about his teachings, but nowadays you hardly open your mouth at all. Go back in there and get him fired up about something. That will be my birthday treat.'
I didn't feel much like asking anything, and I definitely didn't feel like embarking on a full-blown debate. I think by that time Maharaj had finally subdued my argumentative tendencies; I was quite content just to sit at the back and listen to what everyone else had to say.
We went back in, but I had no idea what to talk about. When everyone had settled down, Cary gave me a nudge and I suddenly found myself talking about why some people get enlightened and others not.
'Ramana Maharshi,' I said, 'got enlightened in a few minutes. It took you three years from the moment you met your Guru until you realised the Self. Other people try for fifty years and don't succeed. Why is it like this? Are the people who try all their lives and fail doing something wrong?'
Most other Hindu teachers would answer a question like this by saying that some people had more or less finished their work in previous lives and were therefore able to realise the Self very quickly in this life. This wasn't an option for Maharaj because he steadfastly refused to accept that reincarnation took place at all. This itself was a little strange to me because in the period that I used to visit him the dust jacket of I am That reproduced a dialogue with him in which he explained in quite some detail how reincarnation took place. However, in the era that I visited him I never once heard him accept the validity of reincarnation, and he frequently said it didn't happen. My question was really, 'If one discounts the theory of reincarnation, which you seem to do, how can someone like Ramana Maharshi get enlightened with no desire for it, no effort and no practice, while everyone else struggles unsuccessfully for decades and fails?'
'It's the chemical,' announced Maharaj. 'Some people are born with a pure chemical and some are not. Those with a pure chemical get enlightened, and those with an impure chemical don't.'
'The chemical' was one of Maharaj's idiosyncratic analogies or metaphors. I think it was derived from the chemical on a roll of film. We are all issued with a 'chemical' at the moment of conception, said Maharaj, and that is our destiny for this life. In one sense it is like a roll of film, a script that has been given to us for this life. Traditional Hinduism teaches that we have prarabdha karma, an unchangeable destiny for this life that is an inevitable result of actions that have been performed in previous lives. Maharaj couldn't incorporate past-life activities into his 'chemical' theory, but he did have an alternative selection of factors to offer.
I can't remember whether it was during this particular conversation or on some other day, but I remember asking him about the components of 'the chemical'. He replied that it was a combination of a wide variety of factors: parents' genes, astrological configurations at the time of conception, the future environment that one was going to be brought up in – these were just a few that he mentioned. These all coalesced at a particular moment and issued a body, or rather an embryo, with its appointed destiny.
'This is all very deterministic,' I said. 'If the purity of the chemical determines whether or not we get enlightened, why should we even care about it or not? What is the point of trying or not trying, wanting or not wanting, if the purity of the chemical has already decided the matter for us in advance? We may as well all go home.'
Maharaj replied, 'No, it is not completely determined in advance. The vast majority of people in the world are born with a dirty chemical. Nothing they do or don't do will make any difference. Enlightenment is not for them, and most of them won't even care about such matters. At the other end of the spectrum there will be an extremely small number of very pure beings who will become aware of their true nature without any striving or inclination.'
He didn't say so, but I assume he would have put Ramana Maharshi in this category.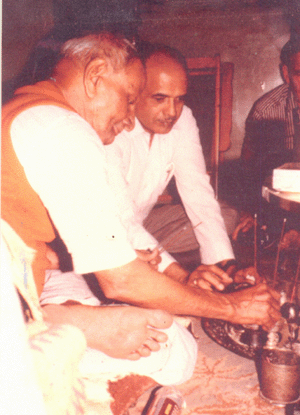 'Between these two extremes,' continued Maharaj, 'there are a small number of people whose chemical is only slightly impure. These people have a chance to get enlightened. If they can meet with a Guru who can show them the truth and if their earnestness and seriousness are high enough, they can purify their slightly dirty chemical and find out who they really are. That is why we are all here today. People who come to a teacher with a strong thirst for freedom are the ones who have only a few impurities. They are the ones for whom liberation is possible.'
Harriet: So did he think that the people who came to him were 'advanced'? There must have been a mixture of all kinds of people. They couldn't all have been candidates for liberation.
David: Yes, there was a very eclectic mix of people there, from curiosity seekers to people who had travelled half way round the world because they were desperate for liberation and thought that Maharaj could help them. I sometimes used to sit next to a homoeopathic doctor who lived a few streets away. He had no interest in liberation and just saw Maharaj as a good source of entertainment.
'This is the best show in the neighbourhood,' he told me once. 'I just come here because I like watching how Maharaj deals with all the people who come. I don't believe a word he says, but he puts on a good show.'
This man, incidentally, told me that Maharaj's language in the original Marathi was occasionally very crude and vulgar. He told me that the translators, who were all respectable, middle-class Hindus, were probably too embarrassed to pass on the full force of his vulgarity. At the end of the sessions he would take me aside on the street outside and take great delight in telling me about all the various sexual jokes and innuendos that the translators had omitted to tell us. I think the doctor's entertainment included watching his neighbours squirm as they listened to Maharaj's more outrageous remarks.
Maharaj to some extent determined the sort of people who were likely to come and stay by setting the agenda on what he was willing to talk about and what he wasn't. He wasn't interested in what he called 'kindergarten lessons'. That meant he generally refused to talk about many of the tenets of traditional Hinduism: ritual worship, karma and reincarnation, common practices such as japa, things like that. A large proportion of the foreigners who were there had come because they had read I am That. They wanted to talk about liberation, not traditional Hindu practices and traditions, and Maharaj was happy to oblige them. The people who wanted to talk about other things soon left to find somewhere more suitable for their inclinations and interests. Some, though, came with traditional ideas and beliefs and fell under the spell of Maharaj and his radical teachings, but I think these people were in the minority.
I remember Mullarpathan telling us one day, 'I was a traditional Ram bhakta when I first arrived here. I thought that if I could have a vision of Ram, I would be sure to join him in Vaikunta [Ram's heavenly realm] when I died. The first day I came, Maharaj told me that Vaikunta didn't exist. I was very shocked to hear a Guru speak like this, but I felt attracted to him and I stayed on. Within a short period of time I dropped all my ideas about the gods and their heavens.'
Some of the other local people were very much interested in Maharaj's uncompromising teachings on liberation, but during the time that I was there, the foreigners generally outnumbered the locals by about three to one in the morning question-and-answer session. This could have been because many of the Bombay devotees had to go out to work, but even on weekends and holidays, the foreigners always outnumbered the Indians.
There was a separate session in the evening that was conducted in Marathi. We were never invited to that because there wasn't enough room for everyone, so I have no idea what went on in those sessions.
Harriet: Did you get the feeling that the foreigners were treated a little differently from the local people?
David: I would just say that we had different attitudes, different backgrounds and, for the most part, different aspirations. When we spoke to Maharaj, his answers reflected these differences.
One morning a new Indian couple arrived and asked Maharaj in English a series of questions about how to live a detached spiritual life while they were in the middle of all their family and work responsibilities. This is a standard question in India and everyone in the guru business must have a standard answer to it. Maharaj dealt with them very politely and respectfully and talked to them for about fifteen minutes. At the end of that period he asked them to leave. This was a little bit unusual. Usually, when a questioner had finished talking to Maharaj he would go back to his seat and listen to what everyone else had to say.
On this occasion Maharaj watched them disappear down his staircase. He waited about ten seconds more before bursting into a delighted laughter.
'Slapping his thigh, he said, 'That is the sort of boring conversation I used to have every day before all you foreigners came along!'
I think he enjoyed talking to people who didn't come along to talk about all their family or work problems. He also knew he could be more irreverent and risqué with the foreigners, which was something he enjoyed.
Harriet: Can you give me an example?
David: One morning he looked around and noticed that there were no local people there at all except for the one translator.
A mischievous look appeared on his face and he said, 'Three things are absolutely necessary for human life: food, oxygen and sex.'
We all perked up. This was something different from the usual lecture on consciousness. We waited for him to continue, to develop his theme and explain in more detail, but he refused to elaborate.
Instead he said, 'Come on! Somebody dispute that statement. It's very controversial. Somebody disagree with me.'
It looked like he wanted to start an argument, but about what wasn't clear.
When no one else seemed interested in disputing his statement, I stepped into the breach to be the fall guy.
'If you don't breathe for a few minutes, you die,' I began. 'If you don't eat for a few weeks, you die. But I have never heard of anyone dying because they didn't have sex. How can you say that it is essential for human existence?'
Maharaj refused to explain himself. Instead he just repeated himself.
'Three things are absolutely necessary for human life: food, oxygen and sex.'
I couldn't see where he was going with the conversation, or where he wanted me to go with it.
'Are you saying that we should all have sex because if we don't we will all die?'
I was trying to provoke him into revealing why he had suddenly brought this topic up.
'No, I'm not saying that at all. I'm simply saying, 'Three things are absolutely necessary for human life: food, oxygen and sex.'
I tried a couple of other approaches but didn't get anywhere, and no one else in the room seemed willing to pitch in and help out. He just kept on repeating his original statement. After a few minutes he heard footsteps on the stairs. He immediately started talking about consciousness, and as the new visitors, a group of local people, came into the room, he was well into one of his standard explanations. He obviously didn't feel comfortable discussing sex in front of his Marathi devotees. I never did find out what the point of his statement was because he never brought it up again.
Harriet: From what you are saying, I get the feeling that Maharaj had a great respect for the foreigners who came because they came looking for the truth about themselves, not for some palliative, a practice or belief that would keep them happy for a while.
David: In one sense, yes. I did hear him say a couple of times that he respected the fact that we had all abandoned our lives in the West in order to come to India in search of liberation, but that didn't mean that in practice he treated us respectfully. We all got shouted at on various occasions, and we all got told off from time to time because of things we did or said. We were all a little fearful of him because we never knew when the next eruption would come. We had all come to have the dirt beaten out of us, in the same way that the dhobis clean clothes by smashing them on rocks. Maharaj smashed our egos, our minds and our concepts on the immovable rock of the Self because he knew that in most cases that was the only way to help us.
I told you a few minutes ago that Maharaj discounted all theories of reincarnation, but he did tell one story that possibly indicated that we had all been searching for God in India before.
'At the end of the Ramayana,' he said, 'all the animals who had helped Ram to win the war were given rewards. The monkeys were all told that they could go to a monkey heaven. Now, what is heaven to a monkey? Vast quantities of food, lots of fighting, and limitless sex. So, all the monkeys were reborn as human beings in the West in the twentieth century to experience their idea of "heaven". After some time, though, they all began to get bored of all this excess. One by one, they all started coming back to India because they wanted to find Ram and be with him again.'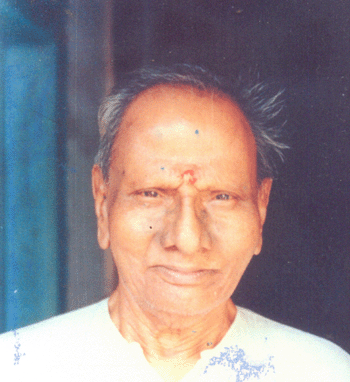 Harriet: What did he shout at you for?
David: I remember one time trying to talk to him about effort. I think I was talking about the various efforts I had made to realise the Self. This was soon after I started going to see him. I didn't realise at the time that the word 'effort' was a no-no in that room. He really didn't like anyone using it. The idea that there was a person who did something to achieve some spiritual state was a complete anathema to him. He seemed to feel that it showed a complete lack of understanding of his teachings.
When he started to get annoyed with me for using the word, I just ploughed ahead, thinking innocently that he probably hadn't understood what I was trying to say. The more I attempted to describe my 'efforts' and justify them, the more annoyed he got with me. I ended up getting an earful about my wrong understanding and wrong attitude. I was quite taken aback at the time. I had never come across a teacher before who disparaged hard work and effort on the spiritual path. On the contrary, all the others I had encountered had heartily endorsed such activities. That's why I initially thought that there must have been some kind of misunderstanding. I realised later that when Maharaj spoke, he wasn't giving instructions that he wanted you to act on. He was simply telling you who and what you were. You were supposed to understand and experience what he was talking about, not turn it into a practice. Making a practice out of it simply confirmed for him that you hadn't really understood what he was saying. One question that always rubbed him up the wrong way was, 'Yes, Maharaj, I understand intellectually what you are saying, but what do I do to actually experience it?' If you said that, you didn't understand him, or what he was trying to do, at all.