Harriet: What was Maharaj's attitude to Ramana Maharshi and his teachings? Did you ever discuss Bhagavan's teachings with him?
David: He had enormous respect for both his attainment and his teachings. He once told me that one of the few regrets of his life was that he never met him in person. He did come to the ashram in the early 1960s with a group of his Marathi devotees. They were all on a South Indian pilgrimage tour and Ramanasramam was one of the places he visited.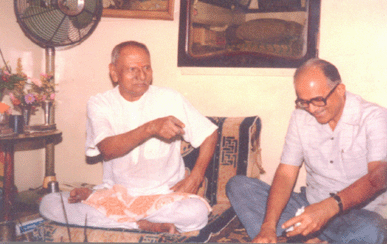 With regard to the teachings he once told me, 'I agree with everything that Ramana Maharshi said, with the exception of this business of the heart-centre being on the right side of the chest. I have never had that experience myself.'
I discussed various aspects of Bhagavan's teachings with him and always found his answers to be very illuminating.
He asked me once, 'Have you understood Ramana Maharshi's teachings?'
Since I knew he meant 'Had I actually experienced the truth of them?' I replied, 'The more I listen to Maharaj, the more I understand what Bhagavan is trying to tell me'.
I felt that this was true at both the theoretical and experiential levels. His explanations broadened and deepened my intellectual understanding of Bhagavan's teachings and his presence also gave me experiential glimpses of the truth that they were all pointing towards.
I have to mention Ganesan's visit here. V. Ganesan is the grandnephew of Ramana Maharshi and in the 1970s he was the de facto manager of Ramanasramam. Nowadays, his elder brother Sundaram is in charge. Ganesan came to visit Maharaj for the first time in the late 1970s. As soon as he arrived Maharaj stood up and began to collect cushions. He made a big pile of them and made Ganesan sit on top of the heap. Then, much to everyone's amazement, Maharaj cleared a space on the floor and did a full-length prostration to him.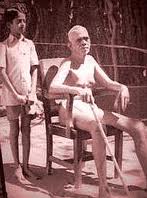 When he stood up, he told Ganesan, 'I never had a chance to prostrate to your great-uncle Ramana Maharshi, so I am prostrating to you instead. This is my prostration to him.'
Harriet: I have read on many occasions that Ramana Maharshi preferred to teach in silence. I never get that impression with Nisargadatta Maharaj. Did people ever get a chance to sit in silence with him?
David: During the years that I visited it was possible to meditate in his room in the early morning. I forget the exact timings, but I think that it was for an hour and a half. Maharaj would be there, but he would be going about his normal morning activities. He would potter around doing odd jobs; he would appear with just a towel around his waist if he was about to have a bath; sometimes he would sit and read a newspaper. I never got the feeling that he was making a conscious effort to teach in silence in the way that Ramana Maharshi did by looking at people and transmitting some form of grace. However, he did seem to be aware of the mental states of all the people who were sitting there, and he not infrequently complained about them.
'I know who is meditating here and who is not,' he suddenly announced one morning, 'and I know who is making contact with his beingness. Only one person is doing that at the moment. The rest of you are all wasting your time.' Then he carried on with whatever he was doing.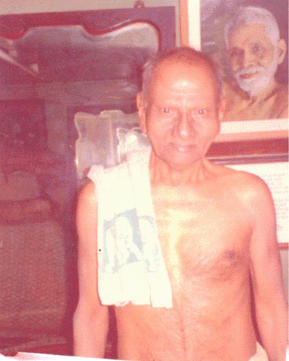 It was true that many people didn't go there to meditate. They just saw it as an opportunity to be with him in his house. They might be sitting cross-legged on his floor, but most of the time they would be peeping to see what he was doing instead of meditating.